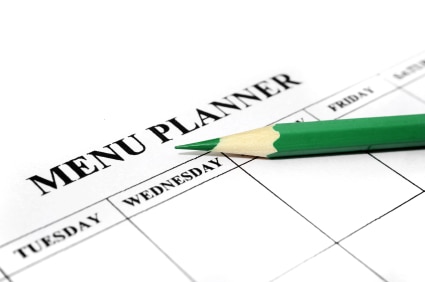 I hope you have found these Extreme Couponing 101 lessons helpful so far.
The next lesson I want to share with you has nothing to do with couponing, but I assure you it is a vital step in the process of becoming an Expert Couponer! I want you to learn to become a menu planner!
Now, this may not be much of a big deal for some of you naturally organized people, but if you are like me I understand if you are feeling a bit of hesitancy at the thought of planning out every single meal.
I remember before I started a few years back, I thought the idea of menu planning seemed so rigid. I am the kind of person that likes to be a bit spontaneous so I tend to feel rebellious whenever the idea of a schedule comes along.
But I was desperate back then to get our out of control spending under control so I was willing to try just about anything.
I had read somewhere that menu planning could help me not spend as much in the grocery store so I thought I would give it a try figuring it wouldn't really save me that much and I could say I tried it and move on complaining about how much our bill was each week.
But after sitting at the kitchen table for about 15 minutes I not only had a menu plan, but I had a grocery list too!
Having a plan makes it so much easier to make a grocery list of only the things you need. I took my list to the store that week and saved almost half of what I was used to spend!
After that very first week, I was hooked.
Not only has menu planning helped me keep a $200 a month grocery budget, but knowing what's for dinner each morning and not having the chore of deciding makes life so much less stressful around here especially on our super busy days!
Tips to make menu planning easier and less intimidating:
If you ever check out any of my menu plans you'll see that we have the same basic foods for breakfast and lunch.
Also I leave Sunday open because I know my family and we rarely stick to a schedule on that day for anything.
This has made menu planning so much less stressful because I only need to come up with six dinners each week.
The first thing I do when I sit down to make out the weeks menu is look through the freezer to see which meats I happen to already have available.
I try to build my weeks menu around what I already have on hand. This also helps when I grocery shop for the week because I usually only need one or two ingredients for each meal.
I should also add that as I am writing out my menu plan I am also writing out my grocery list at the same time.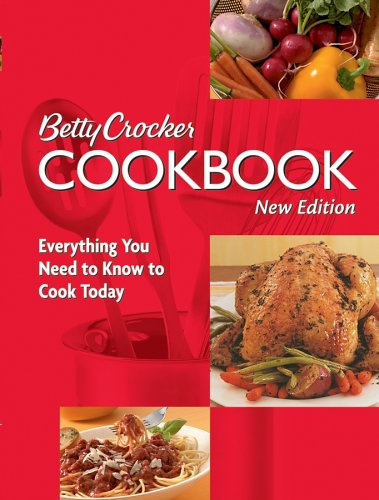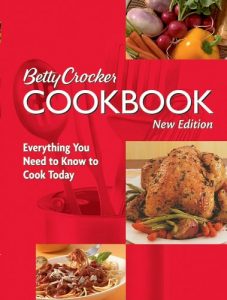 One thing that is very important to successful menu planning is a great cookbook!
I have my Betty Crocker Cookbook and it has been a huge help to me.
I can always find something great and super easy to make and that keeps me from giving up on menu planning. It has all kinds of great cooking information too!
We love variety and so I also send for every FREE cookbook offer I can find. Don't worry I share every free one I find here too!
Maybe you are so overwhelmed by the idea of menu planning, but that is no reason not to do it.
In fact, it is very tempting to just overlook it, but I can tell you from personal experience that my life runs smoother when I know what's for dinner each day and my grocery budget thanks me each week I take the 10 minutes to write out a plan and a list.
Lastly, I want to say that menu planning works for me and I am confident that it can work for you too!
I challenge you to grab a piece of paper or print a menu planning sheet here, and jot down just 6 dinners and see how long it takes you.
Next week I'll start sharing about coupons and the special lingo that every Expert Couponer should know.