You can easily make your own Minecraft Costume for you or your kids this year!
Halloween is coming soon and if you're looking for ideas for costumes then you've come to the right place.
You'll find some awesome Minecraft Costume Ideas that will surely get you noticed at the next party, including some easy DIY Minecraft Costume Ideas you can make at home.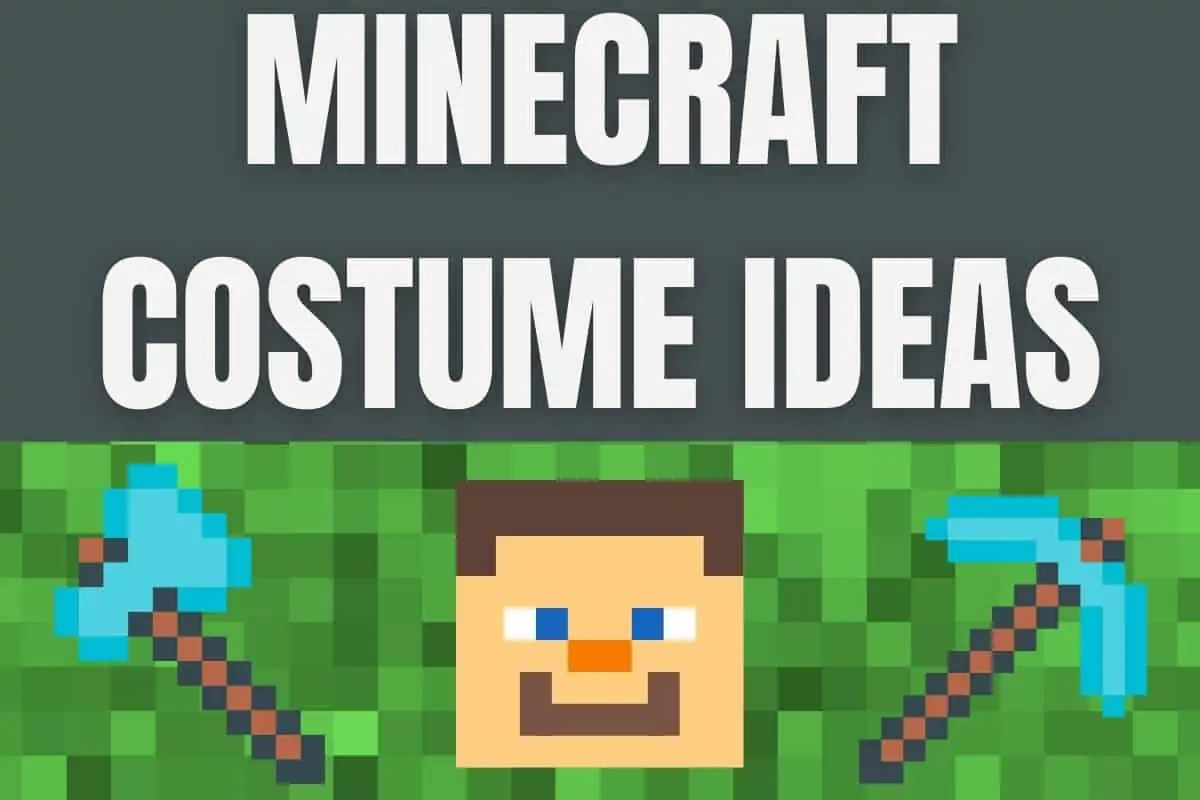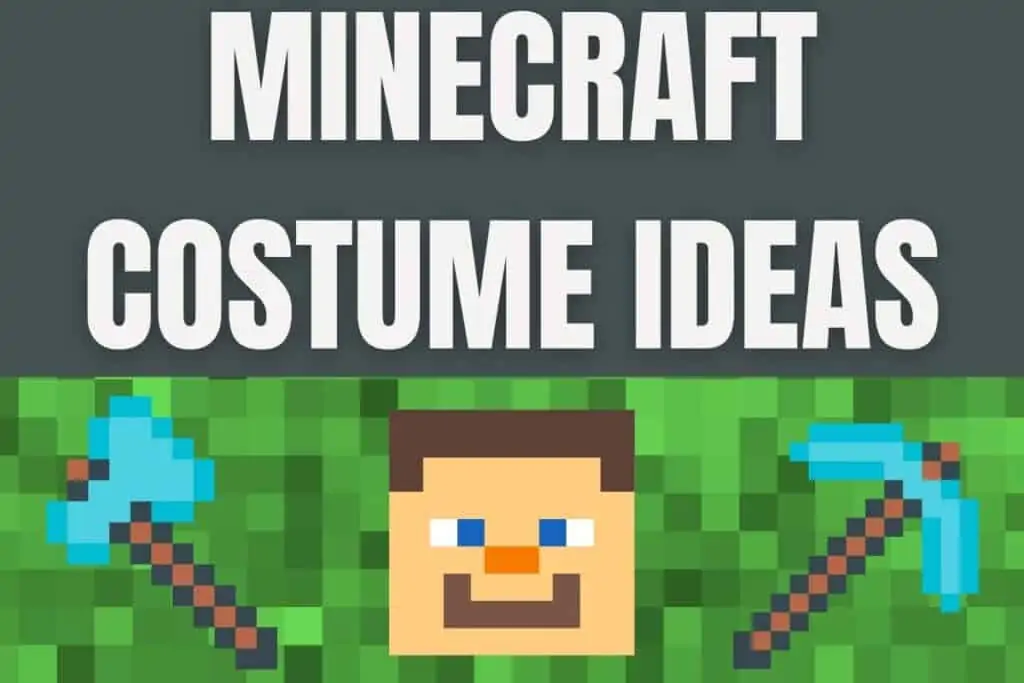 Minecraft has been around since 2009 and has become a huge phenomenon. It's an online game where you can build anything you want. The game allows players to create their own worlds.
The game is free to play and there are lots of different ways to earn money within the game.
Minecraft continues to be popular with kids of all ages!
DIY Minecraft Costume
This article will give you some ideas for costumes that you could use to dress up as a character in the game.
If you're looking for some cool Minecraft costume ideas, then you're in luck because there are plenty of options out there. I'm going to share some of my favorite Minecraft costume ideas for kids and adults alike.
Minecraft Costumes for Kids
There are many ways to dress up as a Minecraft character. From hats to shoes, there are plenty of options to choose from below.
There are many ways to dress up as a Minecraft character. From hats to shoes, there are plenty of options to choose from below.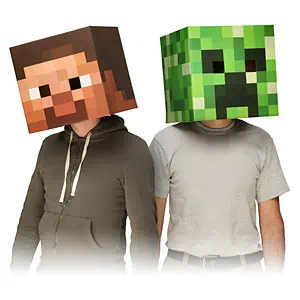 Choose from Steve, Alex, Creeper or Enderman – all three are currently in stock on Amazon.
I have scoured the internet to bring you some of the very best deals on Minecraft Halloween Costumes as well as some DIY Minecraft Costumes in case you would rather make something yourself.
Amazon has some great Minecraft Costume Accessories that you could use to easily create the perfect Minecraft Halloween Costume.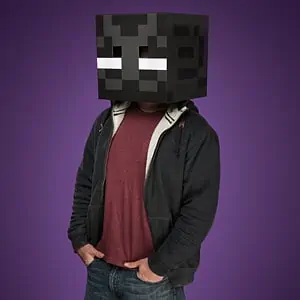 Minecraft Masks were so popular that they sold out pretty quickly last year.
Minecraft Masks
Below you'll find all of the DIY Minecraft Heads of your favorite characters.
Minecraft Creeper Mask
I was happy to find a great Creeper printable that you can use to make your own Minecraft Creeper Mask.
Minecraft Steve Head
If you prefer Steve or Alex instead, you can use the Minecraft Steve Mask Printable or the Minecraft Alex printable to make your own Minecraft mask.
Minecraft Enderman Head
Lastly, I was finally able to find a Free Printable Enderman Mask for you, if you want that one instead.
More Minecraft Heads
You'll also be able to find a skeleton head, pumpkin head, wither skeleton head and zombie head.
Oh! And you can even make some of your own accessories to go along with your Minecraft costumes.
Minecraft Weapons
Coal Sword
Diamond Sword
Vampire Blade
Redstone Sword
Emerald Sword
Iron Axe
Emerald Pickaxe
Diamond Axe
Find all of these Minecraft printables and instructions for how to make them here.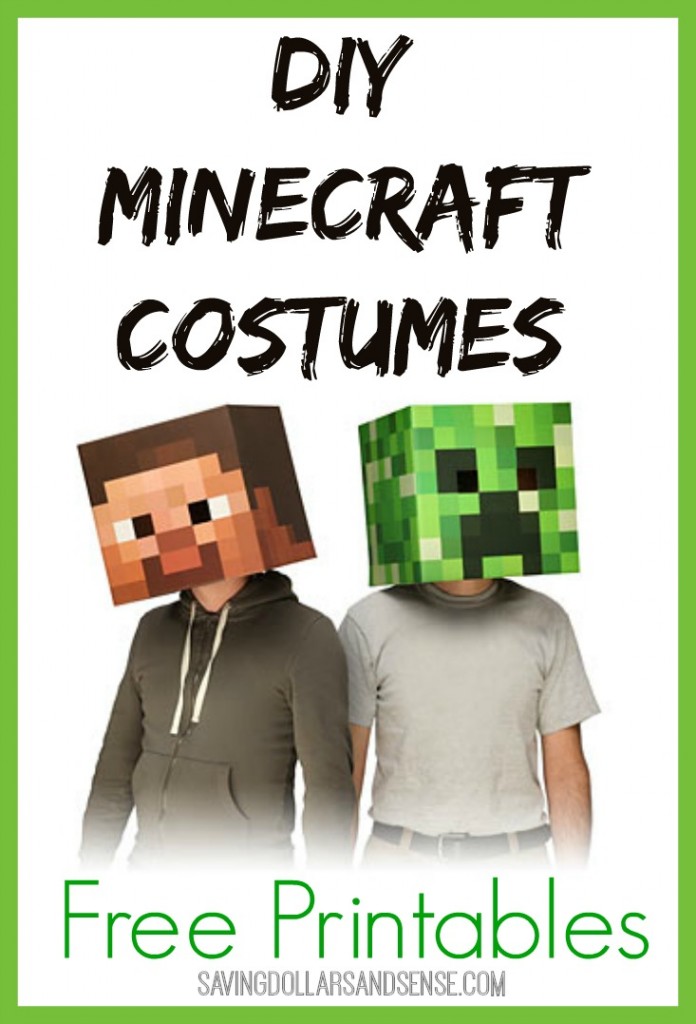 How to Make a Minecraft Costume
Download whichever free printable you want to be. Choose from several characters including Creeper, Steve, Alex or Enderman.
Find a cardboard box that is large enough to cover your head.
Glue the printable Minecraft mask pieces to each side of the box until it is completely covered up. You can use any glue you like, but spray adhesive seems to work the easiest and it doesn't leave any lumps in the paper.
Carefully cut out eye holes. Choose a square so it won't be as noticeable.
You can also cut out a square for the mouth area to help with breathing and talking.
Wear clothing that resembles the character you are dressing up as and grab a Minecraft accessory, like an axe or a sword, to complete the look.
If you like Minecraft, you'll also love these Minecraft posts: