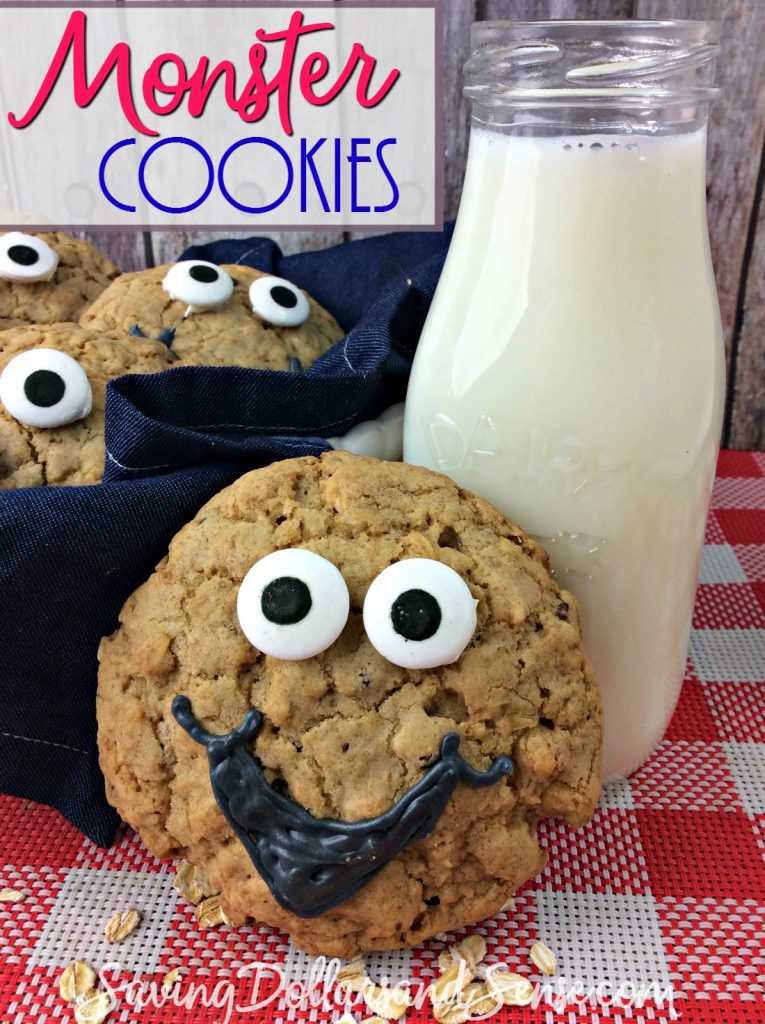 This is the Best Monster Cookie Recipe ever!
These smiley face cookies are sure to leave a smile on anyone's face. Can you imagine having a batch of these super cute waiting for you when you came home from a long day at school or work?
There are a lot of easy monster cookie recipes floating around the web, but none of them will make you smile quite the same way these will.

Best Monster Cookie Recipe
Ingredients:
3 C flour
1 TBSP baking powder

1 TBSP baking soda

½ TBSP ground cinnamon

1 tsp salt
1 C unsalted butter, room temp
1 ½ C sugar
1 ½ C packed brown sugar

3 large eggs, room temp
1 TBSP vanilla Extract

2 C semisweet chocolate chips
2 C peanut butter chips

2 C white chocolate chips

3 C old- fashion oats

2 cups chopped walnuts
1 package large candy eyes

2 containers black decorating icing
Directions:
Preheat oven to 350 degrees. Line large cookie sheet with parchment paper.
Combine flour, baking powder
, baking soda
, cinnamon
and salt in a bowl. Whisk
ingredients together. Set aside.
Using an electric mixer, beat the butter and both sugars until creamy.
Slowly add one egg at a time to the butter and sugar mixture, beating after each addition.
Add vanilla beating to incorporate with the butter, sugar, and egg mixture.
Slowly add the flour mixture, one cup at a time, stirring to combine after each addition.
Mix in the chocolate chips
, stirring to add.
Next, add the white chocolate chips
, stir well to mix.
Add in the peanut butter chips
, stir well. Add both oatmeal
and walnuts
continue to stir to mix well.
Using a ¼ cup, scoop out the cookie dough and place on the lined cookie sheet allowing space for baking between each cookie.
Bake the cookies for 15 minutes or until the edges of the cookies are lightly brown.
Remove from oven allowing to cool slightly before transferring the cookies to a wire rack to cool completely.
Once each cookie is cool use your black decorating icing
to glue on the candy eyes
.
Next, outline the mouth and fill it in with the rest of the black decorating icing.
Set aside to allow the icing to dry.
You really can't go wrong when you make the best monster cookies.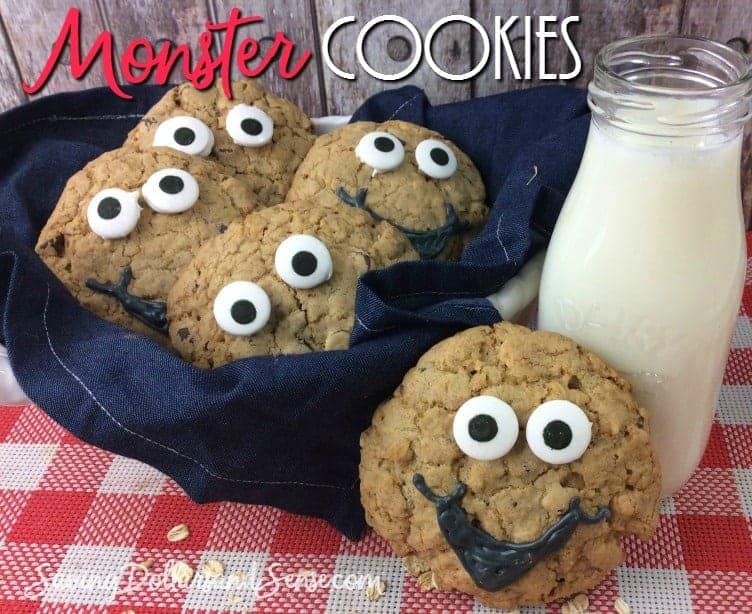 Here are some of the things I recommend for this recipe: