We bought our new house almost two years ago, I never dreamed I would be doing laundry about twice a month at the laundry mat. There are some perks to doing laundry this way. I could get all of my laundry done in about 1 1/2 hours and not do laundry again for several weeks. That part I liked.
But what I didn't like was the pile of stinky, dirty laundry that would continue to grow all month.
Thankfully we have been doing laundry daily at home now for a couple of weeks and my whole life feels more together.
Yesterday I told you I would share pictures of our laundry/pantry room remodel from start to finish.
It's kind of hard already to remember what we hard to work with starting off. This was probably THE worst room in the house, as far as real damage goes. Everything else up to this point has been cosmetic. But there was no ignoring the mess left in the subfloor.
Our house sat empty for over a year and in that time all of the baseboard heat pipes had frozen and burst flooding the main floor for who knows how long? All that I do know is the floor was missing from several rooms including the laundry room. All that was left was the plywood subfloor which looked like this!

Shocking I know! But I believe things like holes in the floor is what deterred anyone else from buying our home.
Some may call us brave, most would consider us crazy. But my husband is an amazing builder and I knew the ugly inside of our home was no match for his construction abilities and my decorating skills (mostly borrowed from Pinterest lol)
First things first, we had to repair the hole in the floor and install a new ceramic tile floor.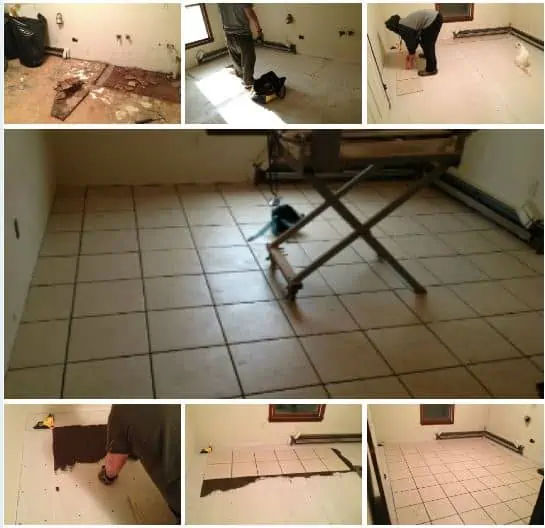 Savings Tip

– We have had very good luck finding inexpensive ceramic tile on sale at Home Depot and Lowes. Check the endcaps which are where they generally display the lower-priced tiles. We spent $.77 per tile and you would never know the difference. The money we saved on tile can then be used to purchase organizational items or decorations, you know the pretty stuff that makes a room feel homey.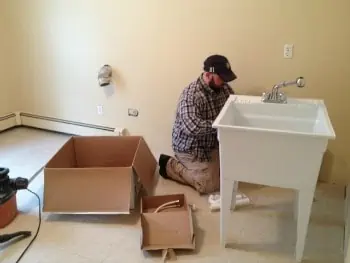 My husband's favorite part is the big, beautiful laundry tub!
We didn't have one at our other house and it will make cleaning up after working or hunting & fishing that much easier for him.
Thankfully a friend gave us some paint that turned out to be a beautiful laundry room color. I had originally planned for a pretty greenish color and was a little resistant to the yellow color when my husband first showed it to me. But he said we had nothing to lose in painting one wall and if I hated it he would repaint it.
After seeing the color on the walls and taking into consideration all the money we could save I said it could stay. And now I LOVE it!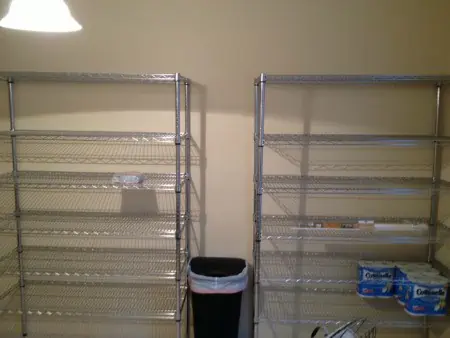 Using the paint given to us saved us a lot of money that we were able to put towards my new pantry shelving units which I shared with you yesterday and a retractable clothesline.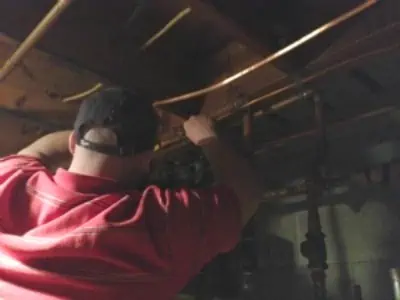 He needed to run a new gas line for the dryer we brought from our other house. But once he did the room was pretty much complete and I cannot tell you how happy I am to be doing laundry at home once again!
We still have some finishing touches to do with the room. But I don't want to rush it. I want to find the perfect bold print curtain for the window, and I don't want to just settle for something so I will wait until I find the right one. Until then the shade does a great job.
I would like to get a nice big rug on the floor and a few organizational things. We have a freezer that needs to be moved up from the basement and I am hoping to create a little sewing/wrapping nook to the right of the window.
But we are putting those plans on hold and moving on to the next disaster that has been waiting for us. The half bath.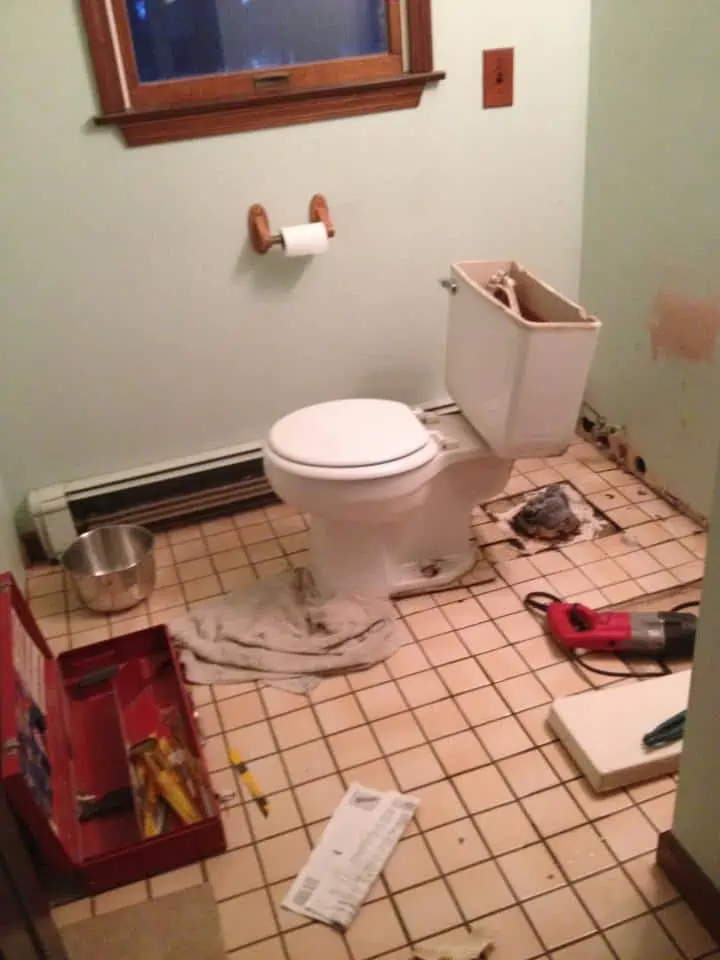 I hope you'll follow the progress on our half bath over the next couple of weeks! I have some great plans in store for this room.