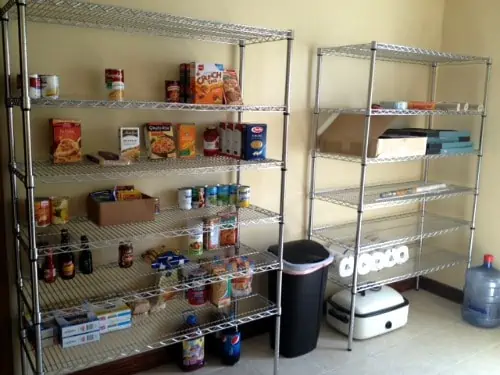 I posted a bit ago about my plans for rebuilding our stockpile along with tips on How to Build a Stockpile and received several comments and emails asking where I purchased the kitchen shelving units in the photo.
We found our shelving Units at Home Depot. I looked at their online site, and these look exactly like the ones we got except for two things.
The box is different. But the contents are the same, so I am thinking they are the same since there were no other shelves like these anywhere else on the Home Depot website.
The price is different. Online they show that they are selling for $255 each! Yikes! I bought mine in store where we found them for just $99 each, so make sure you check your Home Depot store to see if they have these for the same price I got them for!
Do you have a space that you call your pantry? Before moving to this new house, my pantry consisted of three cupboards and that is it. I was creative with space and it worked for us while we had it, but I am SO thrilled to have so much more space in the new house.
As you can see we have a long way to go before we can say we have a real stockpile, but it is coming along a little more each week.
The pantry makes up only one side of the room. The rest of the room is dedicated to laundry and animals. We are pretty much finished with this room for now. I have a retractable clothesline my husband has yet to install. Also, we still have to hang the shade. But it is a totally different room compared to what we started with.
It is completely undecorated. I am taking some time to find just the right things for the room, including some fun curtains and wall hangings. We are planning to create some sort of space to set up a sewing station, but that is not at the top of our agenda so it may be a while.
We are moving onto the gust half bath next!
I will be sharing the complete remodel journey in another post soon, and there will be LOTS of photos too!