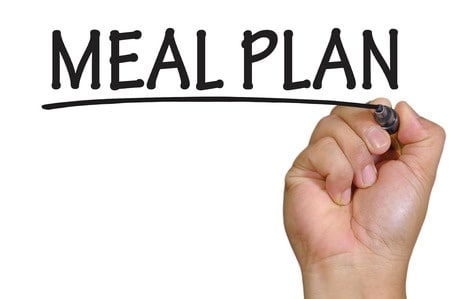 I totally forgot to post my meal plan here, after I finished planning it out yesterday.
This week I found some sausage on sale at the grocery store so I grabbed it and some more sauerkraut. This has become one of the easiest dinners ever! I just add both to a skillet or my crockpot and let it cook for a while.
We don't usually eat bread, so we just eat it right out of the skillet with a little mustard, but you totally could add both to a bun for a complete meal!
And I am happy to report that I finally remembered to add Stuffed Pepper Soup to my meal plan this week!
I have been meaning to add this for a few weeks now, ever since it was mentioned as a favorite soup recipe in our Facebook Community, but I kept forgetting. This is going to be the highlight meal of my week for sure!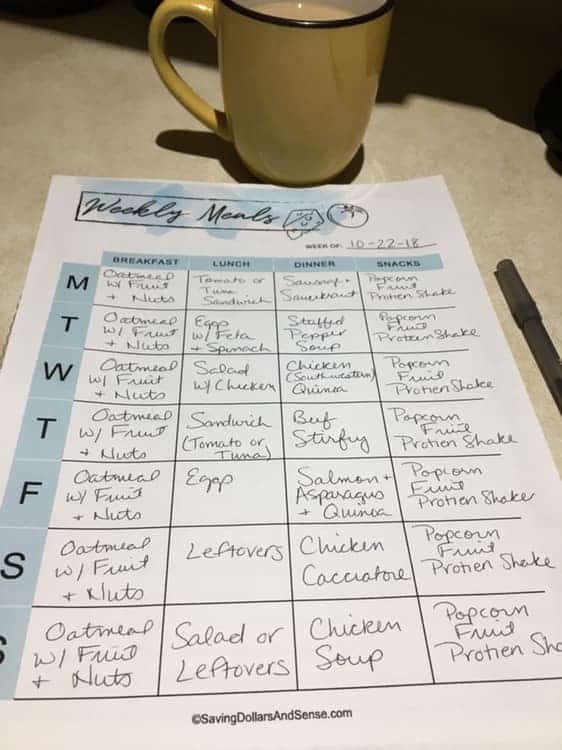 Breakfasts – Always Oatmeal with Fruit & Nuts
Lunch – Salads, Leftovers, Scrambled Eggs, Sandwiches
Weekly Dinner Plan
Monday: Sausage & Sauerkraut
Tuesday: Stuffed Pepper Soup
Wednesday: Southwestern Chicken & Quinoa
Thursday: Beef Stir Fry
Friday: Salmon, Asparagus & Mushroom Quinoa
Saturday: Instant Pot Chicken Cacciatore
Sunday: Instant Pot Chicken & Veggie Soup
To help you get started we have this menu planning printable schedule that you can use to easily plan out your week right now!
Once you have finished your meal plan, I hope you'll share it with me 🙂
You can share it here in the comments below, or you can join us over in the Saving Dollars and Sense Community and share it there and see what everyone else is sharing.
If you want to see some more weekly menu plan ides, you can check out the meal plan we used last week here.
This free Printable Meal Planner will make meal planning so much easier to do.