These Chocolate Sea Salt Bars are so simple and easy to make! You just might have found your new favorite snack!
If you like this treat, make certain that you check out our Peanut Butter Granola Bars as well!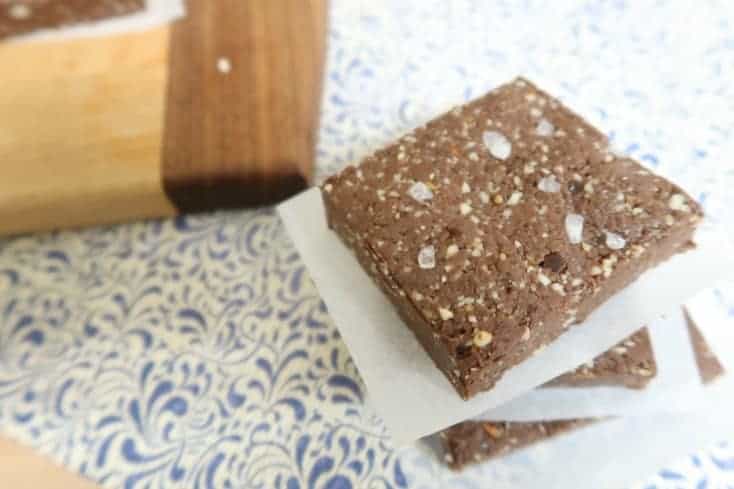 Chocolate Sea Salt Bars
I don't know about you, but I'm always looking for a healthier option to eat and snack on then what I can find on the shelf. And while I know that it's easier to grab something premade, I also know that it's not good for my body as well.
My solution for when that sweet tooth starts kicking in is this delicious homemade chocolate bar recipe. It's made with good ingredients, it's simple to create and it's so good knowing that I know and can pronounce everything that's in the recipe.
I'm certain that after just one bite, you're going to agree with me! If you're looking for a super tasty treat, you're going to love these delicious Chocolate Sea Salt Bars!
Ingredients needed to make these homemade sea salt bars: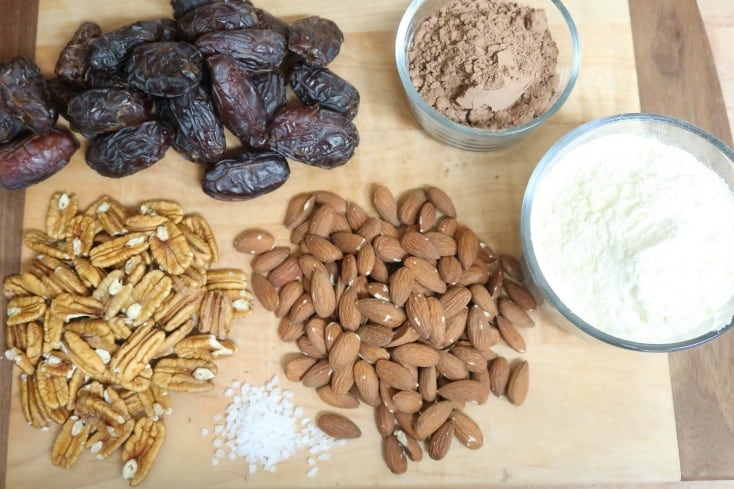 How to make Chocolate Sea Salt Bars
Line the 9×13 dish
with parchment paper
and set aside. 
Add nuts, egg white powder, and cocoa powder to the food processor. 
Cut the pitted dates into fourths so it's easier for the food processor to do its job. Add the chopped dates to the food processor bowl.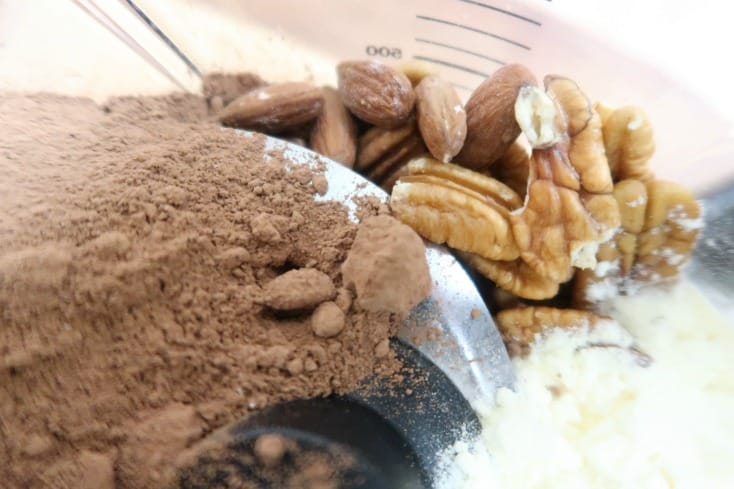 Let the food processor run for 1-2 minutes, occasionally stopping to scrape down the lid and sides. 
 Once fully combined the mixture will appear mealy but will stick together when pressed. 
Pour the mixture into the lined dish. 
Use your hands to flatten and level the mixture. Press very firmly so that all the ingredients bind together. 
Sprinkle coarse sea salt on top and press the granules into the mixture. 
Cover and place in freezer for 1-2 hours before slicing. 
After you slice the bars you can cut up the parchment paper and place it between bars so they don't stick together. 
Store in the freezer. 
If you like these sea salt chocolate bars, try these recipes as well: