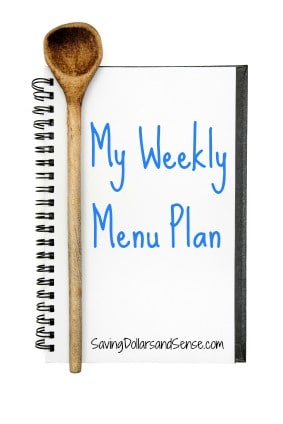 It's been a while since I shared my menu plans with you. I'm working towards being more intentional in my spending and the first step I always take is to sit down and write out a menu plan for the week.
Because we pretty much eat the same things for breakfast and lunch, I tend to just plan out our dinners.
Stay tuned, tomorrow I will share my shopping trip along with what coupons I used so you can see exactly how I make this all come together.
If you need inspiration to start your own menu plan, read this post on Menu Planning.
Now on to this weeks menu plan.
Breakfast and lunch is pretty much the same around my house which is why that part of the menu never changes.
Breakfasts – consists of oatmeal, cold cereal, fruit smoothies, toast & poached eggs.
Lunches – consists of soups, peanut butter or tuna sandwiches, and dinner leftovers.
Dinners – I will try to include lots of veggies this week.
~ Monday ~
Grilled Cheese and Tomato Soup
~ Tuesday ~
Loaded Bake Potato Soup and Bread
~ Wednesday ~
Chili
~ Thursday ~
Crockpot Salsa Chicken and Brown Rice
~ Friday ~
Lasagna, Salad, Garlic Toast
~ Saturday ~
~ Sunday ~
We usually we have a very late lunch after church and just find something small for dinner. Either way I don't plan because I like to be flexible for anything that pops up.
What's cooking at your house this week?