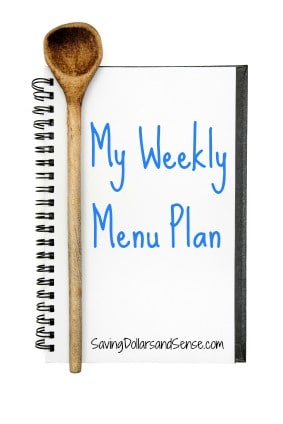 I hope by now you are getting the hang of how I do my weekly meal planning.
As I have shared before, this is the very first step that I recommend when trying to regain control of your budget.
If you take 15 minutes at the beginning of your week to plan your menu you will save money when your shopping because you will already know exactly what it is that you need to buy. This saves me from buying things I am not sure I will need just in case I do.
It will also save you time.
Spending 15 minutes now can save you valuable time all week long trying to think up a dinner or checking to see if you have the ingredients you need.
Get the whole family involved and it will take some of the planning burdens off you. I always ask each member of the family to come up with one meal idea.
This trick leaves me with only 4 meals to plan myself.
Now on to this week's menu plan.
Breakfast and lunch is pretty much the same around my house which is why that part of the menu never changes.
Breakfasts – consists of oatmeal, cold cereal, fruit smoothies, toast & poached eggs.
Lunches – consists of soups, peanut butter or tuna sandwiches, and dinner leftovers.
Dinners – I will try to include lots of veggies this week.
~ Monday ~
Beef Barley Stew
~ Tuesday ~
Baked Cod, Broccoli and Brown Rice
~ Wednesday ~
Chicken Soft Tacos
~ Thursday ~
Roast, Potatoes and Carrots
~ Friday ~
Chicken Stir Fry
~ Saturday ~
Lasagna and Spinach Salad
~ Sunday ~
Usually, we have a very late lunch and just find something small for dinner. Either way, I don't plan because I like to be flexible for anything that pops up.