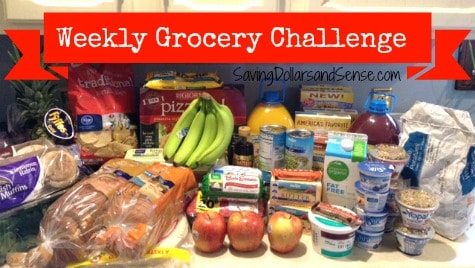 Over the last several weeks I have been preparing for the Official Grocery Challenge Kickoff.
What is the Grocery Challenge?
In my home, I find that grocery spending is mostly in my hands. This means I am able to control how much or how little I spend each week. Since it had gotten out of control I decided I needed to take some serious steps to get it under control again!
Basically I am attempting to get to the point where I am only spending about $50 a week.
The amount you spend might be different from mine. The point is to pick a doable budget and stick with it each week.
The challenge is to stay within your budget and cut back a little when you see you can do so. So far I have gone over a little each week, not by much, but a couple of bucks is still over 😉
Each week I will continue to share my grocery shopping experiences with you here, and I hope you will feel comfortable enough to shares yours too. You can expect to find these grocery shopping reports posted on Saturdays and I would LOVE for you to join me in this challenge!
How can you join in?
Choose your own budget

– Really put some thought into this, you want it to be challenging after all.
Join our Facebook Community– You'll find others who are participating there and be able to share the tips and tricks you've found that help you save!
Bloggers – If you are writing about your experiences as well, I would love to read all about them! There will be a linky available at the end of my grocery shopping update posts each week that you can link up too!
Pinterest – I have a special group board that is open to anyone who would like to join! You'll be able to share your shopping pics and posts with even more people, and it is an easy way to find inspiration from each other too! If you are interested in joining the Pinterest Group Board please follow me on Pinterest here.
After you have followed me, send an email to kristie@SavingDollarsandSense.com with PINTEREST GROCERY CHALLENGE BOARD in the subject line along with the email address you want the invite to be sent to.
Every Monday you will find a new Saving Dollars and Sense Lesson that will teach you the tricks I use to save big each week! If you have a tip feel free to share it in the comments or on Facebook so that everyone can benefit from them.
I am looking forward to seeing the Saving Dollars and Sense Community taking control of one area of our budgets.
Here is my Shopping Report for last week:
Meijer
Bananas
4 Silk Yogurt Cups
3 Gala Apples
Potatoes
Hamburger
4 Cans Meijer Veggies
Red Wine Vinegar
Pineapple
2 Meijer No Bake Cheesecakes
Cottage Cheese
2 Packages of Butter
2 Aunt Millie's English Muffins
Nestle White Chocolate Chips
Eggs
Organic Baby Spinach
2 Jugs Hawaiian Punch
2 packages of Tortillas
Bob Evans Italian sausage
Bob Evans Breakfast sausage
2 DiGiorno Frozen Pizzas
TOTAL $47.58
Total Savings $32.83
Kroger
2 Loaves of Bread
1/2 Gallon Organic Milk
2 Boxes Post Honey Bunches of Oats Greek Cereal
2 Boxes Cascadian Farm Granola
Kroger Tortilla Chips
5 Yopa Greek Yogurt
2 Larabar
Dozen Eggs
TOTAL $10.86
Total Savings $19.04
I saved a total of $51.87 and brought home $110.31 worth of groceries for only $58.44!!
I also received the following coupons back from Meijer to use next time:
$1.50 off my next Dairy Purchase of $8 or more
FREE Earthbound Farms Organic Baby Carrots
$1 off Meijer Shampoo or Conditioner
FREE Dozen Eggs
$1.50 off my next Produce Purchase of $8 or more
$1 off 4 Silk Yogurt Cups
$1.50 off DiGiorno Pizzeria
I LOVE these coupons because they help me save even more on things I buy!