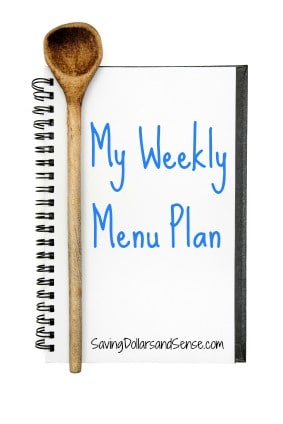 Now on to this week's menu plan.
Breakfast and lunch are pretty much the same around my house which is why that part of the menu never changes.
Breakfasts – consists of oatmeal, cold cereal, fruit smoothies, toast & poached eggs.
Lunches – consists of soups, peanut butter or tuna sandwiches, and dinner leftovers.
Dinners – I will try to include lots of veggies this week.
~ Monday ~
Baked Fish, Creamy Broccoli, and Pasta Salad
~ Tuesday ~
Leftovers
~ Wednesday ~
Chili Dogs, French Fries and Macaroni and Cheese
~ Thursday ~
Venison, Baked Potato and Green Beans
~ Friday ~
Mesquite Tenderloin, Corn, Mashed Potatoes
~ Saturday ~
~ Sunday ~
Usually, we have a very late lunch and just find something small for dinner. Either way, I don't plan because I like to be flexible for anything that pops up.