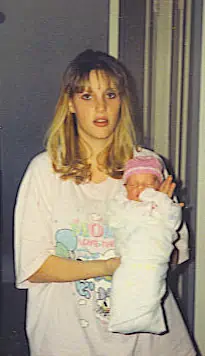 Look at that poor, tired child in that picture above.
I'm not talking about the baby, I'm talking about that young girl holding the baby. She looks quite shell shocked and I just want to give her a big old hug and let her know it is all going to be okay.
That young girl is me. Sixteen years old, without a clue, me.
I love sharing this story from my daughter's birthday.
I shared this on Facebook:

Today I am thankful that 26 years ago I received the gift of motherhood through the most beautiful, honest, truth seeker I know!

Her spirit has always been strong from the moment she was born at 3lb 4 oz and almost 3 months early.

She is a fighter through and through and has proven from day 1 that it will never be when or how I expect, but the Lords timing is perfect!

Her heart always makes room for those most choose to ignore. She has a special ability to identify with the marginalized. I am SO proud of the woman she is today and thankful for all that the Lord has done in my life because of her.

I am honored to be her mom, and thankful for the amazing testimony of grace and redemption she already has. This is just the beginning and I am blessed to have a front row seat!
Twenty-six years ago today, I was one frightened sixteen year old.
Truth be told, I had no clue what I was doing when I made the decision to give my daughter life.
In fact, it almost didn't even go this way. Had I hesitated just a bit longer, I wouldn't have ever known this person because my other choice would have ended that possibility forever.
But I digress…
I woke up one morning to get ready for school and had to be rushed to the hospital at 5 o'clock in the morning because the baby I was carrying decided it was time to meet the world – more than 2 months early!
There I was a very unprepared child myself getting ready to bring a new life into the world!
I had no idea what was to come in the next several days, and neither did anyone else. All that I knew for sure was that my life was about to change forever, and I was not ready for that.
It turned out that I was dealing with a very severe case of Toxemia and I was in labor!
I was also in shock.
This baby wasn't due to be born until December 24th and it was only November 5th.
This was eight weeks early.
The doctors explained to me that she would be very small and that there was a great possibility that she wouldn't have functioning lungs because they shouldn't have even begun to develop yet. This was just the beginning of the list of what could be wrong with her.
I was devastated and began to prepare myself as best as possible for the baby that would be born too early.
Just six hours later she was here.
Kalene Marie
3 lbs, 4 oz
And a fighter from day one!
They held her up to me so I could see her briefly before rushing her out of the room to the special incubator that would be her home for several weeks to come.
To my surprise, this super tiny baby was completely healthy!
Besides the fact that she hadn't learned to suck yet which made a feeding tube necessary for a couple of days, she was healthy and strong.
But her momma wasn't.
I was in a very bad state and the doctors were clueless as to how to care for me.
Over the next 2 weeks, I was kept in isolation while the doctors poked and prodded me to see why my blood pressure would not come down, my blood counts would not come up, and the extent of the paralysis I was experiencing due to the stroke I had during labor.
My mom had me on every prayer chain she could get a hold of and it was a very scary time.
The doctors could not find any reason for why I was still so sick. They thought all of the complications from having full-blown toxemia would just go back to normal once the baby was born, but the was not the case at all.
My blood pressure was so high, causing my body to swell to the point that my eyes were swollen shut.
After a few days, they realized that I had also had a stroke during labor and had no feeling in my left side at all. When I attempted to get out of bed for the first time and couldn't hold myself up.
It continued to get worse and finally, after many days without any change, I was scheduled to have a bone marrow test to try to get some answers. I was absolutely terrified.
The doctor had my blood drawn at 3 am and nothing had changed. The test would happen at 6 am. Just before the procedure, they decided to check one more time.
I was normal!
My blood pressure had returned to normal, as did my blood counts. I did not need to have a bone marrow test. I was so relieved. God had provided me with a second miracle!
During this entire time, because of how sick I was, I was not able to see the baby I had given birth to earlier. But now that everything had returned to normal I was able to not only see my baby but hold her as well.
She had continued to grow strong and was able to come home with me a week later, just before Christmas!
Happy Birthday to my miracle from God!
You have brought me so much joy with your smile and tender heart. I am proud of the woman you are becoming, and I feel honored that the Lord has chosen for us to be together.
I thank you for all you have taught me about the Lord, myself, and others. And although at times you may feel that I'm treating you like a child, the truth is that I have enjoyed you so much that sometimes it's hard to let go. I love you!
I am so excited to see all that the Lord has planned for you and your life!
(This is one of her graduation photos from a few years ago)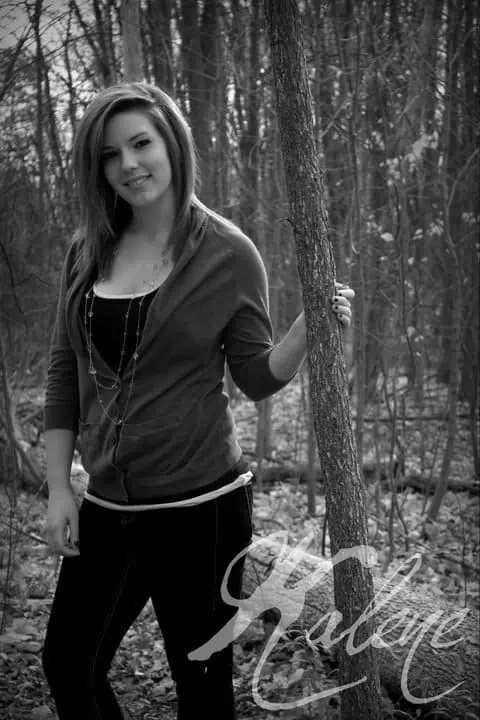 You can read more about my Abortion Story CLICK HERE