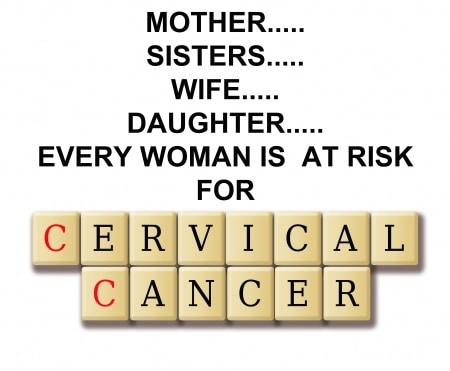 Yesterday I had an appointment with the OBGYN Specialist for what I thought was going to be a second (more in-depth) pap test.
Turns out it was really just to go over my original abnormal pap results and explain to me what highly abnormal meant.
My primary doctor wouldn't say why I needed to go to the specialist other than to say I had a "highly" abnormal result, so I wasn't sure what to expect exactly.
Up until yesterday the only one who had even whispered cervical cancer was me. Based on the reaction of my primary doctor and the research I found online when I googled "highly abnormal pap", I knew that this was a likely possibility.
Yesterday the specialist called it precancer.
My pap was considered "highly abnormal" because it turns out that the test shows I have cells present that are low-grade and some that are high-grade which indicates there is more than one area to deal with, although she can't know the extent until we do the next procedure.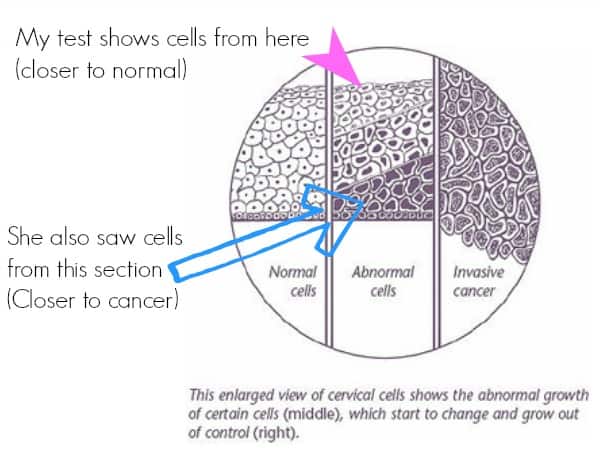 She explained it to me using a chart similar to the one below.
So now they need to have a closer look with a microscope and use an acid wash that will pull the bad cells to the surface so she can remove them. She said she needs to know several things.
Where are the bad cells?
How deep do they go?
How many areas are involved?
Hopefully, it will turn out that things are not too bad in which case the cells have 10-15% chance of becoming cancerous if not removed.
However, there are still high-grade cells to deal with. If they are within 2 inches of the surface, she can remove them in the office without much trouble during the next procedure.
Obviously, as the cells move from low-grade to high-grade they have a much higher chance of becoming cancerous which is why she wants to take action as soon as possible so the high-grade cells don't have time to change any further.
If it turns out they are deeper than 2 inches, I will have to have another procedure done under anesthesia in the hospital that involves removing part if not all of the cervix.
The good news is that none of the cells appear to have moved to become cancerous at this time. This means we caught it early enough that it shouldn't become anything too serious.
This is now my second experience hearing the word precancer, and since beating it the first time with my skin precancer, I am not all that scared this time around.
In fact, after speaking with the doctor I am feeling pretty good about the fact that it is early enough that things can be dealt with easily.
Thanks to all of you who have continued to support me with your prayers, thoughts, emails, and comments! You have no idea how blessed I am for you!!