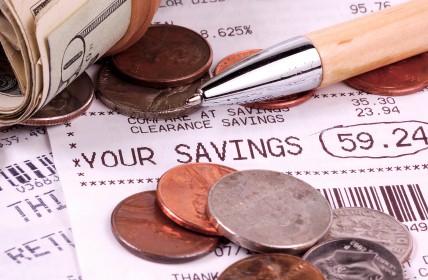 I'll admit that after watching the very first episode of Extreme Couponing I couldn't bring myself to watch another.
Lots of great tips to help you learn How to Save Money grocery shopping.
I shared my thoughts the difference between couponing and hoarding that very next day. I was appalled at the behavior I saw being displayed all for the sake of ratings.
No one took into consideration the way that this display of greed and possible fraud would change the way that many of us have learned to saved.
I've been hearing the stories of rude customers and cashiers. Shelf clearing is becoming a perfectly normal behavior. Illegal coupon usage is picked apart and justified as acceptable by some?
I want to suggest that those of us who coupon to save our families money and not for the thrill of the hunt will stand strong for couponing Integrity!
Yes it is totally possible to coupon AND follow all the rules too! Here are some of the ways you can have Extreme Couponing Integrity:
Show courtesy to others.
While it is the cashiers job to deal with your coupons, you'll get much better service if you acknowledge the fact from the beginning that this is extra work for them.
Especially if you have a huge amount of coupons or a lot of free product coupons. I have found that being humble sets the tome of the transaction.
Be willing to miss a deal.
There are times when a deal just doesn't go according to your plan. It is my feeling that if I have saved thousands over the years it is okay once in a while if the deal doesn't work.
Getting the deal should not make you feel good or bad about yourself.
Only buy what you will use!
I know it can be so tempting to continue to buy when you aren't paying for the item. But it is wasteful to buy what you can or will not use in a reasonable amount of time.
If you just must get another tube of free toothpaste, why not consider donating some of what you have to shelters, churches, or abused women's centers?
Remember where your provision comes from.
You are not the master of your couponing domain! As Christians it is our responsibility to represent Christ to the world wherever we are and in everything we do.
This includes our shopping trips.
Keep in mind that there are others around watching to see how you handle yourself. They are waiting for you to show the greed and emptiness that they have come to expect from watching the TLC Show.
Don't steal!
Seems simple enough, but trying to use coupons that are intended for one item to buy another is theft. Your store is not going to be reimbursed for that item.
This cause them to raise prices and set strict couponing rules. In fact this is the trend that is already taking place at many stores across the county.
Using coupons inproperly to save a buck can and will in fact cost you even more down the road.
More and more I am beginning to see that good old fashioned integrity is being set aside for the chance to feel the rush that comes from walking away from a store experience having spent very little money.
Let's remember that it isn't about building up storehouses here where things are temporary and perish.
It is important to learn the proper ways to save without sacrificing your integrity for a free deodorant.
Follow Saving Dollars and Sense on Facebook where I share all my thoughts!