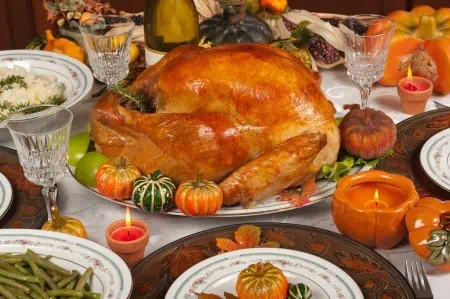 All the optimism surrounding lower gas prices may be clouded by record-high food costs, according to consulting firm Customer Growth Partners (CGP). While retail experts are predicting between 4 and 4.5 percent increase in holiday sales this year, CGP is estimating more modest growth (3.4 percent) due in part to rising food costs.
The timing of these increases is especially harsh as millions of Americans prepare to host Thanksgiving dinner next week.
Turkey prices alone have jumped 12 to 14 percent (per pound) since last year, according to the USDA's Turkey Market News Report. To avoid letting these costs gobble up your Thanksgiving budget, check out these nine savvy tips.
1. Compare turkey prices online.
Prices on Thanksgiving groceries like turkey and canned veggies can vary significantly from store to store, so it pays to compare costs. Plus, many stores will offer to price-match their local competitors while others will offer discounts on a turkey based on a single trip or overall spending. You can access most grocery store circulars online for quick comparison so you can plan your shopping trip and avoid driving all over town.
2. Get cashback.
Several mobile apps have popped up offering cash-back for grocery purchases, including Thanksgiving dinner essentials. Snap, iBotta and Checkout 51 enable shoppers to snap photos of their receipts and get cashback once they reach a certain amount. These apps are free and can be used year-long to save on groceries.
3. Keep it simple.
Planning is easier than doing, so don't allow yourself to go overboard when designing your menu. Keep it simple with the dishes you typically serve since new, exotic dishes can require expensive ingredients and result in a higher grocery bill.
Stick to a single type of meat instead of buying a turkey and a ham, and calculate how much meat you actually need before buying the main course.
Typically, one pound of meat per person is plenty, plus any amount of leftovers you want. For more tips on finding a turkey for less (or even free!), check out this article from Kiplinger's Personal Finance.
4. Get clipping (or printing).
Using coupons to save on Thanksgiving groceries is hardly groundbreaking, but these days you don't have to rely on newspaper inserts to get manufacturer's deals.
Websites like CouponSherpa.com offer a roundup of grocery coupons based on your location, so you can easily find and print coupons based on your shopping list. You can also search for specific product coupons, like $1 Ocean's Spray Fresh Cranberries or $0.40 off two tubes of Pillsbury Crescent Rolls.
5. Bake your own pie.
Cooking from scratch is the cheapest way to save on any meal, but lack of time is often hard to overcome. Ultimately, boxed stuffing and canned gravy won't break your Thanksgiving budget.
Where you really need to focus your do-it-yourself skills is on dessert and baked goods like pumpkin pie and cheesecake. Prices at the bakery are marked up 100 to 300 percent which will send your grocery costs soaring. If dessert isn't your specialty, ask a friend or family member to cover this part of your menu.
6. Buy whole produce.
Whether you're serving roasted broccoli, honey-glazed carrots or sauteed Brussel sprouts as your signature veggie dish, buying whole produce will save you up to 40 percent the prepackaged stuff. Sure, it's going to require a bit more effort to wash and chop everything, but doing so will not only boost your budget: it will also enhance the flavor of your dish.
7. Go with frozen.
If your signature dish or dessert features an out-of-season fruit or vegetable, consider buying frozen instead. Frozen produce is cheaper than fresh and because it's flash-frozen at peak ripeness, you still get all the flavor and nutritional benefits.
Turkeys are also a better buy frozen: you can save up to 40 percent by opting for a chilly bird. Just remember to allow sufficient time for thawing and brining, if you choose to do the latter.
8. Bulk up your alcohol purchase.
If you're serving alcohol at your Thanksgiving dinner, considering buying in bulk to save. VONS will give you a discount of 10 percent when you buy six or more bottles of wine, for example.
You can often save 30-percent off liquor store prices when you shop at warehouse club stores for booze. Finally, don't pass up boxed wine: for the equivalent of $5 a bottle, you can stock up deliciously drinkable wine at a huge discount, and serve it in a carafe to fool your guests!
Check out this roundup of recommended boxed wines from Wine Enthusiast.
9. Snag doorbusters for cookware needs.
As if preparing for a house full of guests isn't stressful enough, coming up short on baking dishes and other cooking essentials can send you into panic mode. Instead of running to the grocery store where cookware is marked up by 40 to 60 percent, take advantage of pre-Black Friday deals.
Retailers will be promoting doorbuster offers on small kitchen appliances and cookware all week long.
Guest Post by Andrea Woroch who is a nationally-recognized shopping expert for Kinoli Inc., who helps consumers live on less without radically changing their lifestyles. From smart spending tips to personal finance advice, Andrea transforms everyday consumers into savvy shoppers. She has been featured among top news outlets such as Good Morning America, NBC's Today, MSNBC, New York Times, Kiplinger Personal Finance, CNNMoney and many more. You can follow her on Twitter for daily savings advice and tips.