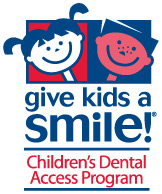 I shared this special freebie with you last year, and I am pleased to announce that it is happening again this year!
Each year on the first Friday in February, thousands of dentists and dental team members across the country take time from their practices to help children who lack access to dental care get the treatment they need.
You can read all about the program here.
I was able to find a participating location within half an hour from my home. You can find a participating location near you by clicking here.
This year the program will be running on February 4th. Children age 12 and under will be able to receive services from the American Dental Association such as Xrays and cleanings.