You only need five ingredients to clean your entire home.
Whether you are trying to get your home sparkling for spring, or are looking for some new cleaning recipes, there are so many times when I'm glad I have homemade cleaners on hand!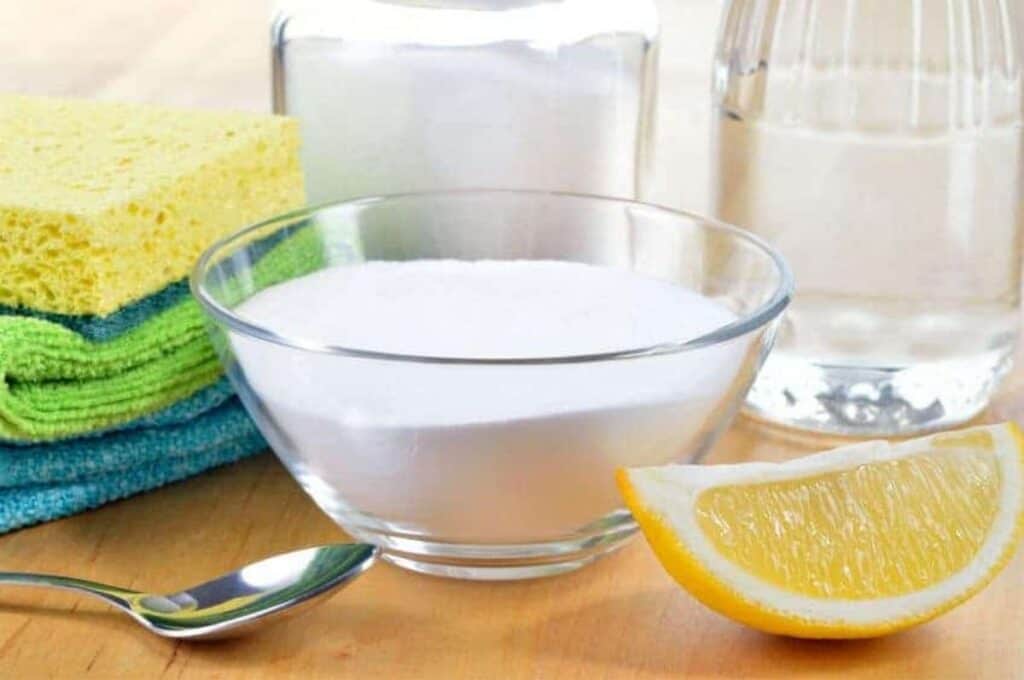 How to Clean Everything with 5 Ingredients
If you are in a pinch or looking to streamline your cleaning process, you can use five ingredients to make any household cleaner you might need!
Here is how to clean your entire home using these five ingredients:
Baking Soda
Baking soda has so many different uses for cleaning!
There are two main ways you can use this all-purpose cleaner.
The first is to deodorize, and the second is to help clean tough jobs like sticky residue off your counters or stove!
Here are just some of the ways you can use baking soda to clean your home.
Scrub down your kitchen counters
Deep clean greasy dishes
Deodorize carpets, pet beds, and furniture
Get crayon off your walls
Unclog your drain
Remove water rings
Distilled White Vinegar
Out of everything on this list, distilled white vinegar is probably one of my favorites!
This simple ingredient can be used in so many areas of your home!
Here are some of the ways you can use white vinegar in your home.
Disinfect your counters
Combine with dish soap for a homemade shower cleaner
Clean dirty sheet pans
Use to clean your coffee maker or tea kettle
Use in place of bleach for a food-safe surface
Lemons, Limes, or Fresh Citrus
The goal of using these fresh fruits is to pick something high in citric acid.
Fresh citrus is excellent for scrubbing and making whatever you clean sparkle like new!
Just make sure you stay away from stone and anything that might be brass plated.
Lemon essential oil is THE BEST for tackling anything sticky!
Borax
Borax is a great heavy-duty cleaner to have on hand, while this can add a boost to your laundry, it's great for cleaning your home as well!
It's the key ingredient to this homemade dishwasher detergent recipe.
Here are some of the ways you can use borax to clean your home.
Keep pests away
Dissolve any sticky messes
Clean your car upholstery
Scrub tile and tubs
Remove rust
Clean your toilet bowl
Clean your outdoor furniture
Get rid of sink stains
Dish Soap
If you eat in your home, chances are you have dish soap handy!
Many surfaces in your home can be cleaned with just a simple dish soap mixture or even just the dish soap!
Here are some of the ways you can use dish soap to clean your home (beyond dishes).
Mop your floors
Clean stainless steel
Clean your cabinets
Clean marble or granite countertops
Create a streak-free window cleaner by mixing with water
Get rid of grease stains
Clean your tools
Clean your grill
Quickly clean your blender
These five ingredients can get the job done in a pinch!
While there are tons of great cleaners out there, these five ingredients are my top picks for tough jobs and deep cleaning.
If you have these five ingredients handy in your home, there is no area of your home that you can't clean.