Have you ever found yourself asking What is a Capsule Wardrobe?
You'll find out the answer below, along with how you can easily start one today in just five minutes.
It's nice to splurge on clothing every now and again. 
But, if you find yourself caught up in the whirlwind of fashion and "must-haves", your splurging might have your closet busting at the seams.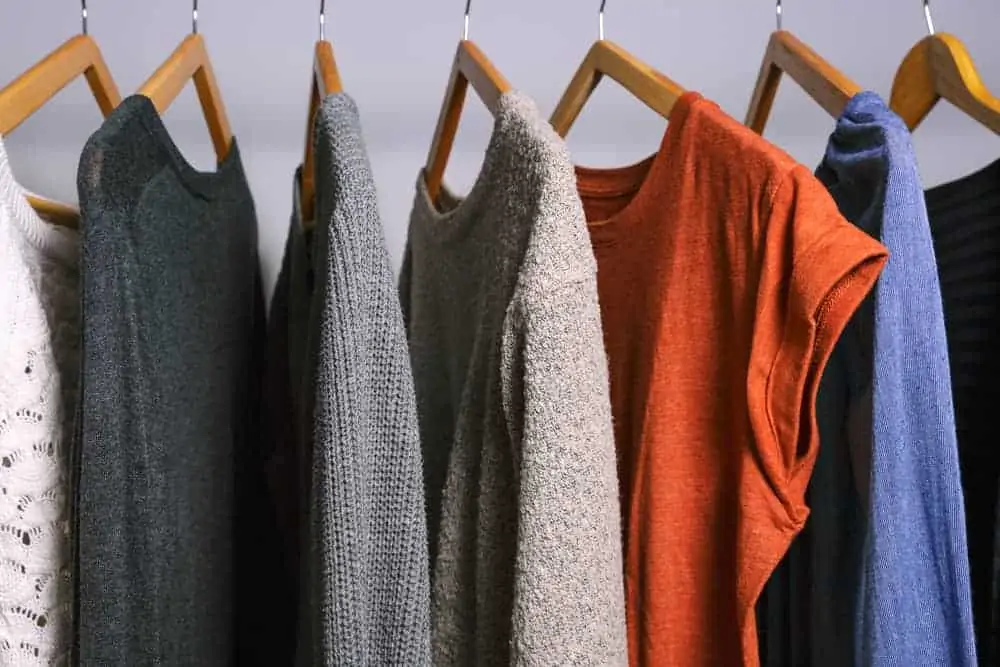 No wonder people are obsessed with creating the picture-perfect capsule wardrobe!
What Is A Capsule Wardrobe?
Before I ran through my closet and created my sanity-saving minimalist wardrobe, I had to know why everyone fell in love with this fashion idea.
And now I know why.
I honestly thought a "capsule wardrobe" was going to be one of those fashion fads that would eventually go away.
Never in my life did I dream that Susie Faux's (the owner of a London boutique called "Wardrobe" and the woman who created the term "capsule wardrobe") coined term would still be standing strong 50+ years later.
Minimalist Wardrobe
A minimalist wardrobe is another word for capsule wardrobe and is a collection of a few essential items of clothing for men and women that will never go out of style.
Some of these clothing includes skirts, pants, and a coat.
These essential items are then paired with seasonal clothing to meet the demands of your current weather and style.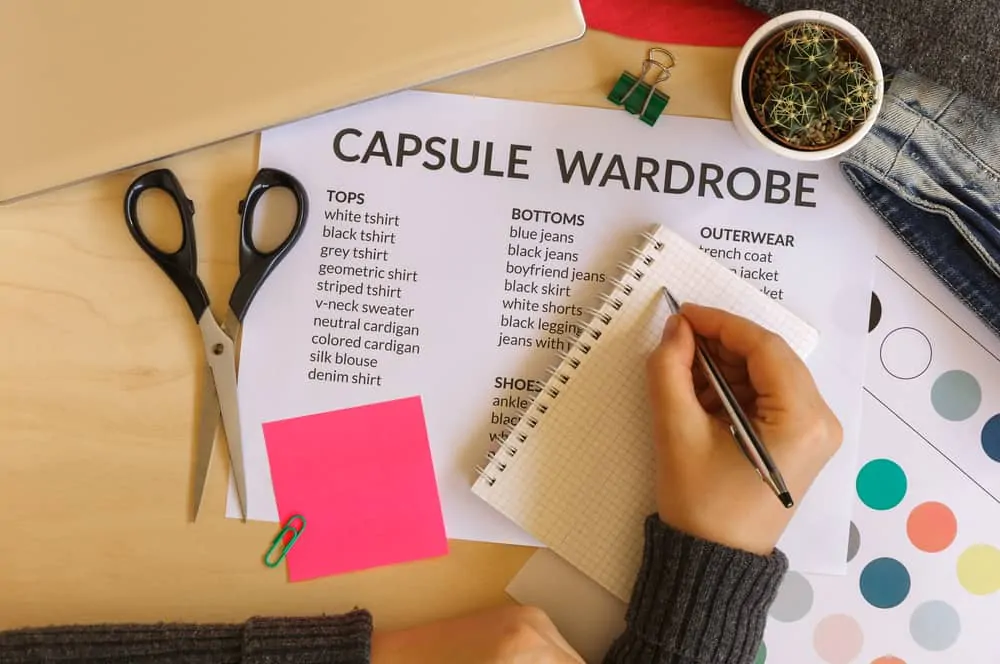 How to Build A Capsule Wardrobe From Scratch In Under 5 Minutes
When was the last time you stood outside your full closet and felt as though you have nothing to wear?
Have you ever found an incredible top on sale at your favorite store only to get home and realize you have nothing to match it with? Me too.
Here are a few quick tips to create a very fashionable wardrobe that is also simple and versatile.
Minimal Wardrobes
Check If You Have These Basics In Your Closet:
If you want a successful capsule wardrobe, you need to lay a solid fashion foundation with these minimalist clothes.
This is the category of clothing where you may want to splurge and spend a little more on since they'll be making the most of your fun fashion style.
Basics that are necessary for a simple wardrobe include:
Dark Wash Jeans
A great pair of dark wash jeans are a must for every season!
You may want to opt for a straight leg or skinny jeans so that you can pair them with flats, heels, and tall boots.
Flare leg or bootcut jeans don't always look as put together tucked into a pair of boots or with heels.
Distressed Light Wash Jeans
Having a nice pair of distressed light wash jeans will help add versatility to your wardrobe.
Having the difference of dark and light wash and having a cleaner style versus a distressed-style, make the jeans a noticeably different pair of pants and in turn a noticeably different outfit, when paired with the same top.
Blazer
I was a little hesitant about the idea of a blazer in my wardrobe until I came across this cute one!
A nice blazer will nearly double your wardrobe.
Pairing an outfit with a blazer and stylish flats will look like a different outfit than the same outfit with sandals and without the blazer.
Shoes
Who doesn't love shoes?! I'll be the first to admit that comfort wins over style in my closet.
This is why it's so important to make sure you have a few good pairs of neutral shoes that can easily be paired with nearly all of your outfits.
You can choose a variety of seasonal shoes such as sandals, flats, heels, and boots.
Changing up shoes and accessories can make the same top and bottoms look like a different outfit!
A little advice…shoes are one of those items you will want to spend a little more on for higher quality.
Not only will they last you longer, but they can be worn season to season and will never really be out of style.
So, spending more now will save you in the long run since they will last for quite some time
What You Need To Know About Colors And Patterns
I need you to give yourself permission to get a little creative with colors and patterns!
Grab a couple of pairs of colored bottoms to create more versatile looks.
Don't be afraid to mix patterns. For example, florals and stripes look incredible together!
Pair a striped tee with jeans and a floral sweater for a really stylish and quirky look.
Having a few tops and bottoms that are more colorful and have bolder patterns will add pizazz to your wardrobe and will prevent you from feeling as though you don't have anything to wear because your closet is drab and boring.
One Last Thing! Don't Forget Your Accessories
Accessories are essential for a versatile wardrobe!
They are the backbone of bringing together less expensive clothing items and they take up much less space in your closet or dresser.
Plus, when you use the fashion secret of switching an accessory or two, you can make the same outfit look completely different!
For example, you can take a basic white blouse and jeans, pair it with a scarf and flats for one look and then with a necklace and heels for another.
Accessories are the true key to a great versatile wardrobe.
These are my quick and easy tips for a capsule wardrobe with the minimal time that is also very stylish and versatile.
What are some ways that you make your wardrobe work better for you?