This Target REDcard Guide will answer the question, What is Target REDcard and show you everything you need to know about how to save the most at Target and which REDcard is the right one for you.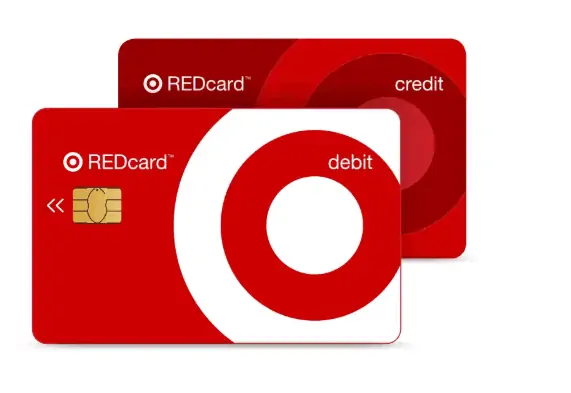 Target has come up with a solution where their loyal customers can save every day on every purchase no matter what it is.
If you want to learn about How to Save Money, read more below.
It's called the Target REDCard, let's see how it works.
What is a Target REDCard?
The Target REDCard allows loyal shoppers to easily purchase and enjoy a discount on everything they buy, every time.
There are two kinds of REDCards:

Target REDcard Debit Card:
The Debit Card requires you to have an account with an FDIC-insured, US-based bank and would be used just like your normal bank-issued debit cards.

Target REDcard Credit Card:
As for the Credit Card, it would be used at Target just like any other credit card and you'll receive a monthly bill from them.
Both can be used for purchases in-store and at Target.com.

What's The Benefit Of Using A REDCard?
One of the best things about using a REDCard would be that you can get a 5% discount on all your purchases anytime, any day. You'll also enjoy free Two-Day Shipping for online purchases.
Other benefits include:
Extended return periods:

REDCard holders will get an extra 30 days to return items that they purchased. Excluded are "all sales are final" purchases, Target Mobile purchases, or those that have predetermined return dates.

Target Subscription Savings:

You can get an additional 5% discount if you use Target Subscriptions. This will be on top of what you're already getting when you use your REDCard, so that's a 10% total discount.

Savings with Cartwheel:

You can get up to 50% savings if you shop using Cartwheel, and that's not including the 5% discount that you're already getting with REDCard.

Top Deal Savings and Specialty Gift Cards:

You can buy an item that is on clearance or use a gift card for an additional discount, and still get the 5% discount with the REDCard

No interest charges or fees:

The Target REDCard is not like a card provided by the bank, as long as you use the card properly and you have no issues with your bank, you're good to go.
How Can I Apply for a Target REDCard?
There are two ways for you to apply for a REDCard:
You can apply online at Target's website. Just fill out the form on their website, and you're all set.

You could also apply in person. Just go to your nearest Target store and tell the cashier that you're applying for a REDCard.
Is The Target REDcard Worth It?
If you have a tendency to keep debt every month, then, no, the Target REDcard will not be worth it for you because of the high-interest rates you'll be subjected to. However, if you maintain a budget, and pay off all your cards before the end of the month, then the savings from the Target REDcard will be worth having in your wallet.
Does Target REDCard Build Credit?
One of the best ways to first build up your credit includes applying, using, and paying off in full store credit cards.
These cards are easier to qualify for, rather than applying for an auto loan or mortgage with little to no prior credit history. The Target REDCard is one way to build and improve your credit score by always paying off your balance on time.
*Please note that a Target REDCard debit card cannot be used to build credit.
Can I Use My Target REDCard Before It Comes In The Mail?
When you apply for a Target REDCard debit card, you will be given a temporary card until your physical card comes in the mail within 7-10 business days.
What Is The Minimum Payment On A Target REDCard credit card?
There are two minimum payment amounts to be aware of for your Target REDCard credit card.
The minimum payment due each month will be the greatest of these two options:
A) $27.00
Or,
B) The Sum of = 1% of your new balance (rounded up to the next highest whole dollar) + any interest charges + any returned payment fees + late payment fees.
As you can see from option B, it's easy to use a credit card but often impossible to pay off the debt. This is why using a budget and having the self-discipline for maintaining this will help build your credit score, rather than put you in impossibly high debt.
Any Other Info About REDCard?
There are a few things that you'll want to be aware of when you acquire and use your REDCard:
The 5% discount doesn't apply to every item in the store. Restaurants inside the store (except Starbucks), items at Target Pharmacies, and gift wrap purchases are not included.

The REDCard Debit and Credit Cards can only be used at Target stores and at Target.com. They will not work at any other store.

The use of the REDCard will not help your credit score in any way.

This card does not have an annual fee and rewards are given immediately upon purchase.
If you're an avid Target shopper and don't have a REDCard, then you're missing out. A 5% discount appears to be small at first but it'll be a huge help in the long run.
You Might Also Like: