Meijer Curbside is a lifesaver when you are running short on time.
They're currently offering free curbside pickup orders in my area on orders over $35, so be sure to check if they are offering it in your area too.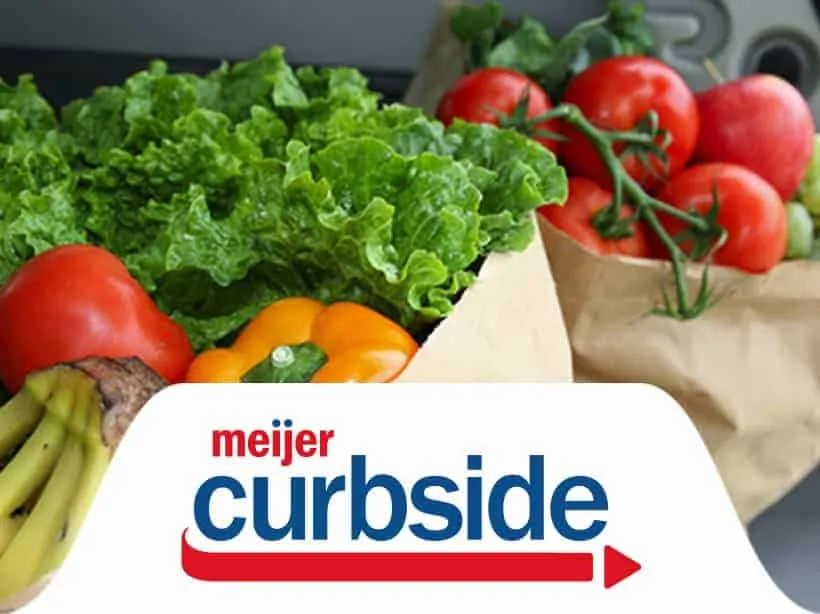 Meijer Grocery Pickup
I'll admit right away that I was one of those people that swore I would never consider using something like Meijer Curbside Service, because I had some strange idea that it was a lazy way to shop.
I had no idea How to Use Meijer Curbside Service, and no plans of learning how either.
Then I found myself in a jam and looking for a way to lighten the load on my plate which was currently overflowing with obligations.
I was hosting a family barbecue while my mom was in town for a few days, and that meant a houseful of people to feed.
As the day approached, I found myself running out of time and still needing to shop for everything!
I was stressed to the max and looking for a way to lighten my load.
I swore I would never do it…
I thought it was the epitome of selfish and lazy…
It was the morning of the party and I still wanted to have time to clean and prepare for everyone that was coming over that afternoon.
So I went ahead and sat down to shop and fifteen minutes later I was done.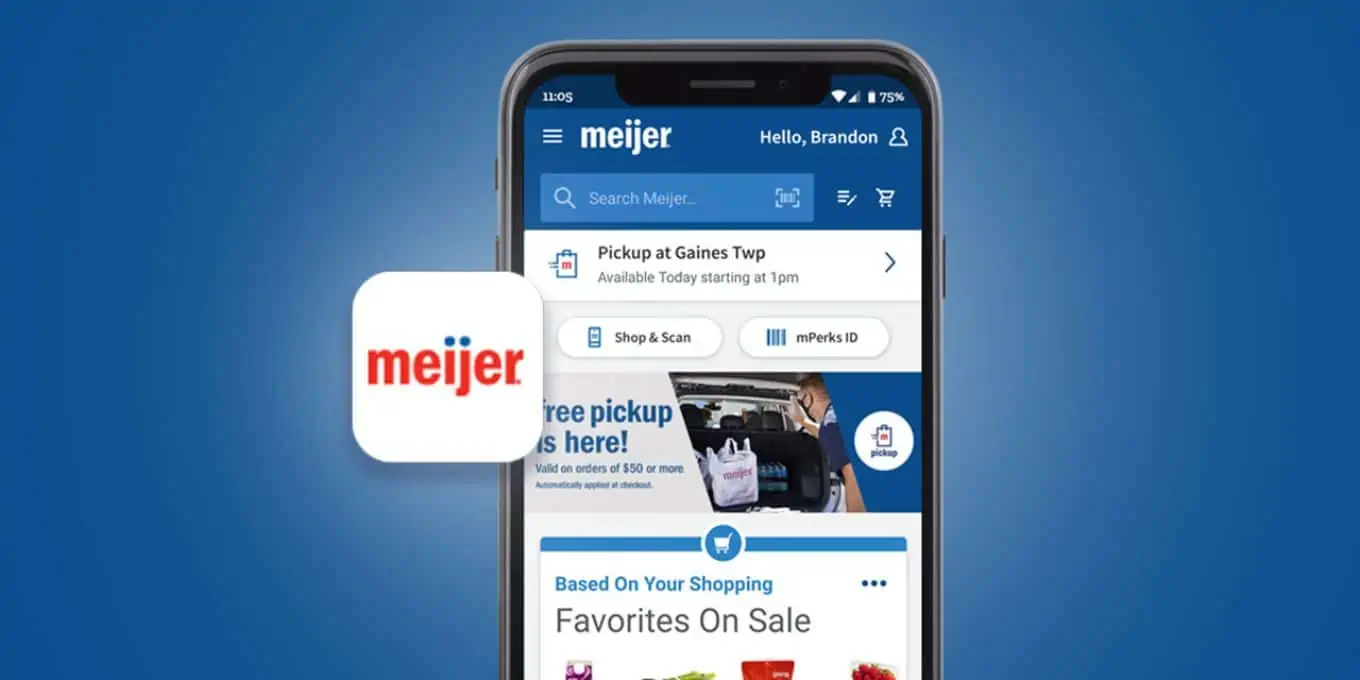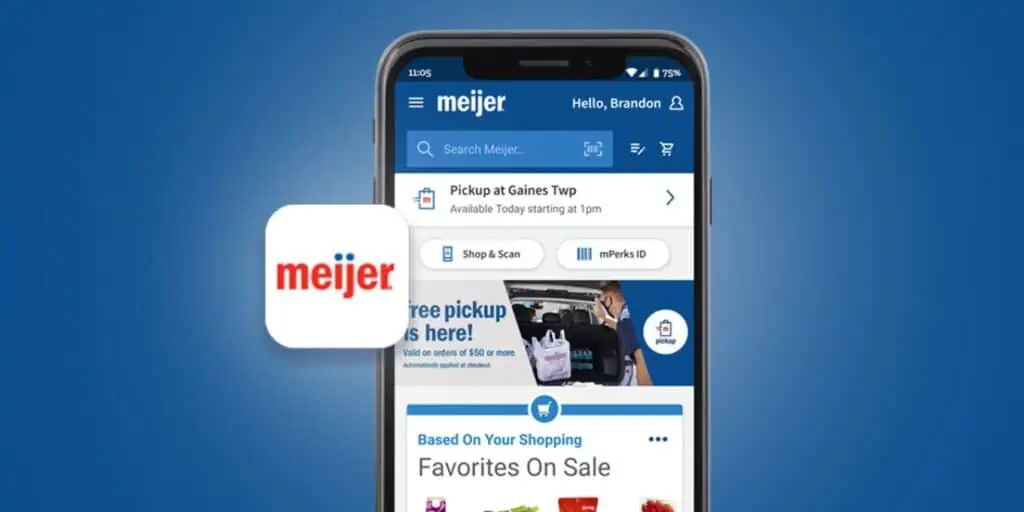 Meijer Online Ordering
Meijer online ordering was super easy!
Log in to meijer.com or tap the Meijer app on your phone.
Shop for all of the things you need and add them to your cart.
Select the pick up time that works best for you and your schedule at checkout.
Your personal shopper will shop your order for you.
Pick up your order at your store's designated pickup area, at the time you selected.

Meijer Online Ordering Tips
There's a section where you can write notes to the person that will be doing the shopping for you.
I ordered 4 avocados and wanted two of them ripe and ready to use and two of them green for a later time, so I added it to the notes and received exactly what I wanted.
I've also done this with bananas.
You get to choose a time and day that works best for you to pick up your groceries. They are available every day from 7 am – 9 pm.
In fact you can schedule your order up to five days in advance.
When you arrive there are signs in the parking lot to direct you to the Meijer Curbside Pickup location.
Meijer Curbside Pickup
You guys, this is like VIP shopping.
You even get your own lot to park in when you are picking up your order.
This was a Saturday and the regular lot was packed, but the Meijer Curbside Pickup lot was completely empty!
You just pull in and park.
Call the phone number on the sign at your parking spot and let them know you are there and they bring your order out to you, or you can choose to walk in to pick up your order.
You could just sit in your car while they load everything up for you, although I always have to get out and help.
Then you pay using your debit or credit card right there from your car and that is it.
Easy, breezy!!
How Does Meijer Curbside Work?
I am saving SO much time this way and I don't waste time looking at clothes or other items.
I am saving money even without the hassle of coupons because I only buy what I order while I am at home with my shopping list.
No more adding extras to the cart and the shopping bill.
Dedicated freezers, refrigerators and warmers in the pickup area keep your groceries fresh until you pick them up.
Specially-trained Meijer team members handpick every item from your order to make sure you get the best available produce and meats.
Your mPerks digital coupons and rewards are automatically applied to your Meijer Curbside cart.
Is there a minimum that you have to order?
There's no minimum for orders. If you order $35 or more, you won't have to pay the pickup fee. The Meijer Pickup fee is $4.95 on orders under $35.
Can You Use Coupons With Meijer Curbside?
As of now you cannot use any other coupons except for Meijer mPerks coupons.
What happens if one of my items is out of stock?
If an item becomes out of stock after you order, you will be presented with a substitution item that you can accept or decline online or when you arrive at the store to pick up your order.
Can I use my mPerks with my order?
Yes. You can use Meijer mPerks with your grocery pickup order.
Do you tip Meijer Curbside?
Meijer workers are NOT allowed to accept any kind of tips.
I wasn't sure if this should be adding in under the pros or the cons list since I guess that would depend on the person 😉
I have since used the Meijer Curbside Pickup service two more times and love it for those times when I do not have a lot of coupons that I want to use or bottles to return.
It is one of my favorite ways to save time, save money and treat myself at the same time.