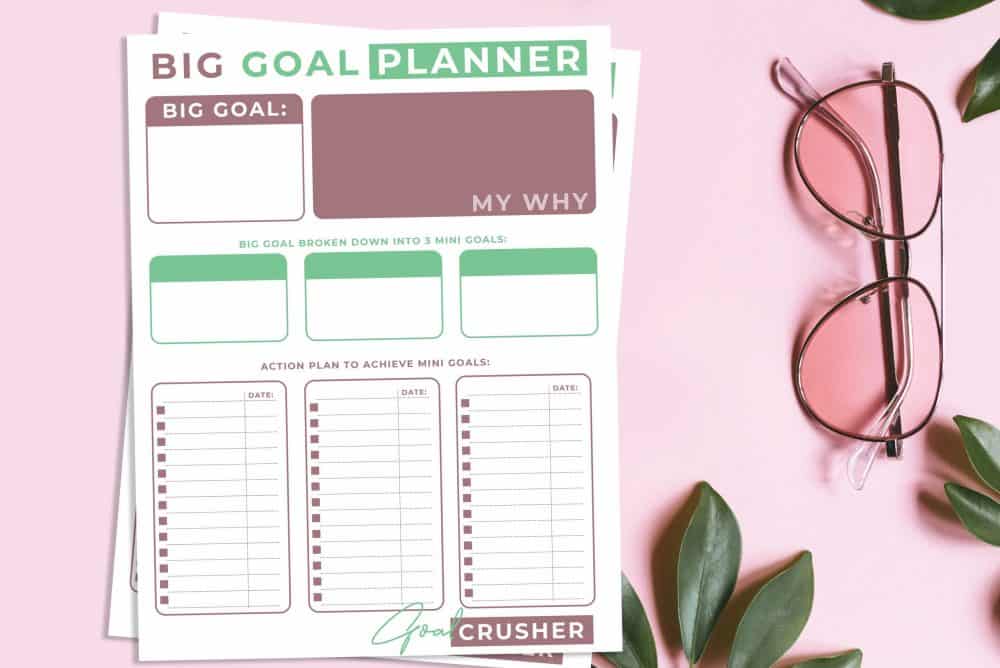 They say it is almost impossible to accomplish your goals if you don't write them down. The Goal Planning Worksheet I am giving you today will make it so much easier to do.
If you want to know How to Save Money, read more below.
The Goal Crusher makes it easy to write out your goals, with real actionable tasks that will help you actually achieve the goals your set this year!

A Goal Without a Plan is Just a Wish
The first time I saw that quote it hit me hard, like a ton of bricks, in the face.
That was the day I realized all of the goals I had for myself over the years, were really just dreams and wishes.
I knew I had to be more intentional with my goals, if I was ever going to get to where I wanted to be.

Use the Goal Crusher Goal Setting Template to write down your goals. Writing them down makes them more real, and more likely that you will see them through to completion.
Big Goal
When you are setting a big goal for yourself, you'll want to make sure you are following the SMART Goal model for the best chance at success.
S – Specific
M – Measurable
A– Actionable
R – Relevant/Realistic
T – Time Bound
My Why
Why do you want to accomplish this Big Goal?
This can be anything. Be honest about it. Maybe it is for your kids, for your health for your bank account. Whatever it is that you are working hard for, write it down.
Write down your why and keep it with you as a visual reminder of the importance of sticking to your goals.
Mini Goals
This is the place to break down your goal into smaller goals, or milestones.
Milestones are checkpoints along the way toward completion of a larger goal. These stops allow you to take stock of how far you've come and to celebrate your wins.
They also help you to break down a goal into smaller chunks to make it seem less intimidating.
Action Steps
You'll want to break down each of your Mini Goals into actionable steps that you can take along the way, that will get you to the Big Goal you've set for yourself.
These steps need to have a specific time limit attached to them, to make them work.
Accountability
The most important part of setting goals is having accountability.
I know I am not the only one that will set a goal in my mind and not tell anyone about it. What usually happens is that goals will last maybe a day or two.
But when you tell someone about your goals, suddenly they are a lot harder to forget.
I would absolutely LOVE to be your person!!
Leave me a comment here, send me an email or post a pic of your Goal Crusher Worksheet in the SD&S Community here.
Stick your plan in a place that you will be able to see it every single day.
Check out all of our Goal Challenges: