This Instant Pot Bone Broth Recipe allows you to make Homemade Chicken Broth in a fraction of the time as compared to other methods.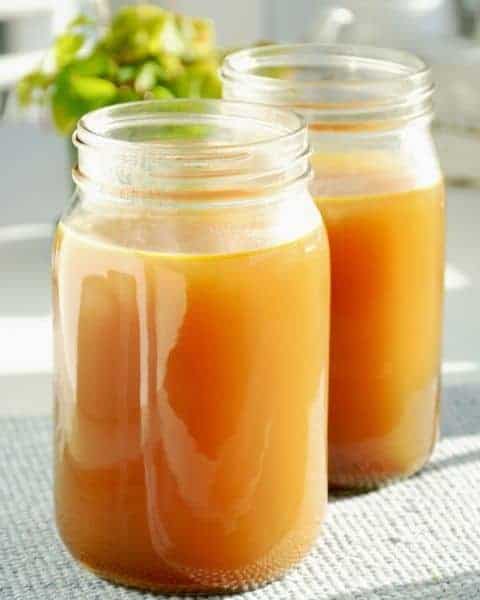 Get that collagen rich and flavorful bone broth that is loaded with flavor and nutrients in less than an hour using your Instant Pot pressure cooker.
All you need are leftover bones from a chicken, cold water, and vinegar.
It's that simple and so affordable to make it yourself using pressure cooking to do it fast.
I literally use chicken broth for practically every recipe I make, so being able to use leftover chicken bones to make my own if a great way to save money.
Plus I love that I do not have to just waste the carcass of our roast chickens by throwing them in the trash when there is still so much beneficial stuff left in them.
CHICKEN BONE BROTH
I know a lot of people that like to use their bone broth to sip on for added health properties and to curb hunger cravings.
Or you can just use it in cooking your favorite recipes just as you would with a store bought chicken broth.
I will also share how you can make a super simple and delicious chicken noodle soup with the broth as well.
WHAT ARE THE BENEFITS OF BONE BROTH
Bone broth is loaded with health benefits for the whole body.
You will help give your bones a boost, by using chicken broth in your diet regularly.
Bone broth is also a good option for gut health and digestion, adding extra vitamins and nutrients into your body as well.
Is Instant Pot bone broth as healthy as traditional bone broth?
Making your broth in a pressure cooker instead of using the traditional cooking method, which takes hours instead of minutes, does not have any adverse effects to the final broth product or its health properties.
WHAT IS THE DIFFERENCE BETWEEN BONE BROTH AND STOCK
Bone broth is made by cooking chicken bones and sometimes some chicken for an extended time, allowing all of the collagen, vitamins and minerals to be extracted from inside the bones.
Where chicken stock is cooked with vegetables, chicken, and bones for a shorter time.
It offers a richer and heartier flavor completed to a classic stock. But you can use bone broth in any recipe that calls for chicken stock instead.
Instant Pot Chicken Bone Broth is a great way to enjoy the health benefits that come from real homemade broth, without having to cook it for hours and hours.
HOW LONG SHOULD BONE BROTH COOK
Bone broth tends to cook low and slow for 10-12 hours.
I have been able to shave off a ton of time with my Instant Pot pressure cooker.
You only have to cook the broth for 45 minutes when you use the Instant Pot!
You get all of the same nutritional value in a fraction of the cooking time using your pressure cooker. The high pressure builds in the Instant Pot and helps to pull out all the good stuff quickly.
How to Store Homemade Chicken Broth
Once you have cooked and strained your broth, you can keep your Homemade Broth in the refrigerator for up to 5 days in any conatiner you choose.
I have found that mason jars work great for storing your broth in the fridge.
You can also choose to store your broth in the freezer if you want to keep it for longer periods of time or won't be able to use it all in five days or less.
CAN YOU FREEZE BONE BROTH
You can indeed freeze homemade bone broth for up to 6 months to a year.
It all depends on how well you store it and the steps you take to prevent it from being freezer burned. There are several ways to store your bone broth in the freezer.
You can pour your broth into ice cube trays and freeze, making it easy to toss into simple skillet recipes, etc. Or you can freeze in larger portions in any airtight container that is freezer safe.
Just remember that when choosing a storage container, the broth will expand as it freezes, so leave room for it in the storage containers or you can run the risk of breaking it or having problems with it overflowing.
You can freeze in bags, plastic containers, or even invest in a vacuum seal system.
I prefer to freeze in ice cube trays and then add to freezer bags.
This makes it easy for me to just grab what I need whenever I am cooking.
WAY TO USE BONE BROTH
Cooking 
Whenever a recipe calls for stock or broth you can swap it with bone broth. It's great in stews! It just adds a bit more health benefit into the recipe, and the flavor is very similar.
Drinking 
Some people enjoy drinking a cup of broth a day. It is loaded with vitamins and minerals and is a great aid in gut health. 
Dogs 
Some also recommend giving it to your dogs along with their food. Just like us, they will reap the nutritional value to help their joints, bones and even their fur. 
There are so many ways to use bone broth!
Soups You Can Make Using Bone Broth
You can use your homemade broth in any casserole, stews or soup recipe that you would typically use chicken broth or chicken stock for.
Substituting regular store bought chicken broth for your own homemade version will instantly add to the soups nutritional value. I love being able to make small changes like this that increase our overall health and wellness!
Deconstructed Keto Chicken Soup | Bursting with a variety of Keto-friendly flavors, textures, and colors, these soup bowls will fill your stomach and your senses.
Zuppa Toscana Soup | This soup recipe for Zuppa Toscana from Olive Garden is so fast and easy to make at home, you'll never have to wait to go to the restaurant to enjoy it again.
Chicken Noodle Soup | This classic soup is so easy to make using your homemade broth and Instant Pot.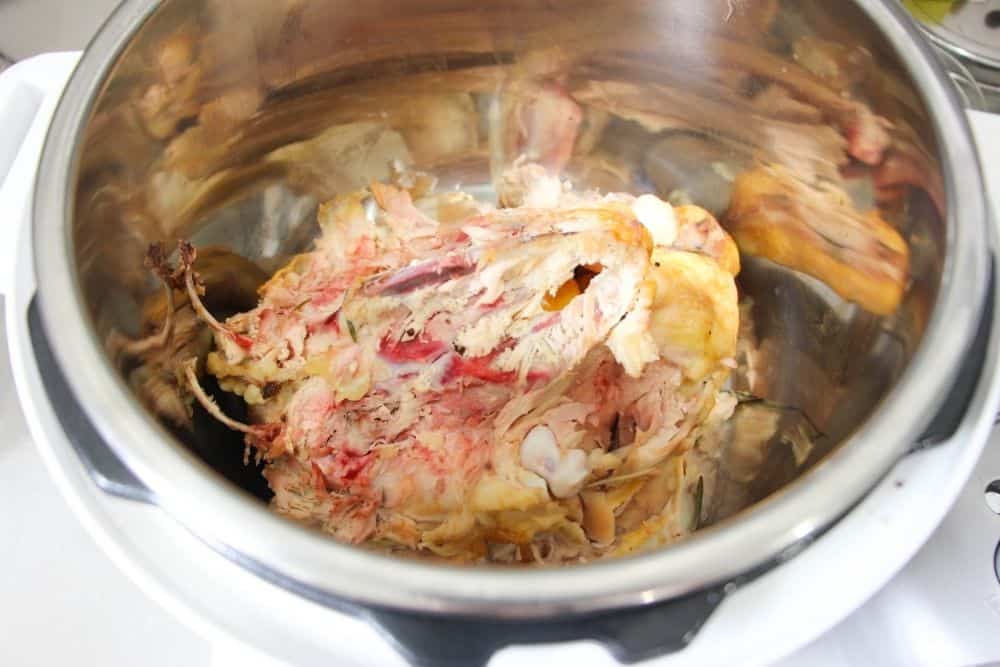 GATHER THESE INGREDIENTS NEEDED TO MAKE THIS CHICKEN BONE BROTH
Chicken Carcass
Water
Vinegar
Tip: Use Apple Cider Vinegar for even more added health benefits.
Then scroll down for full Bone Broth Recipe Measurements and instructions on creating this recipe – including a full recipe card that you can print for free that helps you shop and create easily in your kitchen!
How to Make Bone Broth in the Instant Pot
Remove any extra meat from your roasted chicken bones and set aside.
Place the chicken carcass in your Instant Pot and cover completely with water, paying close attention to not exceed the max limit line. Add the vinegar.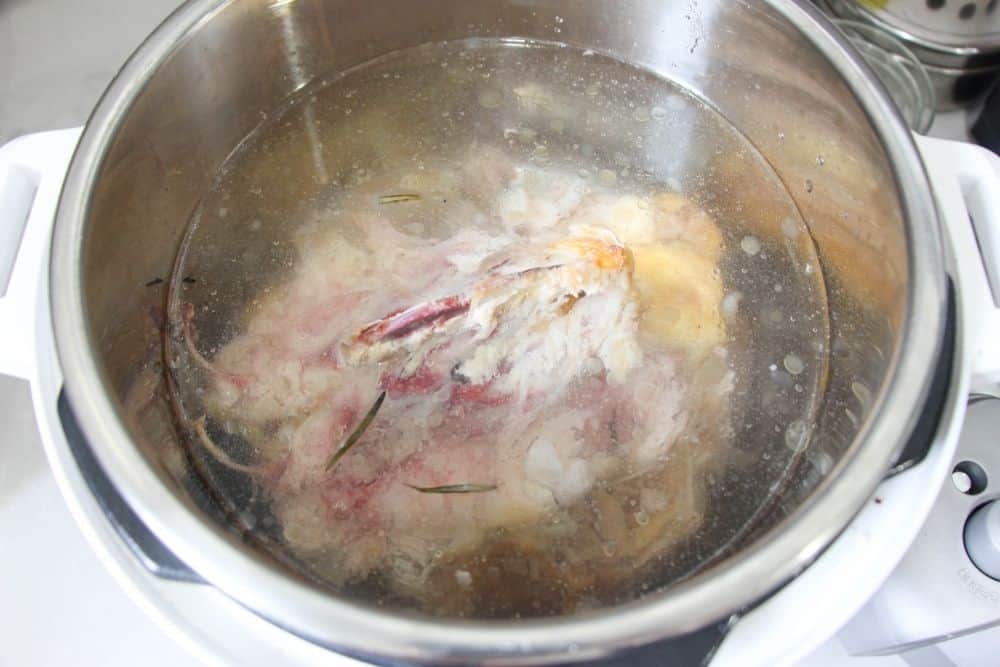 Secure the lid, select the "Soup/Stew" setting and set time to 45 minutes for a proper bone broth; 20 minutes if you just want a quick broth.
Allow your Instant Pot to do a natural release.
Carefully pour the broth through a mesh sieve or strainer to remove the leftover chicken bones.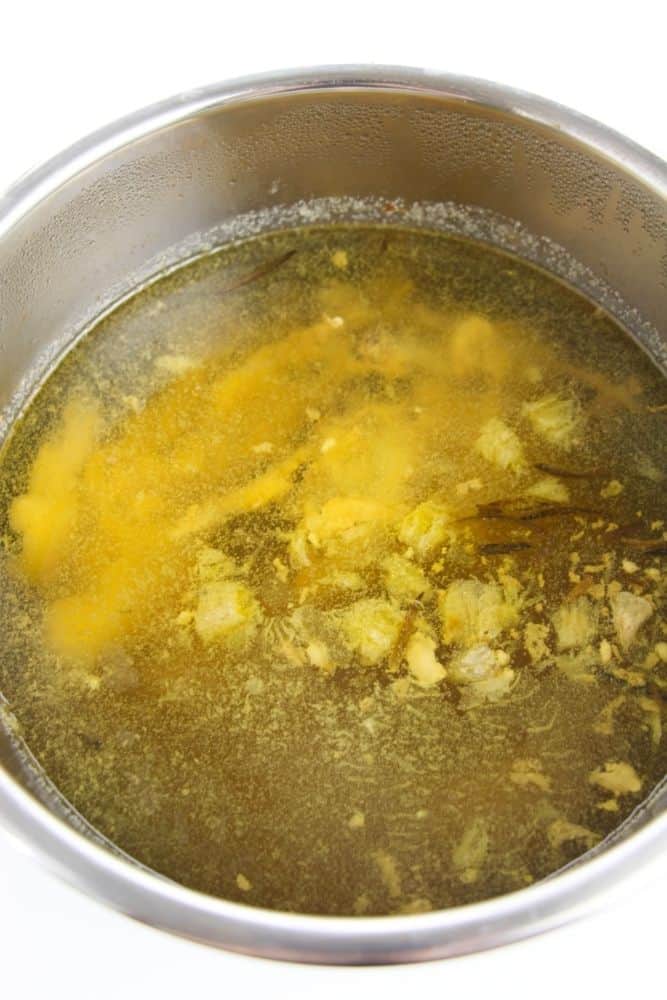 LOOKING FOR MORE RECIPES TO MAKE
Crunchwrap Supreme | If you enjoy Taco Bell this is a must make. So similar you might not realize it's homemade.
Cheeseburger Soup | I love cheeseburgers and this soup is hearty, filling, and loaded with all your favorite cheeseburger flavors.
Chicken Cacciatore | Skip dining out and make this incredible chicken dinner at home. Your family will be so impressed!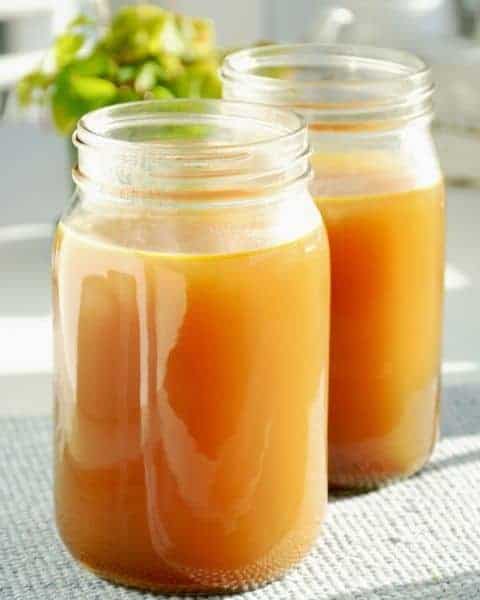 Chicken Bone Broth
Easy Instant Pot bone broth recipe.
Ingredients
1

whole chicken carcass

or 3 cups bones

8

cups

water

1

Tablespoon

vinegar
Instructions
Remove any meat from your chicken and set aside.

Place the chicken carcass in your Instant Pot and cover completely with water without exceeding the max limit line. Add the vinegar.

Secure the lid, select the "Soup/Stew" setting and set time to 45 minutes for a proper bone broth; 20 minutes if you just want a quick broth.

Natural release.

Carefully pour the broth through a sieve/strainer to remove the bones.
Nutrition
Calories:
1
kcal
Carbohydrates:
1
g
Sodium:
16
mg
Sugar:
1
g
Calcium:
9
mg
Nutritional information is automatically calculated with ingredients and serving size and may not be accurate. Please always double check with your own nutritional apps as well.
Did you make this recipe?
Please leave me a comment below, I would love to hear how you liked it (or not lol) Share a photo with me @KRISTIESAWICKI or tag #SAVINGDOLLARS!