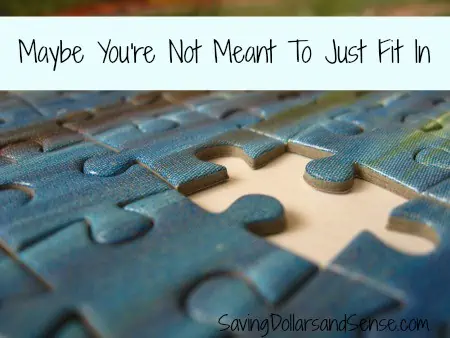 Have you ever felt like you just don't fit in?
Maybe it is because you aren't called to. I have spent my entire life feeling just a little outside of everyone else.
Before I lived my life serving Christ I never felt whole. I knew that the day I finally broke down and quit running from God I would be made whole and complete.
But what I didn't expect was that I still wouldn't feel as if I belonged. I look at my Christian sisters who seem to have no trouble fitting into this lifestyle and I spent so much time wondering why it seemed so easy for them and so hard for me.
I envied their lovely ways and how they didn't seem to question anything when I was still so rough and questioned everything.
They speak Christianese like a first language while I have trouble with some of the phrases because they sound so cliche and almost seem to reduce God to a Hallmark card saying.
I have been a Christian for a lot of years now and have seen the inside of the church's "inner circle" and decided as much as I love God the church can be ugly.
I still go to church, but I don't mind that I don't fit in.
I figure I probably never really will. I think I might even have come to a conclusion as to why. You see when my husband and I first went to church we did everything we could to fit in. And it worked!
Sunday School leaders, Youth Group leaders, part of the prayer team…we had successfully penetrated the inner circle. It was wonderful and we loved feeling like we had arrived.
But…
All we had really done was change our clothes, the way we talked, and the people we hung out with. We did that all on our own to be just like everyone else we saw in church. God doesn't want that! He wants you to be the person he created YOU to be and chances are it won't look like anyone else.
We LOVE being part of the church, but we don't feel like looking and saying all the right Christian things make us anymore Christian and I am now finally realizing that there is nothing wrong with me.
I'm not called to be anyone else but me 😉
So I guess the point of this post is to encourage anyone else reading who is like me and just never feels like they fit in. God needs every single piece no matter how differently we are cut in order to complete the full picture!
1 Corinthians 12:4-5 
4 There are different kinds of gifts, but the same Spirit distributes them. 5 There are different kinds of service, but the same Lord. 6 There are different kinds of working, but in all of them and in everyone it is the same God at work.
I also found this chunk in the Message translation interesting:
27-31 You are Christ's body—that's who you are! You must never forget this. Only as you accept your part of that body does your "part" mean anything. You're familiar with some of the parts that God has formed in his church, which is his "body":
apostles
prophets
teachers
miracle workers
healers
helpers
organizers
those who pray in tongues.
But it's obvious by now, isn't it, that Christ's church is a complete Body and not a gigantic, uni-dimensional Part? It's not all Apostle, not all Prophet, not all Miracle Worker, not all Healer, not all Prayer in Tongues, not all Interpreter of Tongues. And yet some of you keep competing for so-called "important" parts.
Consider the amazing creativeness of God that he creates each of us to be our own unique reflection of Him and not just a carbon copy of the person sitting in the chair next to us at church!
Do you know someone who needs to read this too, please share it with them!