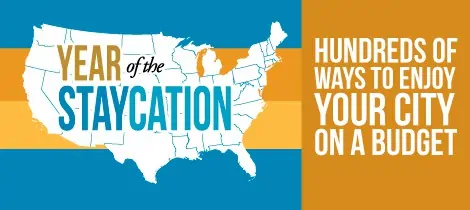 If you are looking for some fun and free activities in the Metro Detroit area, look no further!
You will find a bunch of great Metro Detroit Summer Staycation ideas that are FREE or very inexpensive below. Who says you have to travel to enjoy a summer vacation with your family?
With the seemingly never ending rise in gas prices many of us are being forced to make the decision to NOT have a summer family vacation.
But with just a little imagination you can create a wonderful vacation for your family without leaving your neighborhood!
I've listed some of the things you can do completely free or very inexpensive here in Metro Detroit, Michigan. Although I am sharing specific places in my area, a lot of these same things can also be found in your area as well.
If you are in the Metro Detroit area and know of something that you believe others would enjoy, please feel free to share it with all of us in the comments section.
You might want to follow us on Facebook where I'll continue to share deals and tips for a perfect Frugal Summer Staycation!
* Be sure to check out the different Deal sites to find fun things to do up to 90% off the regular price.
Local Nature Centers
Nature Centers are a great place to visit with your kids throughout the year as they are constantly changing.
There is one little jewel of a nature reserve that I loved taking my kids to that boasts of 40 acres with walking trails, animals, and lots of hand on activities inside the log cabin building. And it is completely FREE to visit!
30300 Hales Street
Madison Heights, MI 48071
(248) 585-0100
Libraries
Our local library always has really great programs planned for the summer months.
Also be sure to check out the Museum Adventure Pass! We have loved this program since it's debut a few years ago. Basically you can check out FREE passes to local museums through your library. The number of tickets allowed varies depending on the museum. You can check out tickets using your card as well as your childrens cards if they have them for a completely FREE trip to several local museums!
You might also be interested in finding out more about their FREE Kids Summer Reading Programs!
Farmer's Market's
Enjoy the Farmer's Market each Sunday from 9 am- 2 pm. The Farmers Market is so much more than just fresh produce.
You'll find live music, petting zoos, crafts, scavenger hunts, games, and great food! Plus after you've finished with The Farmer's Market you can stop by the Fountains to cool off.
Red Oaks Waterpark– Located in Oakland County, kids enjoy the Soak Station, children's water playground with 68 features, including water jets, curtains and slides, plus bubbler jets and a six-foot tipping bucket; must be 56″ or shorter and be accompanied by an adult. Or the Spray & Play, a water play area for toddlers, with 15 water jets and bubblers at zero depth.
Grab a tube and float on the River Ride, a 990-foot long moving river. Other water park features include:
Triple Turn, a triple-flume waterslide
Terrific Tides wave-action pool. The pool is heated, so even when it's cloudy or windy, the water's just fine.
The Warren Community Center has an amazing indoor water park, including a lazy river, pools, slides, hot tub, sauna, and little kid zone similar to The Great Wolf Lodge that our family has enjoyed for many years. It costs just $5 per day, plus you can check for coupons to save even more.
Metro & Stonycreek Beaches
You can pick up a pass for $25 that will get you into several parks though out Metro Detroit all year long. The neat thing is they have all kinds of special things going on during the year including stargazing, maple tapping, petting farms, and more. Not to mention the great beaches! We used to take our kids to play in the splash park all summer long!
This is a great program that allows kids to bowl 2 FREE games every single day of the summer!
Three miles of development on the east Riverfront, including pavilions, plazas, parks and green space, all connected by the ever popular RiverWalk. June 19th – 21st is River Days so bring out your fishing rods for some good family fun!
Take advantage of all of Michigan's Metro Parks which offer beaches, nature centers, fireworks, golf, biking trails and many more fun activities.
Outdoor Movies at City Square
Take your family to a FREE movie on the big screen outdoors this summer! Most community centers offer this during the summer so make sure to check yours.
Thursday nights head to The City Square (North of 12 mile, East of Van Dyke) beginning at dusk you'll enjoy family friendly movies.
Concerts at the Square
When we lived in Warren you could catch a FREE concert every Sunday night from July 17th through August 21st at City Square beginning at 7 pm. Many cities offer these through out the summer months, check your area parks & recreation to find out more.
We are planning to take a trip here soon for the planetarium, however this has been our favorite museum for all the hands on exhibits as well as a full sized T-Rex!
Warren City Square Fountains
The fountains are a completely FREE and fun way to cool off this summer!
The Woodward Dream Cruise
Today, the Woodward Dream Cruise is the world's largest one-day automotive event, drawing 1.5 million people and 40,000 classic cars each year from around the globe—from as far away as New Zealand, Australia, Japan and the former Soviet Union.
North American cruisers from California, Georgia, Canada and all points in between caravan to Metro Detroit to participate in what has become, for many, an annual rite of summer.
This was my absolute favorite place to visit when I was a kid and it is even better today! Take a step back into history and you won't want to leave.
Take a Country Drive & Look for roadside stands & Farms
When I was a kid my mom would load us all into the car for a country drive. Never a real plan, just drove until we saw something to stop for such as a road side veggie stand or You Pick farm. I have such warm memories of these drives.
Metro Detroit can take advantage of the FREE Fishing Days on June 13th & 14th!
You can also turn your own backyard into a Staycation retreat.
So if you aren't traveling this summer, how do you plan to have a Staycation?