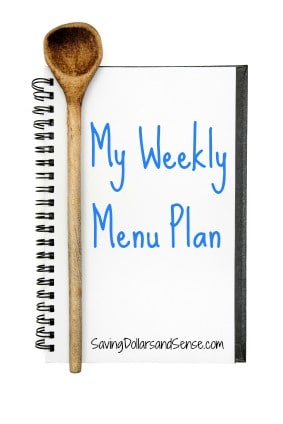 Now that the Grocery Challenge is in full force around here I am happy to say that my family is acclimating nicely to the changes once again.
When you shop the way I do to save the most money and still eat in a way that is as healthy as possible, a few changes need to be made.
1. Stick to the Plan!

This does not mean you can't ever be flexible. But when you choose 6 meals for the week, stick to those six meals. Sometimes I just don't want to make what is on the menu plan that day, and I'll choose to make Tuesdays meal instead of Monday. No biggie! Just remember to swap them and you'll still end up cooking your entire meal plan.

2. Create meals you have on hand, mostly.

When I sit down on Monday to write out my meal plan, I look at what ingredients I already have on hand. I am always looking for things that only require one or two more ingredients to make. This extrea ingredients become the start of my grocery list for the week.

3. Remember dinner is about more than just eating.

If we create a dinner time atmosphere that is more about sharing and connecting with each other, the actual meal itself will become secondary.

4. Involve your family in your planning.

I ask my family what they would like to see on our menu each week. This helps me with planning when I am burnt out and have no new ideas. It also helps me to know what items to be on the lookout for each week in my shopping trips.

Example: My daughter wanted tacos for dinner. Everyone LOVES tacos! I had a lot of things already but needed tortillas and hamburger. Once I found decent deal on both I scoop them up and added tacos to the meal plan last week.
I hope these tips encourage you to take 10 minutes and jot down 6 meals for the week. I promise the 10 minutes you spend now will save you at least that each day when it comes time to deciding what is for dinner and what do you need to make it because you will already have the ingredients and know exactly what is for dinner that night!
Now on to this weeks menu plan.
Breakfast and lunch is pretty much the same around my house which is why that part of the menu never changes.
Breakfasts – consists of oatmeal, cold cereal, fruit smoothies, toast & poached eggs.
Lunches – consists of soups, peanut butter or tuna sandwiches, and dinner leftovers.
Dinners – I will try to include lots of veggies this week.
~ Monday ~
Mongolian Beef & Brown Rice
~ Tuesday ~
Pan Fried Fish & Scallopped Potatoes & Steamed Veggies
~ Wednesday ~
Crockpot Roast with Potatoes and Carrots
~ Thursday ~
Boca Burgers, Salad, and Mac & Cheese
~ Friday ~
Grilled Boneless Pork Chops, Twice Baked Potatoes, & Salad
~ Saturday ~
Calzones
~ Sunday ~
Usually we have a very late lunch and just find something small for dinner. Either way I don't plan because I like to be flexible for anything that pops up.