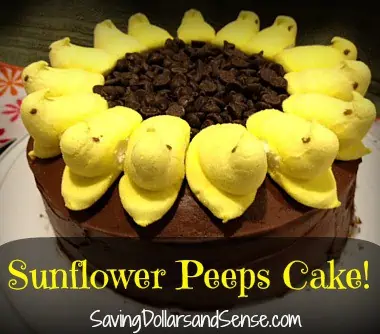 This is one of my dessert recipes that my family always love!
It's so easy and looks amazing sitting on the dessert table.
Please excuse the picture quality, I was pressed for time and wasn't able to get the perfect shot, but I think you can get the general idea from this one?
(This is a repost from a couple years ago)
I decided the other day to make a cake I came across last year, long after Peeps were no longer available.
It was a win-win because my family had been asking me to bake a cake and I got the opportunity to pretend I was an amazing cake decorator (which I really am not).
This has to be THE easiest cake decorating I have ever done!
Just bake your favorite flavor double layer cake and frost it with chocolate frosting. Create a circle around the outside of the cake with yellow Peeps and fill the inside of the circle with chocolate chips.
That's it!
I was in a hurry because the masses were standing over my shoulder waiting for a piece of the cake, so I just scattered the chips in the middle of the circle although you could take more time if you wanted it to look neater.
I love how I was able to take an ordinary cake and turn it into a masterpiece within minutes. I am very happy with how this cake turned out and will likely make it again during Easter.
I would love to hear from you if you try this yourself. In fact I'd love to see a picture of yours!