Coupon Quick Tips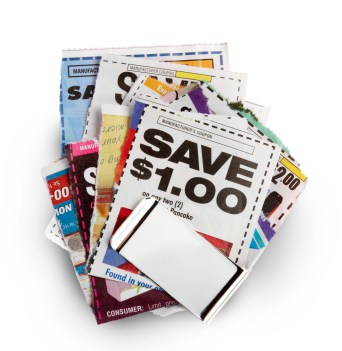 We've been learning how to become Expert Couponers over the last several weeks.
I hope that you have been able to put these lessons into practice because we are now going to actually start working with those valuable little slips of paper. Before you can save thousands a year on your grocery budget you need to know how to speak the language of a couponer.
But first here are few quick tips to help you understand those little pieces of paper and just how valuable they can be when used properly.
1. Most stores will double or triple your coupon.
What this means is that if you have a coupon for $.50 off and your store doubles coupons up to $.50, that coupon is really going to be a $1.00 off.
Also, check around because some grocery stores actually double up to a dollar.
Of course, each store has its own coupon policy, so it's a good idea to find out exactly what it is before you go so there will be no surprises.
2. Most coupons need to be saved.
I don't mean indefinitely obviously since they expire.
However many times the coupons I cut from my Sunday paper will work better for me if I wait a week or two. This is key to making coupons work for you.
You have to wait until the item on the coupon goes on sale before you use that coupon.
Here's an insider tip: the coupons you cut out today will generally be the same products that the store will have on sale over the next few weeks.
If you use that $.50 coupon on ketchup today while it's full price at $1.99 you still end up paying for it. But, if you wait a week or two the ketchup will be on sale somewhere for $1.00 making it completely free with that same $.50 coupon.
3. You need to come up with a filing system.
Trust me, once you start to acquire some coupons, it won't be long before you will have more than you know what to do with.
Coming up with a great way to organize your coupons that works well for you is imperative to continuing down the road to keep you from becoming discouraged.
I'll share my system with you in a couple of weeks.
4. Remember every little bit adds up.
It may not seem like a $.50 coupon is all that big of a deal. But if you learn to use these coupons properly, you'll see that they all add up.
I love walking out of the store knowing that I've made the best use of the money we have been given.
Looking at your receipt it will tell you how much you have saved and that's where you'll see all those quarters really do add up quickly!
5. Start!
This is the biggest step to making coupons work. You must start. So here are a few of my favorite resources for finding the best coupons.
You can catch up on any lessons you may have missed here.