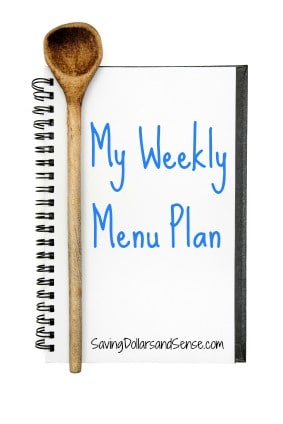 One of the first things you learn when you start regularly menu planning is that it gets easier when you collect a few tried and true recipes that the entire family loves.
Once you have about 14 recipes you know are winners, then you can whip up a menu in no time flat.
I am choosing to go with all of our favorite and frugal meals this week and only adding in one new to us recipe.
I am excited to try the Chicken Gnocchi Soup this week! Are you trying any new recipes this week?
Now on to this weeks menu plan.
Breakfast and lunch is pretty much the same around my house which is why that part of the menu never changes.
Breakfasts – consists of oatmeal, cold cereal, fruit smoothies, toast & poached eggs.
Lunches – consists of soups, peanut butter or tuna sandwiches, and dinner leftovers.
Dinners – I will try to include lots of veggies this week.
~ Monday ~
Chicken Skillet with Penne and Spinach Salad
~ Tuesday ~
Tilapia, Roasted Veggies and Scalloped Potatoes
~ Wednesday ~
Leftovers
~ Thursday ~
Chicken Gnocchi Soup and rolls
~ Friday ~
Spaghetti with Italian Sausage
~ Saturday ~
Homemade Sliders and French Fries
~ Sunday ~
Usually we have a very late lunch and just find something small for dinner. Either way I don't plan because I like to be flexible for anything that pops up.