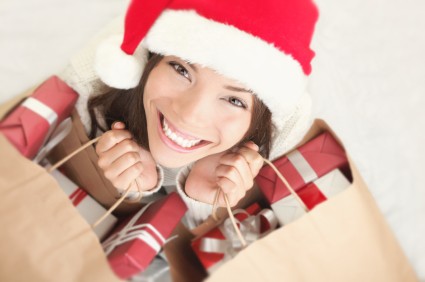 Procrastinating shoppers are running out of time and many are turning to Starbucks to save Christmas.
The popular coffee chain expects to top last year's sales of over 2 million gift cards on Christmas Eve alone, which amounts to approximately 1,500 cards per minute.
If you want to learn about How to Save Money, read more below.
While Starbucks gift cards can be as affordable as you need them to be, last-minute shoppers often become less price sensitive as time runs thin, and instead focus on convenience.
However, just because you're running out of time doesn't mean you should disregard your budget! Here are several ways to take advantage of convenience and save money at the same time.
Shop at midnight.
Whether you're slammed at work, busy with social obligations or running from school recitals to holiday parties, you don't have to worry about fitting shopping into your busy day.
You can take advantage of extended hours at select stores and shop late at night or super early in the morning, when crowds are sparse and you actually have time.
Kohl's, for example, is open 24 hours every day between now and Christmas Eve. Toys 'R Us will remain open from 6 a.m. on Tuesday, Dec. 23, through 9 p.m. on Christmas Eve.
And select locations of Target stores will be open until midnight from Sunday, Dec. 21 through Tuesday, Dec. 23.
Use mobile coupons.
To compete with other stores, retailers will be running plenty of sales and promotions leading up to Christmas.
Don't assume the store sales are the best deals you can get, however, and download a coupon app like Coupon Sherpa for extra savings.
You can easily find additional discounts like $25 off $100 from Aeropostale; $10 off $50 from Cabela's; and $15 off $50 from Macy's.
If you're shopping at Walmart, be sure to download their free store app and take advantage of the Savings Catcher tool, which gives you money back via gift card for any product you purchase that's priced less at a local competitor.
Pick up in store.
Amazon is offering same-day delivery on Christmas Eve if orders are placed by 10 a.m. for customers in 12 major metro areas. That's a great option for city dwellers but for the rest of us, in-store pickup is the next best thing.
Target customers can order items for same-day store pickup as late as 5 p.m. on Dec. 24.
Toys 'R Us can have items ready in under an hour in some cases, while orders placed online at Kmart can be picked up at either Kmart or Sears locations.
Look at the fine print and make sure the items you order are eligible and available.
Get free shipping on rush orders.
While rushing shipping tends to put people into panic mode considering the high costs, select retailers who are looking to capture last-minute sales will offer free or deeply discounted expedited delivery.
Most of these offers come with order minimums, but with stores like Macy's, Sears and Best Buy offering free delivery for orders placed on Dec. 22, you can likely find something for everyone on your list and meet or exceed these minimums, anyway.
Just make sure you order by the cutoff times. For example, orders placed through Macy's must be submitted by 5 p.m. ET on Dec. 22.
Send an e-gift card.
When time is tight, you can't go wrong with a gift card (just ask Starbucks!). Luckily, you can find gift cards pretty much everywhere these days, from your local gas station to the grocery store down the street.
Some stores offer printable gift cards which you can include in a card or themed package, or you can send an e-card directly to the recipient's inbox.
You can even save on these printable and electronic gift cards by shopping at GiftCardGranny.com.
For example, shoppers can save 11 percent on printable gift cards to Starbucks; 10 percent on e-cards to Banana Republic; and over 12 percent on Regal Movie Theater gift card codes.
Shop smart at the airport.
If you're flying home for the holiday, take advantage of the airport's shopping outlets. Though many of these retailers won't offer big savings, you can often find a variety of goods to choose from for everyone on your list.
If you're worried about overpaying, check prices using RedLaser price check apps.
I found comparable prices at Brookstone and Best Buy's gadget kiosk at the Las Vegas airport, so those are safe shopping stops.
Look out for sales, too. I recently received 50 percent on a golf jersey for my husband at the Pro Shop at Phoenix Sky Harbor International Airport.
Guest post by Andrea Woroch, a nationally-recognized shopping expert for Kinoli Inc., who helps consumers live on less without radically changing their lifestyles. From smart spending tips to personal finance advice, Andrea transforms everyday consumers into savvy shoppers. She has been featured among top news outlets such as Good Morning America, NBC's Today, MSNBC, New York Times, Kiplinger Personal Finance, CNNMoney and many more. For more information, visit AndreaWoroch.com or follow her on Twitter for daily savings advice and tips.