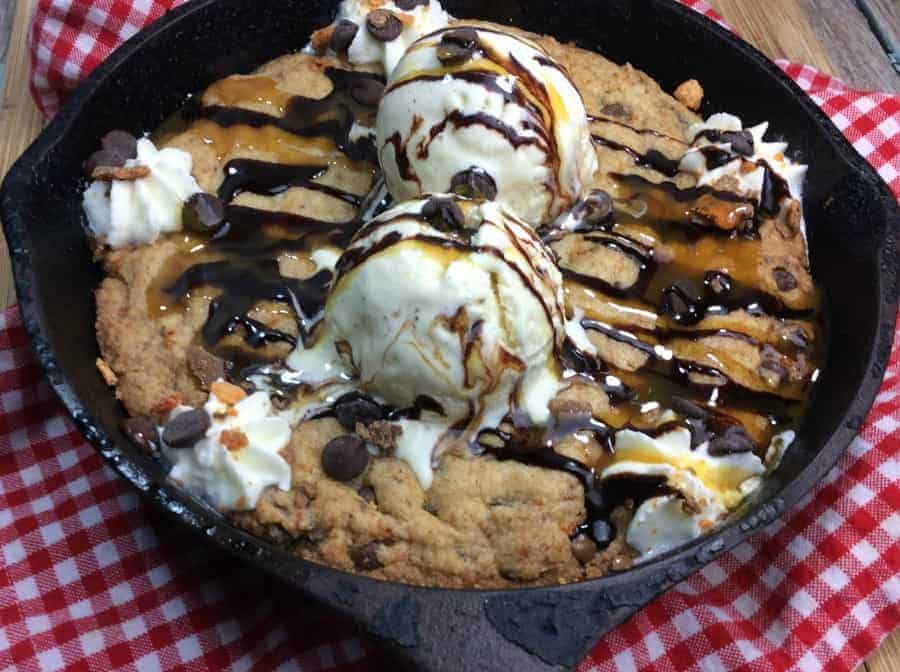 This Cast Iron Skillet Cookie Recipe is the perfect dessert recipe for camping!
You can make this with or without the ice cream and whipped topping, the butterbeer cookie itself is delicious!
INGREDIENTS
½ cup (1 stick) Unsalted Butter
¼ cup Granulated Sugar

¾ cup Light Brown Sugar

¼ cup Instant Vanilla Pudding Mix
(dry)
¼ cup Instant Butterscotch Pudding Mix
(dry)
2 Large Eggs
1 Additional Egg Yolk
1 tsp Vanilla Extract

1 tsp Imitation Butter

½ tsp salt
1 tsp Baking Soda

2½ cups All Purpose Flour

1 cup of chocolate chips

1/2 cup Butterfinger bits

1½ cup Heath Toffee Bits
(straight toffee, not the chocolate toffee mix)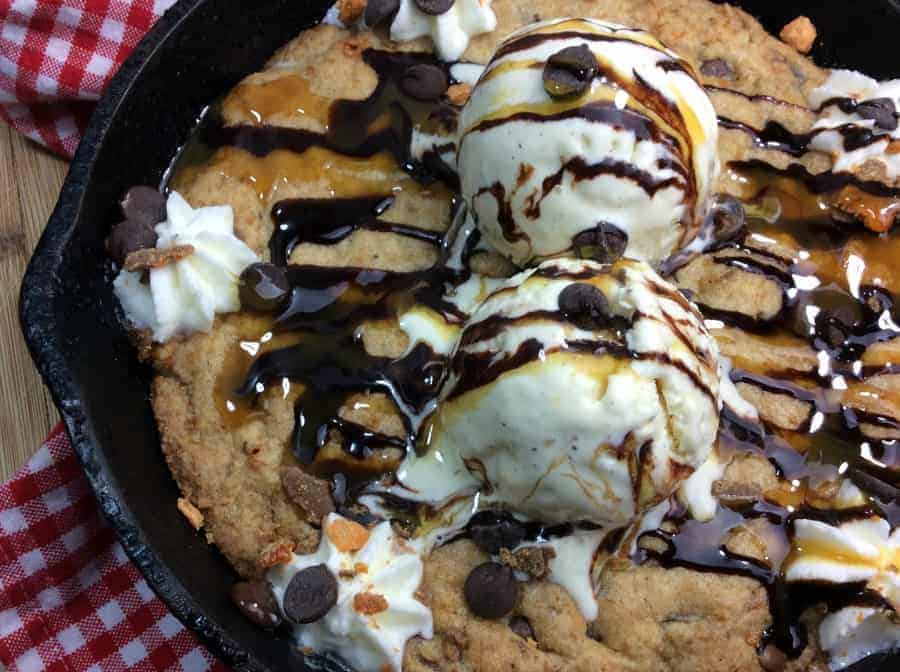 Directions
In a large mixing bowl cream butter and all sugars together until smooth.
Add pudding mixes, eggs, egg yolk, vanilla, and imitation butter.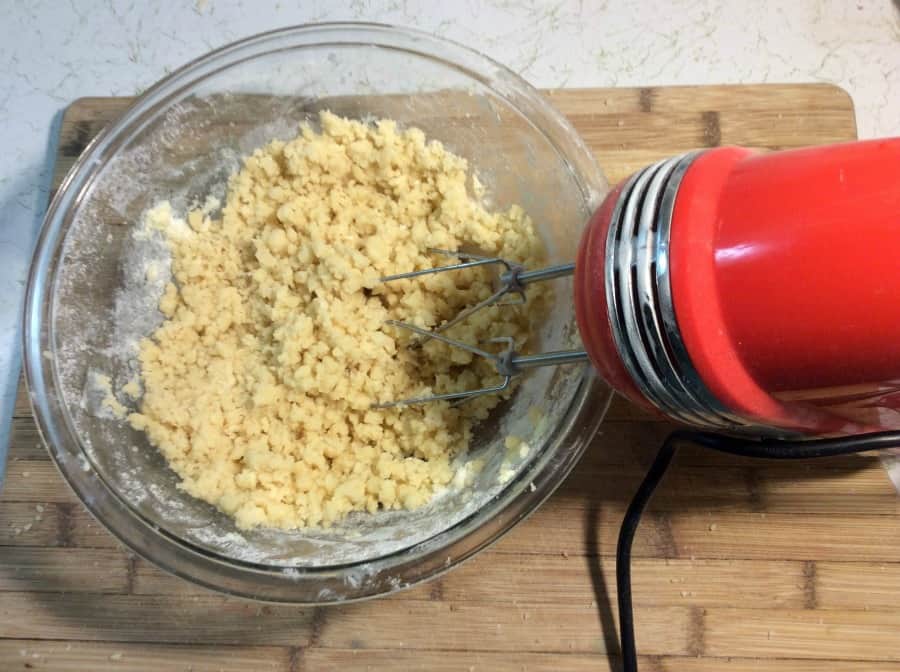 Beat for about one minute on medium speed.
In a separate bowl, combine flour, baking soda, and salt.
Begin to combine the dry ingredients to the wet ingredients 1/2 cup at a time until all have been combined.
Fold in the in chocolate chips and butterfingers bits.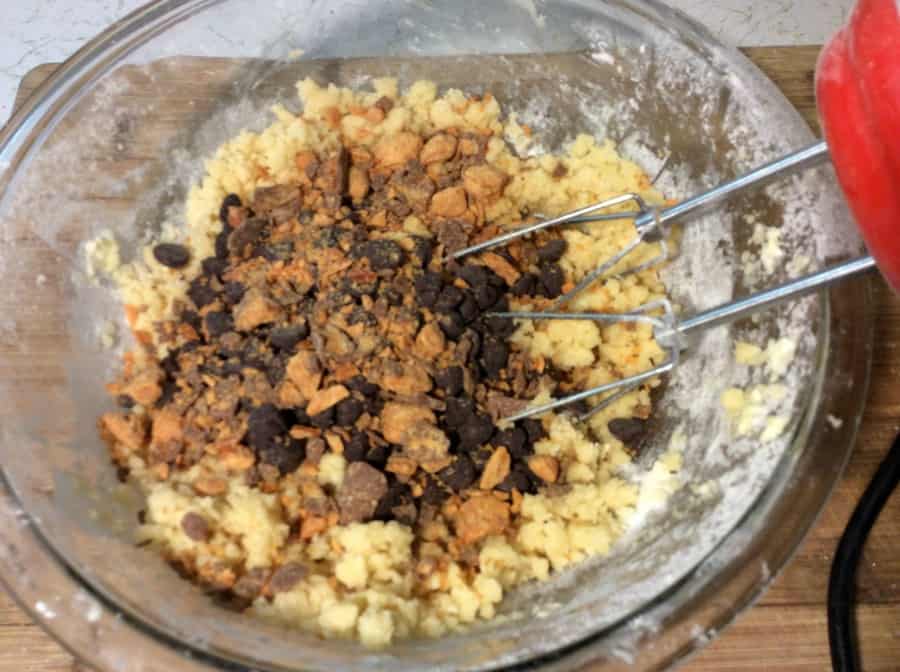 Cover the bowl with plastic wrap and chill for two hours.
Lightly grease your sauce pan or cast iron pan
.
Scoop out 2 cups of batter per cast iron pan.
Press the cookie dough into the pan making sure it is evenly covered.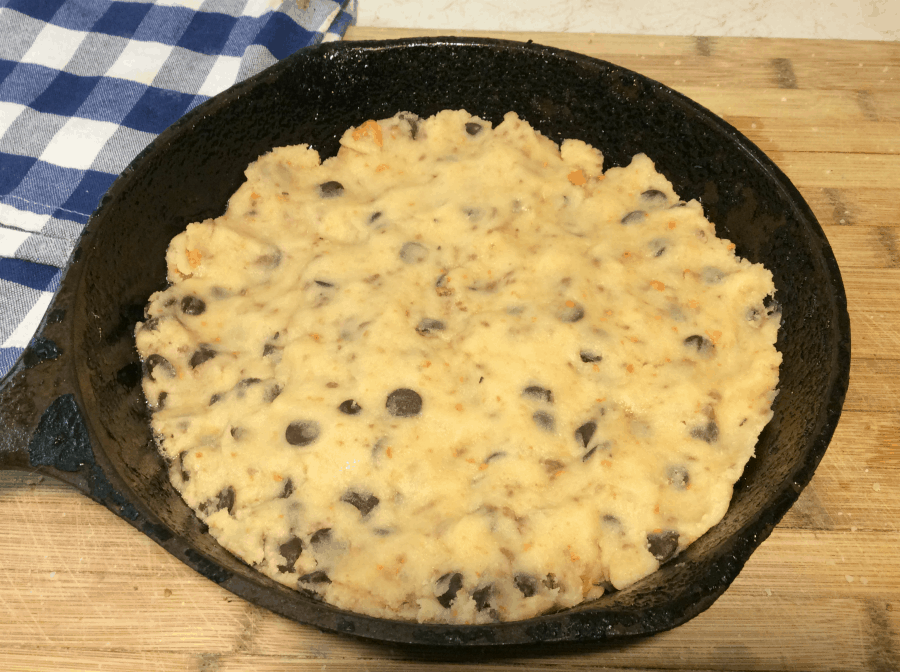 Bake at 350° F for 15 – 18 minutes.
Cool in pan for a couple of minutes before adding your ice cream and whip cream.
Garnish with chocolate chips, butterfingers chips and fudge.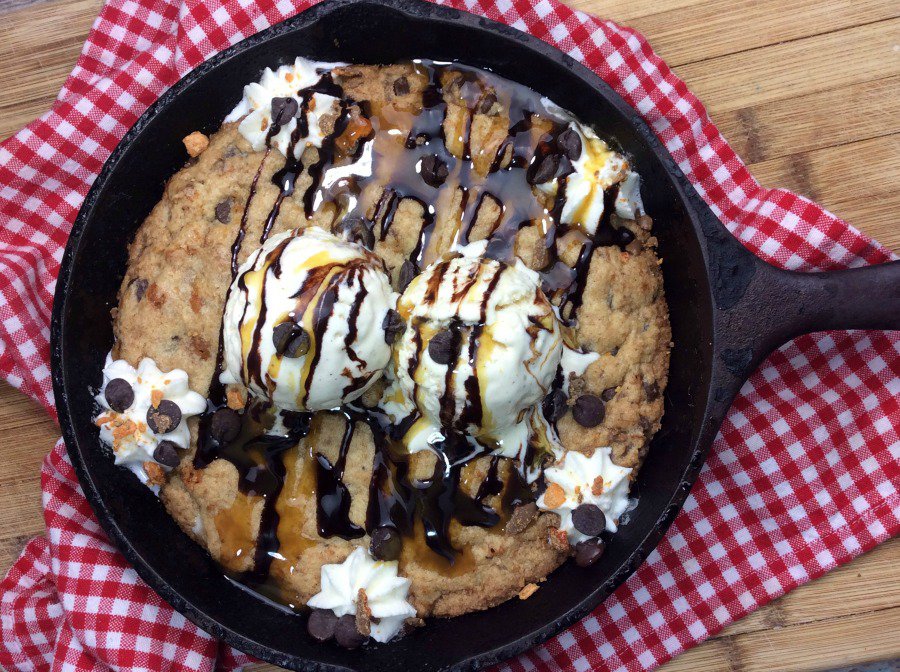 This is great to make for a backyard barbecue or on the campfire for a fun camping treat kids will love!
How to Plan a Camping Trip includes recipe ideas, packing lists, tips and tricks and MORE!