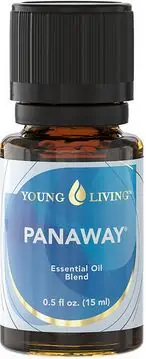 Today I want to introduce you to Panaway Essential Oil, one of my favorites that are included in the Premium Starter Kit.
I hope you are finding out some new things about oils and how they work through this Everyday Essentials Series.
You can catch up on the oils I have already shared below:
Thieves Essential Oil
Lavender Essential Oil
Lemon Essential Oil
Purification Essential Oil
Valor Essential Oil
Peace & Calming Essential Oil
Joy Essential Oil
Peppermint Essential Oil
Frankincense Essential Oil
PanAway® was created by Gary Young following a severe injury to the ligaments in his leg. Containing wintergreen essential oil, which is often used for massage, PanAway is soothing to the skin while providing comforting warmth to muscles after exercise.
Homemade Discomfort Cream
1 Cup Coconut Oil
10 Drops Panaway
10 Drops Peppermint
10 Drops Valor
Combine all of the ingredients and store in a glass jar. I like to use a small jelly mason jar myself.
*Saving Dollars and Sense Tip: you can heat your coconut oil in the microwave a little to make it easier to mix in the essential oils.
I personally recommend the Premium Starter Kit which includes these 11 of my favorite oils.
Frankincense, Lavender, Peppermint, Lemon, Panaway, Valor, Purification, Thieves, Peace & Calming, StressAway, and Joy
Please let me know if you have any other questions at all and I will do my best to answer them!
Disclaimer: These statements have not been evaluated by the Food and Drug Administration. The information on this site is not intended or implied to be a substitute for professional medical advice, diagnosis or treatment. Please confirm any information obtained from or through this web site with other sources, and review all information regarding any medical condition or treatment with your physician. Never disregard professional medical advice or delay seeking medical treatment because of something you have read on this website. This information is not intended to diagnose, treat, or cure any disease.