I hope that you are finding this Everyday Essentials Series informative and helpful.
If you haven't read the other posts in the series, you can do so below.
You can catch up on the oils I have already shared below:
Thieves Essential Oil
Lavender Essential Oil
Lemon Essential Oil
Purification Essential Oil
Valor Essential Oil
Essential Oil I want to introduce you to today is Peace & Calming.
It is one of the oils that are included in the Premium Starter Kit.
Peace & Calming is a gentle, fragrant blend. When diffused, it helps calm tensions and uplifts the spirit, promoting relaxation and a deep sense of peace. When massaged on the bottoms of the feet, it can be a wonderful prelude to a peaceful night's rest.
Peace & Calming may be especially calming and comforting to young children after an overactive and stressful day.
NOTE: Possible skin sensitivity. If pregnant or under a doctor's care, consult your physician. Dilution not required; suitable for all but the most sensitive skin. Generally safe for children over 2 years of age.
This is another Essential Oil Blend, which means it is really several oils blended together to make up one amazing oil!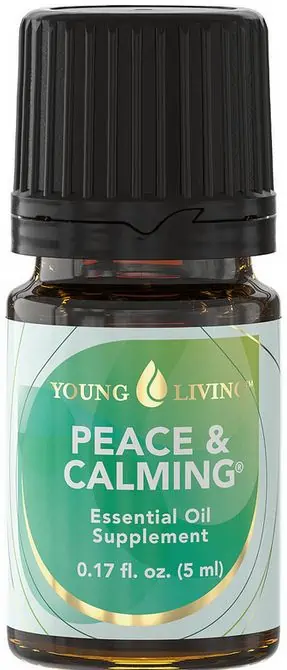 Peace & Calming includes:
Tangerine Essential Oil
Orange Essential Oil
Ylang Ylang Essential Oil
Patchouli Essential Oil
Blue Tansy Essential Oil
I have a silly story to share with you about Peace & Calming.
I never bothered to read what Peace & Calming was used for.
The first day I had my Premium Starter Kit, I opened every bottle to smell them and it was at that time that I decided the smell of Peace & Calming was my favorite.
I would diffuse it every night as we were going to sleep and would wake up so well-rested.
I ordered another diffuser to have in my office area which is where I spend the majority of the day.
I decided to bring my favorite Peace & calming into the office and began diffusing it for several days.
One day I realized that I was lacking any motivation and all I wanted to do was take a nap. Then one day I read all that Peace & Calming is good for.
Turns out it has a LOT more benefits other than smelling good.
In fact, some call it a "Lullaby in a Bottle" which is exactly how it had been working for me.
Now I have Lemon Essential Oil in my office diffuser which helps keep you alert and it smells great too.
Don't forget that I will be sharing a fun giveaway for all of you at the end of this series, so please check back often!
Each day I will share all about another one of the awesome Essential Oils that are included in the Young Living Premium Starter Kit.
Frankincense, Lavender, Peppermint, Lemon, Panaway, Valor, Purification, Thieves, Peace & Calming, StressAway, and Joy
Order the Premium Starter Kit and I will send you a bunch of bonus freebies!
Please let me know if you have any other questions at all and I will do my best to answer them!
Disclaimer: These statements have not been evaluated by the Food and Drug Administration. The information on this site is not intended or implied to be a substitute for professional medical advice, diagnosis or treatment. Please confirm any information obtained from or through this web site with other sources, and review all information regarding any medical condition or treatment with your physician. Never disregard professional medical advice or delay seeking medical treatment because of something you have read on this website. This information is not intended to diagnose, treat, or cure any disease.