Books are a great way to connect with kids and help make learning new things easier.
When teaching kids about money you can use books that take your child into an immersive story, show them money from around the world, or opt for workbooks that help make learning about money interactive.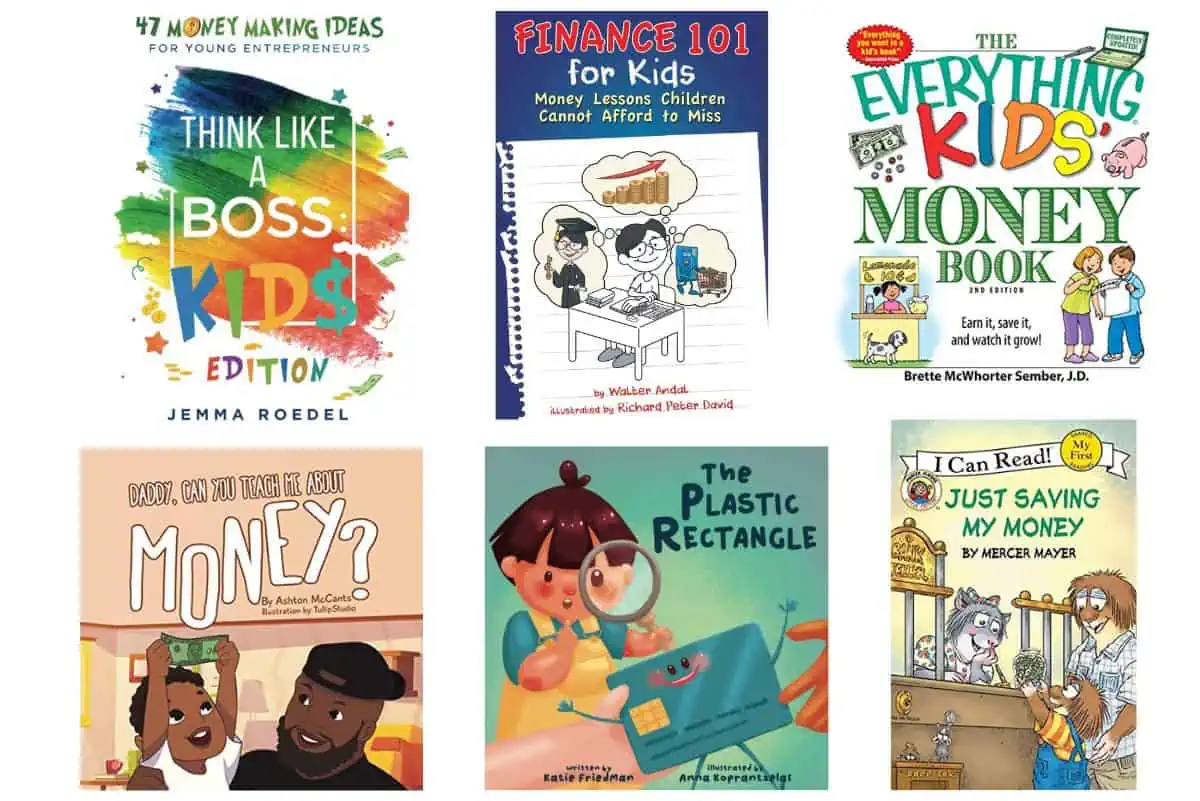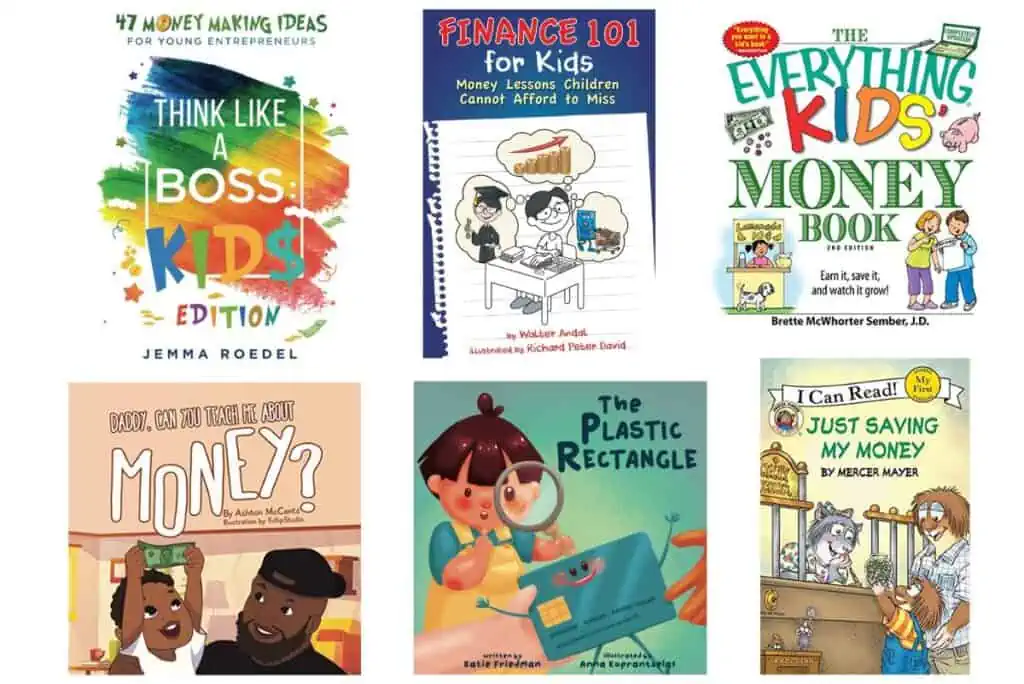 Books to teach kids about money
Not only is it great to read to your kids but it is wonderful for your kids to have a wide variety of books at their disposal.
These books are all about money, how it's made, and the basic money skills we all need to thrive.
Add these books to your child's reading list to help them learn about money in a fun and engaging way.
Step into the basics of money management and money-making ideas for kids to help your young entrepreneur get some new ideas for a future career or discover something they can dive right into now.
Help your child learn about where the money comes from, and how to make it and save it.
This book acts as a 101 course that teaches all of the money basics you wish someone thought you when you were young.
Learn about big topics like how the stock market works, and how to understand foreign currencies and exchange rates.
This Littler Critter book will introduce your young reader to the concept of saving money in a fun and engaging way that helps the lesson stick.
Designed for young readers this book is both easy to understand and easy to read.
The Everything Kids series is a popular option to help encourage children to explore and learn.
This volume in the series is great for teaching kids about money including ways to earn it, the importance of saving it, and watching your money grow over time.
This guide breaks it all down for kids to help them understand in a way that works well for them.
This children's book helps kids understand the concept of money while helping them understand that people are always more important than money at the end of the day.
This is a great opportunity for helping your child learn about what is important in life and teach them to avoid greed when it comes to money.
Follow this adorable story as a father teaches his young child about the fundamentals of money.
This is a great book for father-child story time to teach kids about essential money skills that will serve them well as they age.
This is a great opportunity to get fathers in on the act when it comes to teaching their children.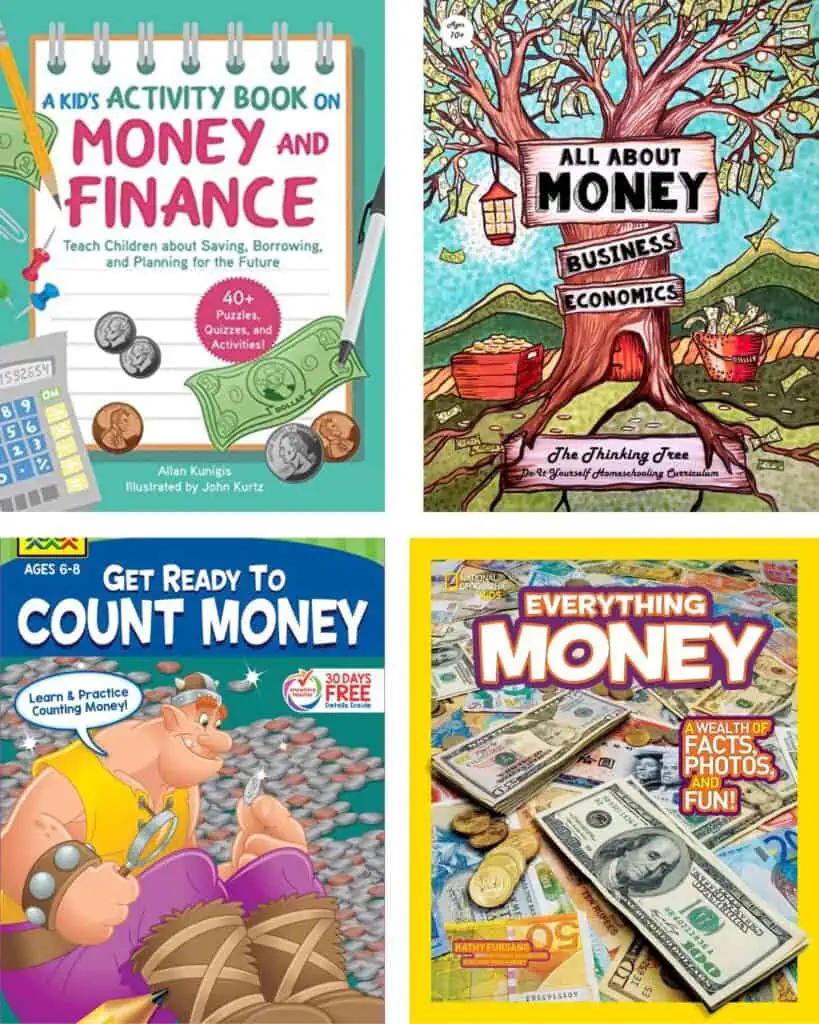 Money Workbooks for Kids
Workbooks are a great way to help teach your child about money, budgeting, and financial literacy.
These workbooks range from young kids to effective for pre-teens and teens that are interested in learning about money.
Dive in and have some fun with these simple quizzes, puzzles, and activities to help teach your kids about financial planning, saving, and loans to give them a head start on the future.
Learn about money from around the world in full vivid color as you add this National Geographic volume to your collection.
With money from around the world in full color, your child can explore money in a new way with this reference book.
Learning about money is a great 35-page workbook that you can use with your child to help them learn about money.
Everything from learning to recognize different coins to counting and solving money math problems.
This Thinking Tree book takes your kid on an adventure to learn about money, business, and economics.
This homeschooling curriculum is a great way to help get your child to understand how money works and encourage them to become a young entrepreneur that can lead to a wonderful and industrious future.
This workbook for 1st and 2nd grade is a great starting point for kids to learn how to recognize different coins and bills and learn the basics of how they add and subtract.
This is a great introduction to money for younger kids and can make a great addition to the books above to bring the concepts they are learning while reading to life.
More Ways to Teach Kids About Money
Also while we are on the topic of teaching kids about money, check out these posts too: