It is the time of year to decide whether you and your family want to create a home garden this year.
It is also time to start making the preparations to do so.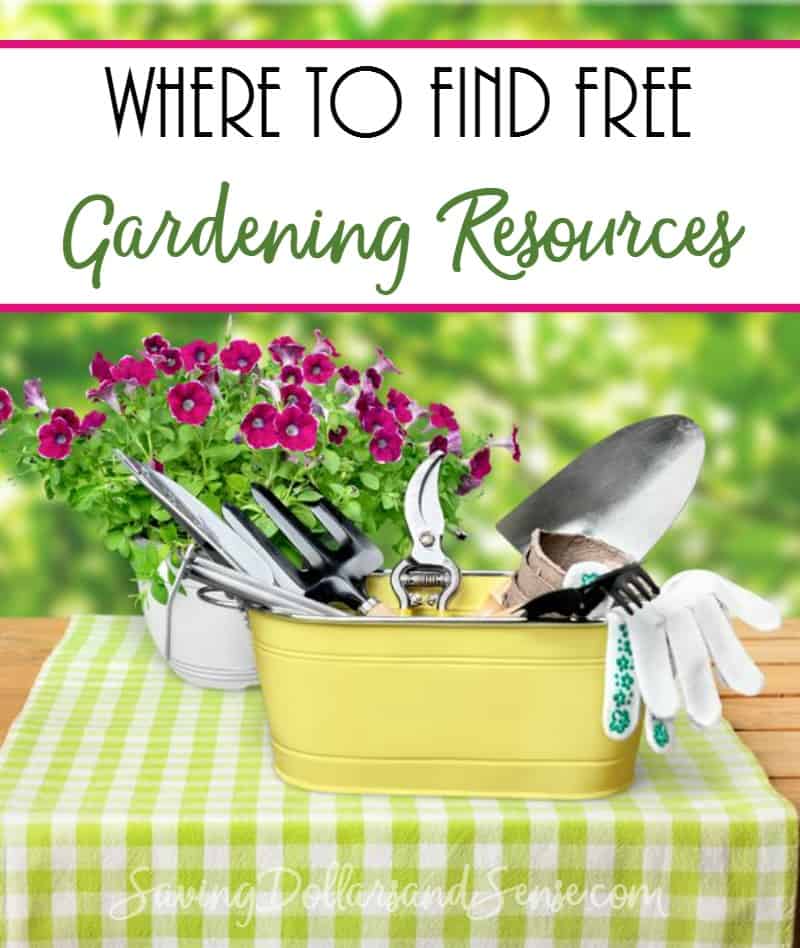 Home gardening can be really complicated, but you can really simplify things if you learn a bit about what you're doing.
Where to Find Free Gardening Resources
There are so many free gardening resources out there to learn how to garden and to help you produce your own fruits and vegetables.
Local Classes
Chances are there are tons of local resources in your area or surrounding areas to learn how to garden.
Check with your local library to see if they know of any classes offered.
You could also check with local churches and community centers.
If there is a college nearby, there is a possibility that they host gardening workshops that are open to the public.
It is likely that these types of classes won't be free, but they are often reasonably priced and offer a wealth of information for the cost of admission.
If you have lots of local friends in your social media circles, ask around to see if anyone knows of any local classes.
Taking classes locally will help you to learn tips and gardening skills that are specific for the climate and gardening in your area.
Garden Centers
Many corporations or smaller local gardening stores will offer gardening classes as a way to get customers in the door.
Larger corporations such as Home Depot and Lowes will have a calendar of classes available online.
Or call your local feed and seed store or nursery to find out if they offer any gardening classes or workshops.
Since this is a way to get customer traffic for these stores, often the classes are free of charge!
Just make sure to consider spending your money on gardening supplies at these stores if you take advantage of these classes.
Community Garden
Check to see if your local area has a community garden.
Not only is this a great way to get gardening space if you don't have any at your own home, but you can interact with local people who may have gardening skills they can teach you.
Working with others who are more seasoned gardeners is a great way to learn the ropes.
Check on Facebook, the local library, recreational department, or other local resources to find out if there is a community or neighborhood garden in your area.
Volunteer Work
Some of the best gardening instructors are the people in your community who have been gardening all of their lives.
Offer to help out your elderly neighbor or friend with their gardening in exchange for him or her teaching you how to garden.
Not only will it feel great to be serving those in your community, but helping those who are excellent gardeners is a great way to develop your own green thumb.
Learning skill sets in this way is so enriching and chances are you'll walk away from the experience with lots of knowledge and a lasting friendship.
Online Resources
There are so many online resources available to learn how to develop a range of skills, including gardening. Here are a few resources to consider:
Pinterest

– Do a pinterest search for information on gardening. There is a wealth of information online that is free to access to learn tips and tricks on gardening. Make sure to include location specifics in your search to learn more about gardening specifically in your area.
Youtube

– If you are more of a visual learner, check youtube for video tutorials on gardening. You could search for product specific videos such as how to create your own compost, how to grow orchard fruits, and other specifics such as these.

Facebook

– Check on Facebook or other social media outlets for groups of local gardening enthusiasts. You'll likely find that people who are passionate about anything are willing to talk about it and teach others who are interested in learning.
There are so many resources available, many of which that are free, to learn how to garden.
Gardening is such a great skill set to have to help create food for your family in a budget friendly and extremely rewarding way.
More Gardening Articles