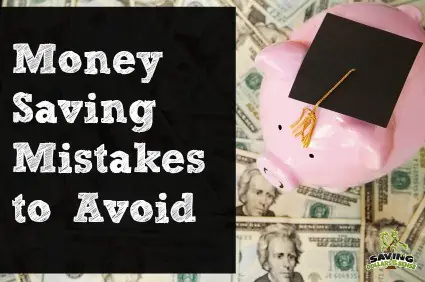 Money-saving mistakes: Never do them to stay away from debt problems.
If you want to learn about How to Save Money, read more below.
When you are trying to live a frugal life and want to save money, then there would come a point where you'd ask yourself, "Is this at all necessary, just to save few dollars?".
However, if your motive behind opting for such a challenging task is to avoid debt problems, then there are some common money-saving mistakes that you must never do, no matter what.
Here are some of the ways to lead a rather peaceful frugal life and to stay away from all sorts of debt problems:
Never ignore your health problems
For you having a regular health check-up done may seem to be extreme luxury, at a time when you are following a strict budget.
However, skipping your appointments with the physician may end up costing you far more than you could've ever imagined.
This is particularly important because you might not notice the formation of a cavity when you have a cold.
So, the cost to fix the cavity when it is at a nascent stage would be far more affordable than to do that same thing when the problem has worsened sometime later.
Never consume inferior quality food
In the case of a frugal gourmet, it might be a tough task for you to throw away even a morsel of food.
Expiration dates of all packaged foods usually have a very limited time period to act as a buffer, however, it is sometimes okay to have ones that are a bit old.
Still, if you believe that food served to you is bad, then you shouldn't consume it.
This is because food poisoning isn't worth it after all, just to cut back some dollars.
Using the same reasons, you should never purchase used toiletries or beauty products since these products may contain germs that can cause skin diseases or give birth to allergies.
For these too, you would have to spend hundreds of dollars on medicines and doctor's fees.
Never invest in the markets blindly
Regardless of the size of your investment, it is never a good idea to put your money in the financial market without conducting proper research and taking an expert's opinion.
The best way to make investments is to study the rate of interest applied to various kinds of accounts, and in case you're purchasing some stocks, then it is advisable that you evaluate their past market performances before going any further into them.
Moreover, you may need to consult a professional stock advisor as well.
Never overdo with couponing
Though using coupons is a very good alternative to buy goods at a comparatively subsidized rate, yet you shouldn't go overboard with that.
Actually, you need to decide whether or not to spend hours finding out all those coupons as well as take all the troubles to use them at the store is really worth your time and effort, when you're trying to save money.
Additionally, you would also have to consider how extreme couponers end up shelling out more in the long run for items that they purchased from all that was put up on sale, instead of buying the better ones.
Hence, as you can see, using coupons is good but not extreme couponing since that may consume more of your time and money.
Never opt for the cheapest product
This is one thing that most of the people like you have been guilty of at one point or another. The fact is every cheap item doesn't promise to be a good one. Such things may come back to haunt you down the line.
This is because most of the cheapest items have very limited longevity and so, they break off the quickest.
As a result, the more cheap items you have in your home, the more frequently you may have to replace them to get a new working one, thus costing you extra money over time.
Always remember that a nicely crafted shoe may cost you $100 but then it will last 10 times longer as compared to a pair of shoes that you bought for $20.
Frugal living or the whole idea of saving money does not, in any case, imply deprivation. Rather, you need to understand that it is there to make your life a lot less stressful and enjoyable, only if you could understand the differences between moderation and extreme.