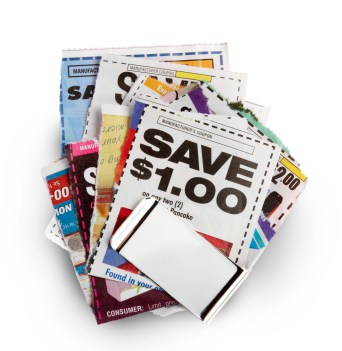 I hope that you have been finding the Grocery Challenge Lessons helpful.
If you are new to couponing, then today's lesson will certainly help demystify those little slips of paper a bit for you.
Coupon Language 101
I know when you are brand new to couponing it can be a little overwhelming.
It's like you need a crash course in how to use those little slips of paper. As if trying to learn which coupons can double or be stacked wasn't enough, you find yourself faced with a whole new vocabulary that you have never heard and don't understand.
I want you to be successful at couponing to save money. But if you are already frustrated from the beginning you are almost guaranteed to give up. The first step is learning the lingo around here so you can understand my matchup.
Here's some of the coupon lingo that I use regularly.
BOGO or B1G1 = Buy One Get One Free
WYB = When You Buy
OYNO = On Your Next Order
IP = Internet Printable coupon
GM = General Mills coupon insert
PG = Procter & Gamble coupon insert
RP = RedPlum coupon insert
SS = SmartSource coupon insert
Catalina = Checkout Coupon
ECB = Extra Care Bucks which are earned when you purchase certain products at CVS. These ECB's can be used just like cash on other products throughout the store! You can learn more about CVS here.
RR = Register Rewards are earned when you purchase certain products at Walgreens and can be used just like cash on products throughout the store. You can find out more about Walgreen's policies here.
You'll also want to make sure you read and understand your store's coupon policies. The best way to do this is to check their websites for the policies. If you cannot find them that way, you can easily stop by the customer service desk the next time you are at the store and ask for a copy.
Now that you know your store's coupon policy and coupon lingo, it should make following the deals I share here a little easier to understand.
One thing I want to address is coupon fraud which unfortunately has caused many stores to limit coupon usage. It isn't hard to make sure you are using coupons properly.
You are NEVER allowed to make a photocopy of a coupon.
You must only use your coupon for exactly what is listed in the terms of the coupon.
Don't knowingly use expired coupons.
You are only allowed to use one manufacturer's coupon per item.
A few things to keep in mind:
Just because you can get away with it does not change the fact that it is indeed coupon fraud which is punishable by prison time and stiff fines!
My mom always taught me that if a deal seemed too good to be true, chance are it is.
When in doubt, I simply pass on that deal because I know another one will come along and I never want to sacrifice my integrity just to save a buck!
You might be interested in reading this post on Coupon Barcode Decoding.
I like to think of myself not as an Extreme Couponer, but rather an Expert Couponer!
Play by the rules.
Are courteous & thoughtful sharers.
Are well informed shoppers.
Learn to become planners.
Are organized, even if it doesn't come naturally.
If you want to learn how to become an Expert Couponer, stick around as I share how I went from being a complete coupon scoffer to a die-hard believer!
If you are new to the whole world of couponing it may seem overwhelming now. But I promise that if I can do it so can you!
I hope this helps you to navigate through the matchups easier and also turn you into a couponing success!
Catch up on all of the Grocery Challenge Lessons here.