The Newegg Black Friday Ad Scan has been released early and posted here for your early viewing pleasure.
---
---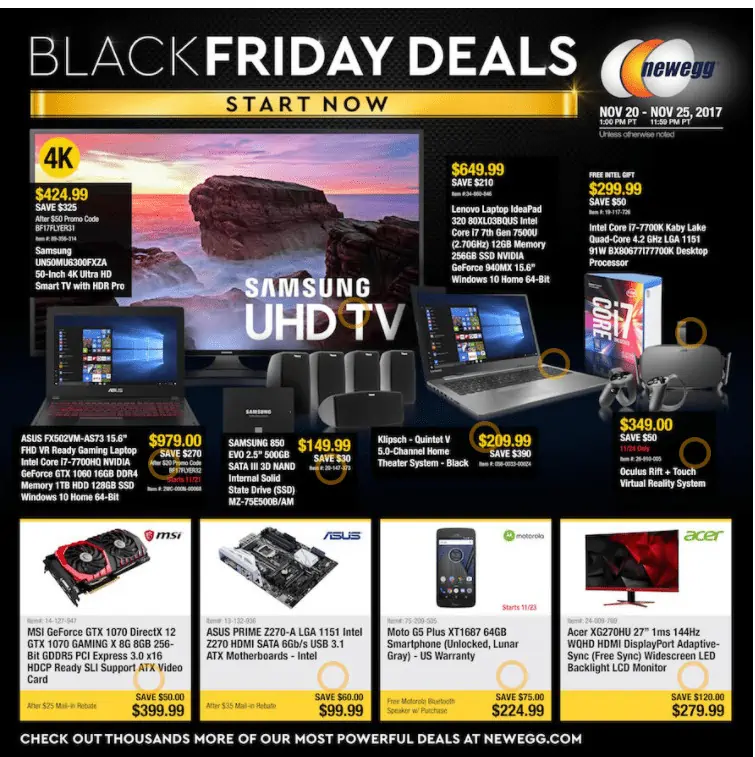 Check out all these great gift ideas from Newegg this year.
Make sure that you read the10 Secrets for Black Friday Shopping From Your Couchfor some simple tips to get the most out of this awesome shopping time of year!
You can view the entire Newegg Black Friday Ad Scan below and start planning what you are trying to get this year.
Before shopping online, make sure to look forcurrent Newegg Coupon Codesto save even more!
ReadBlack Friday Survival Tipsand grab thisPrintable Black Friday Shopping Plannerbefore heading out to the stores this Black Friday.
Find all of the Black Friday Sales available here.
All of the Black Friday Ad Scans Available today:
Ace Black Friday Ad Scan
At Home Black Friday Ad Scan
Bass Pro Shops Black Friday Ad Scan
Big Lots Black Friday Ad Scan
Belk Black Friday Ad Scan
Best Buy Black Friday Ad Scan
Cabela's Black Friday Ad Scan
Claire's Black Friday ad Scan
Costco Black Friday Ad Scan
Dollar General Black Friday Ad Scan
Game Stop Black Friday Ad Scan
Gordman's Black Friday Ad Scan
Harbor Freight Black Friday Ad Scan
HP Black Friday Ad Scan
JCPenny Black Friday Ad Scan
Kmart Black Friday Ad Scan
Kohl's Black Friday Ad Scan
Lenovo Black Friday Ad Scan
Lowes Black Friday Ad Scan
Macy's Black Friday Ad Scan
Meijer Black Friday Ad Scan
Michael's Black Friday Ad Scan
Music & Arts Black Friday Ad Scan
Petco Black Friday Ad Scan
Pet Smart Black Friday Ad Scan
Rite Aid Black Friday Ad Scan
Sam's Club Black Friday Ad Scan
Sears Black Friday Ad Scan
Stage Black Friday Ad Scan
Staples Black Friday Ad Scan
Stein Mart Black Friday Ad Scan
Target Black Friday Ad Scan
True Value Black Friday Ad Scan
Walgreens Black Friday Ad Scan
Walmart Black Friday Ad Scan