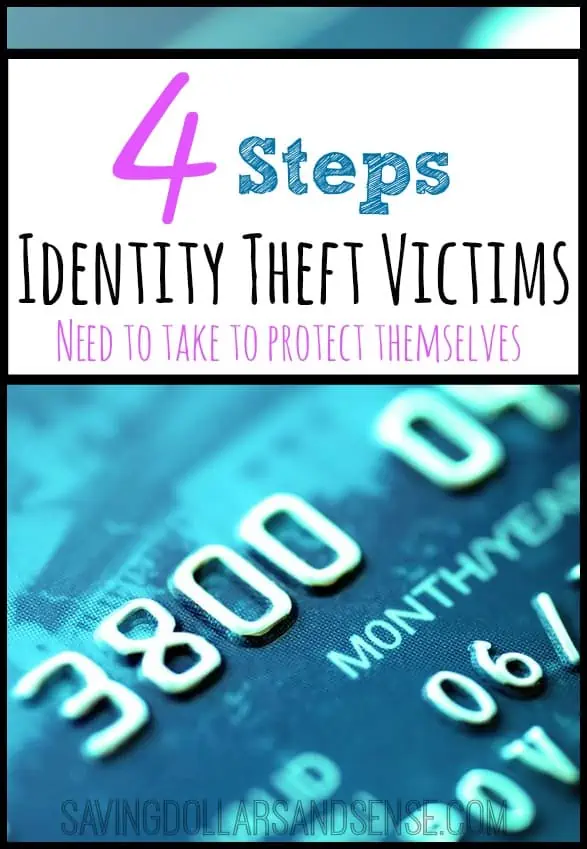 I always pay very close attention to my bank accounts.
Ever since the Target Security Breach during the holidays last year, I make sure to log in and check my accounts daily.
Several weeks ago, I noticed a debit for $49.95 to a strange 1-800-*****.com website that I had never heard of so I called the number immediately to see what the service even was.
It turned out to be some sort of raspberry supplement which I knew no one had ordered so I canceled the order right away.
Then I called my bank and canceled my debit card and put a hold on the order and ask for the fraud department to investigate. They have since returned the money, but I might not have even noticed an amount like that had I not taken the time to review my account.
Recently the news of a Home Depot Security Breach attack has me thinking I need to share the following information with you in case you find yourself in the position where you are the victim of identity theft.
FOUR STEPS TO TAKE IF YOU ARE AN IDENTITY THEFT VICTIM
(FARMINGTON HILLS, MI – September 3, 2014) As home-improvement giant, The Home Depot becomes the latest big-box retailer to investigate possible data theft (following on the heels of Target and Michael's Arts & Crafts, a reminder from GreenPath Debt Solutions, a nationwide nonprofit credit counseling and education group, about the steps you need to take if you become a victim of identity theft.
1. Place a 'fraud alert' on your credit reports, and check your credit reports regularly through www.annualcreditreport.com.
Fraud alerts can help prevent an identity thief from opening any more accounts in your name. Contact the toll-free fraud number of any of the three consumer reporting companies below or visit their websites (you only need to contact one of the three companies to place an alert on all three).
TransUnion: 1-800-680-7289; www.transunion.com
Equifax: 1-800-525-6285; www.equifax.com
Experian: 1-888-EXPERIAN (397-3742); www.experian.com
2. Close any accounts that you believe have been tampered with or opened fraudulently.
Call and speak with someone in the security or fraud department of each company. Follow up in writing, and include copies (NOT originals) of supporting documents. Send your letters by certified mail, return receipt requested, so you can document what the company received and when. Keep a file of everything you send and a record of every conversation.
3. File a complaint with the Federal Trade Commission.
You can do this on their website https://www.ftccomplaintassistant.gov/ or by calling the FTC's Identity Theft Hotline 1-877-ID-THEFT (438-4338); TTY: 1-866-653-4261. Be sure to call the Hotline to update your complaint if you have any additional information or problems.
4. File a report with your local police or the police in the community where the identity theft took place.
Call and ask them if you need to file the report in person or if you can do it over the phone or on the internet. When you file your report, bring or attach a copy of your FTC ID Theft Complaint form and any supporting documentation. Ask the officer to attach or incorporate the ID Theft Complaint into their police report.
The FTC ID Theft Complaint, along with the police report, can constitute what is known as an 'Identity Theft Report'. This Identity Theft Report can be used to (1) permanently block fraudulent information from appearing on your credit report; (2) ensure that debts do not reappear on your credit report; (3) prevent a company from continuing to collect debts that result from identity theft, and (4) place an extended fraud alert on your credit report.
I certainly do hope that you never find yourself needing this information. But I am a believer that it is wise to be informed just in case.