Who knew that meal planning was so much fun?! Now that we're into week 11 (time flies!), you're soon to be an old pro at planning meals like I am.
Just remember to shake things up a bit and step outside your comfort zone. I love introducing new meal ideas to the family and seeing what sticks or not.
Plus – if you add something that they don't like, that just means that they get to hop in and be involved during the planning next time!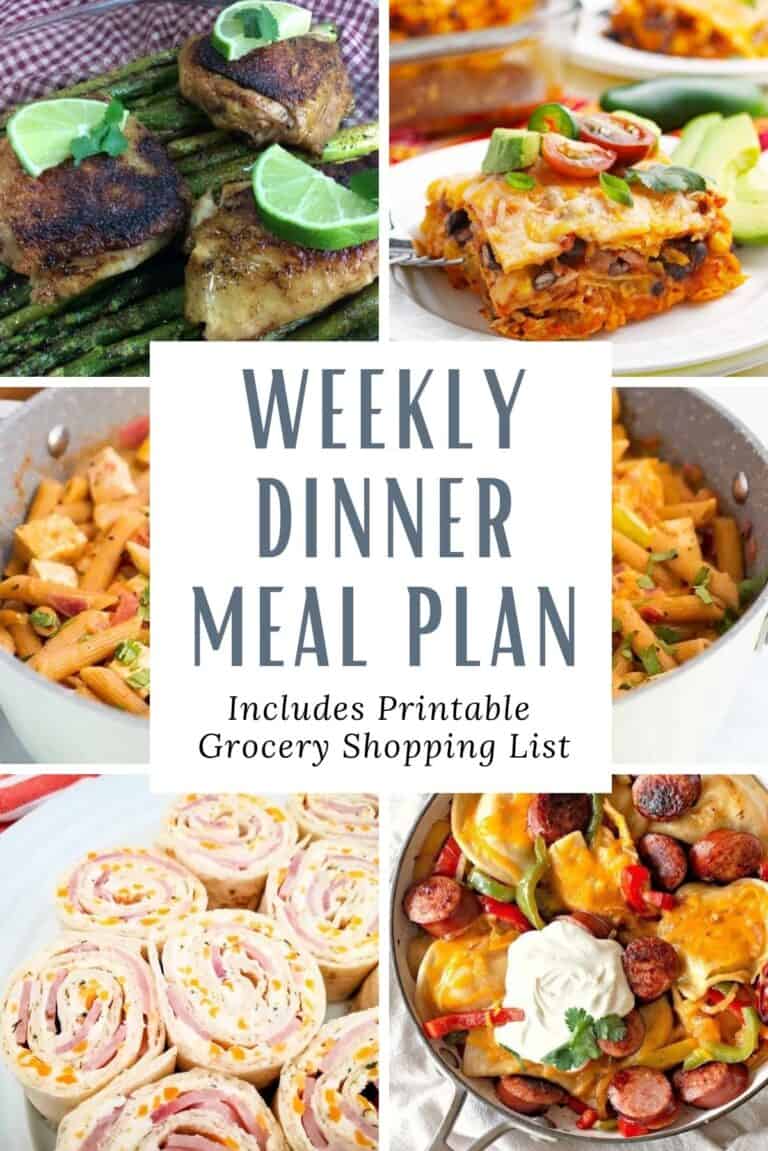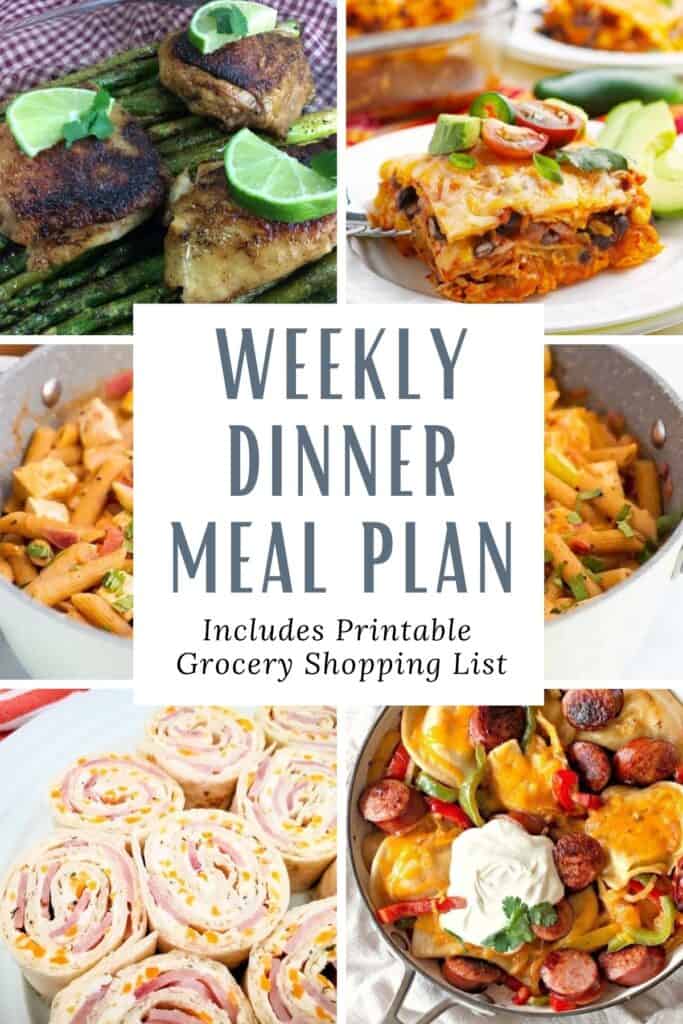 Everyone in the family is so used to meal planning now it's kind of part of our weekly schedule and routine.
In fact, they don't even bother asking what's for dinner anymore. They just look up on the fridge and see what is planned.
Meal planning is the perfect way to keep everyone informed and in the loop!
How long does it take to meal plan?
Literally minutes. And the more that you do it, the faster you're going to get. I always take a few extra minutes to scan the grocery store sale ads for the week so that I'm able to meal plan and find deals at the same time. (Momma likes to cut costs when she can!)
Breakfast meal plans
Planning breakfasts can be tough, so don't stress. Keep it simple and have like three main options for everyone to make on their own. Cereal, toast, and oatmeal sound good!
Lunch meal plans
Don't stress out about lunch, either. We either do leftovers or cold-cut sandwiches for lunch so it's simple and stress-free.
Dinner Meal Planning
Dinner is where I put all of my focus when it comes to planning meals.
This is because it's the biggest meal of the day and it's a time that we're all together, catching up.
Below you'll find a quick look at some easy dinner recipes that can make your week of meal planning a breeze!
Monday: Ham and Cheese Pinwheels
Tuesday: Pierogis and Kielbasa Skillet
Wednesday: Citrus Chicken and Asparagus
Thursday: Chicken Enchilada Casserole
Friday: Cajun Pasta
Saturday: Open
Sunday: Bonus Night (make sure to scroll down to the bottom to find out what a Bonus night is!)
Printable Grocery List
Please let me know what you think of the new format I am using for the printable grocery lists.
Don't forget to grab the printable grocery list. You can write down items as you think of them or make a grocery list based on the same items for the week.
Best Meal Planning Tip
One of the biggest tips that I share with everyone about meal planning is that it's so cost-effective once you start.
If chicken is cheap this week, meal plan your weekly meals and use chicken as the protein of choice. There are so many ways that you can cook chicken that it doesn't have to seem like the same dish every night.
Also, don't forget to go meat-free! Beans and rice are a great way to skip the high prices of meat while still getting a comforting dish at the same time.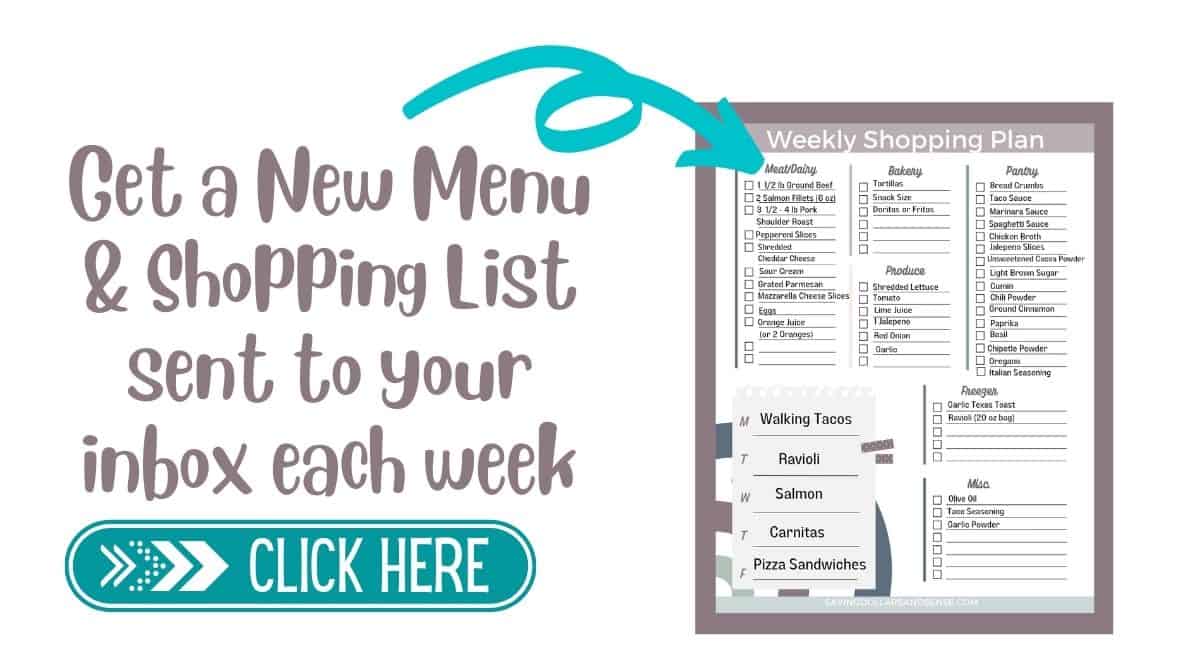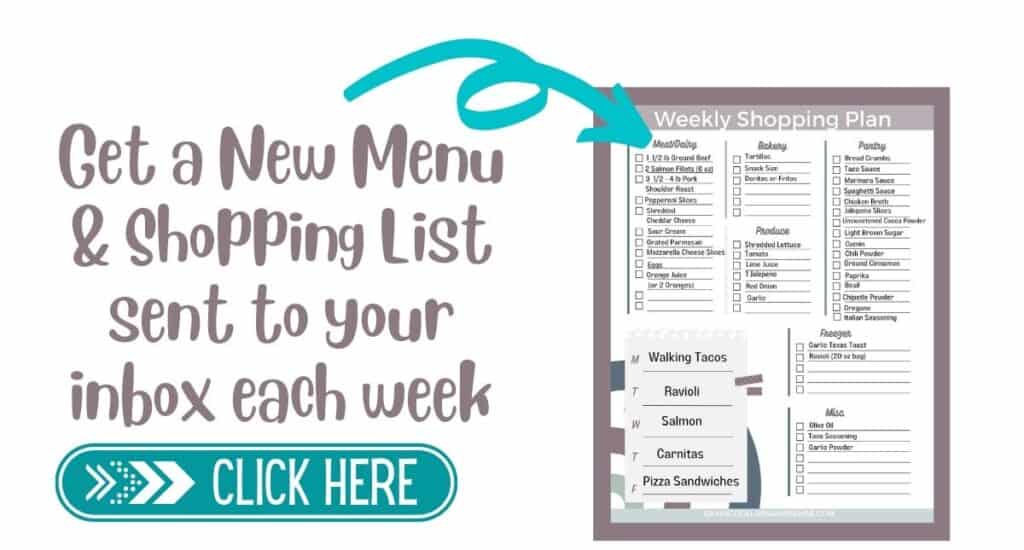 Meal Planning Weekly Schedule
Grab your free printable shopping list and take it with you to the store to easily grab everything you'll need to make the following meals this week.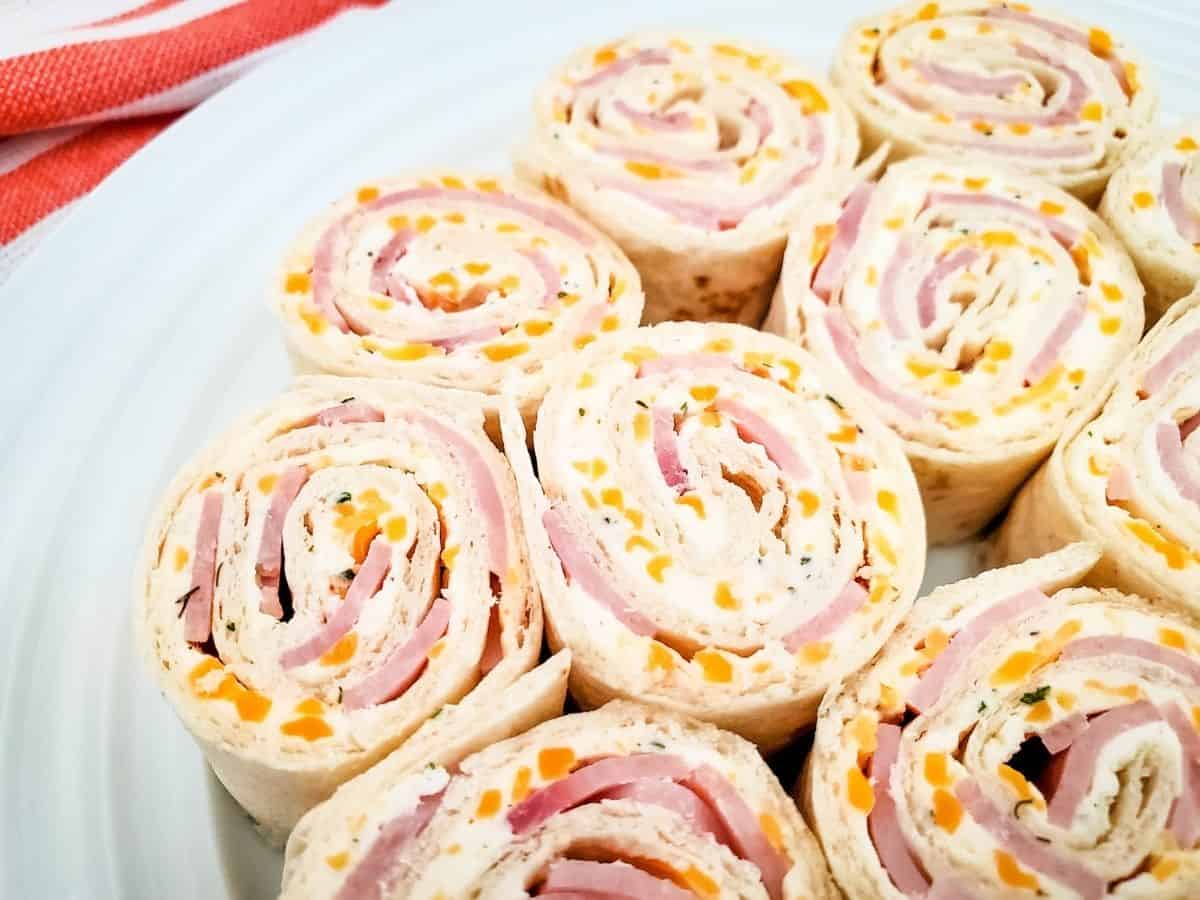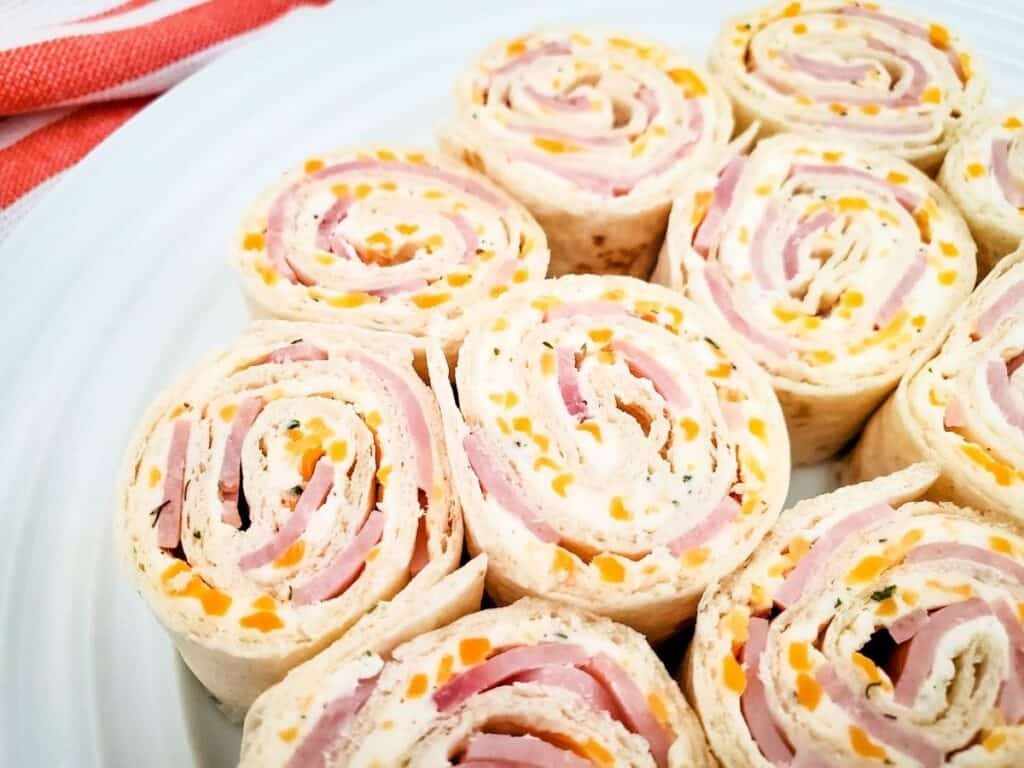 Ham and Cheese Pinwheels are the perfect way to use up any leftover ham you might have after a holiday too, which makes it perfect for after Easter.
You can serve them alone or add a salad from the list of salad that use hard boiled eggs. Use up your leftover ham and eggs in one meal!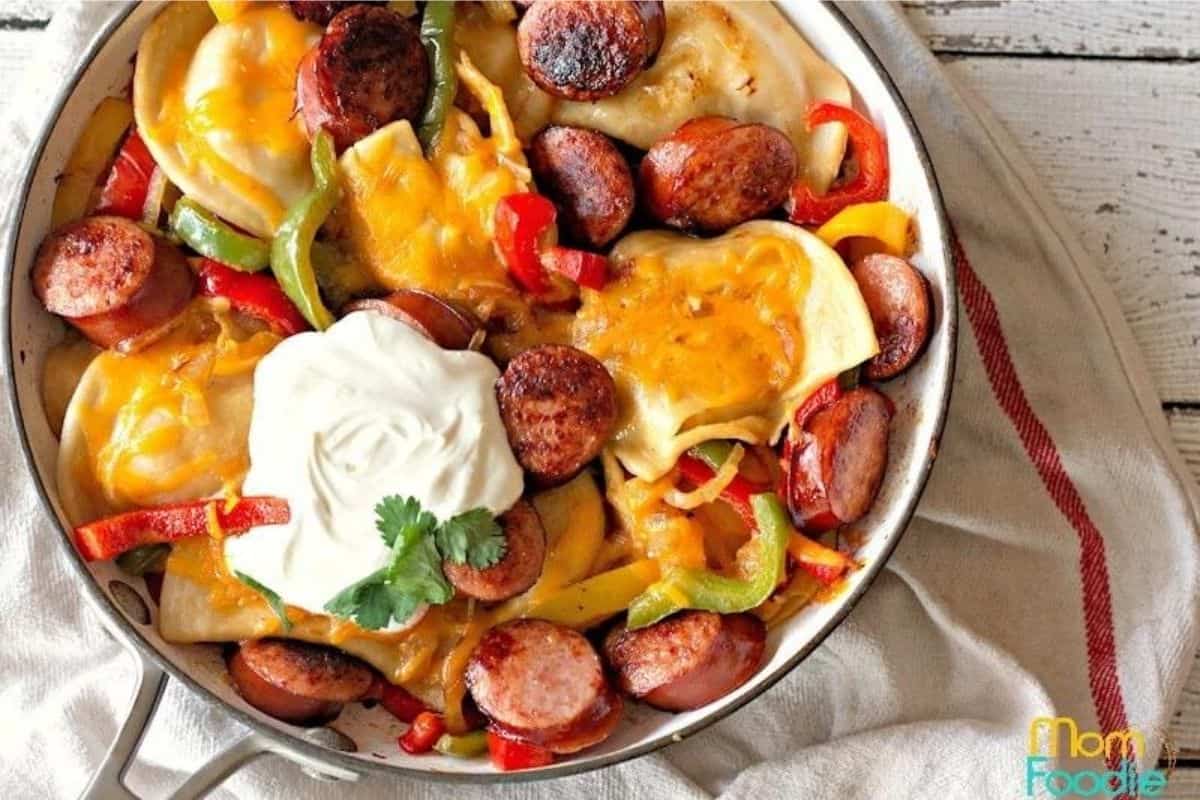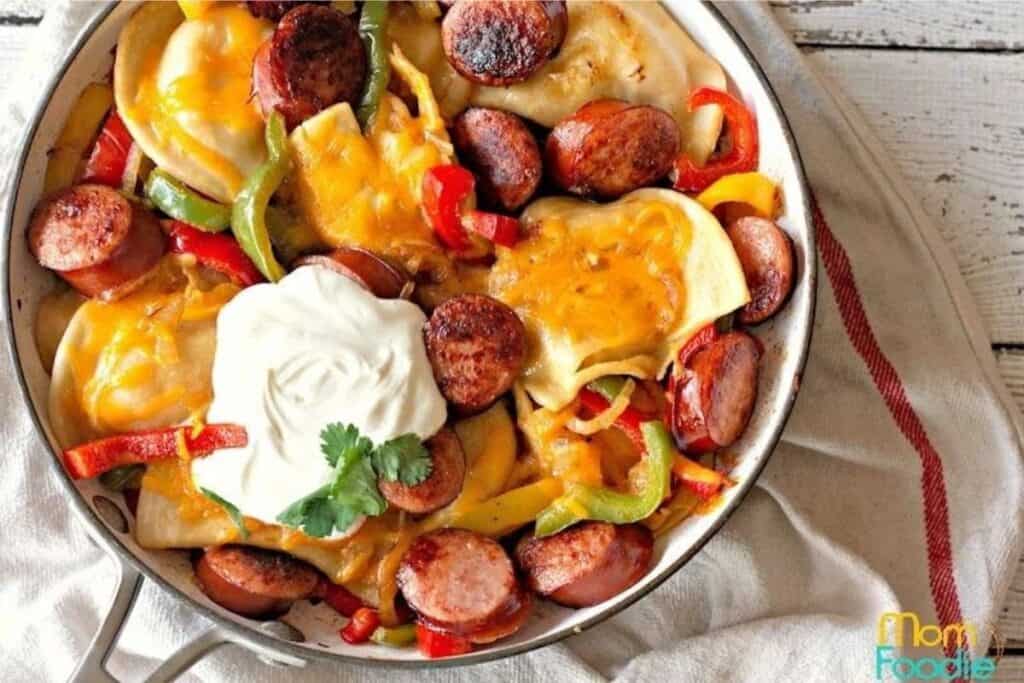 This one skillet meal is so easy to make and only takes about 30 minutes. The perfect meal for busy weeknights.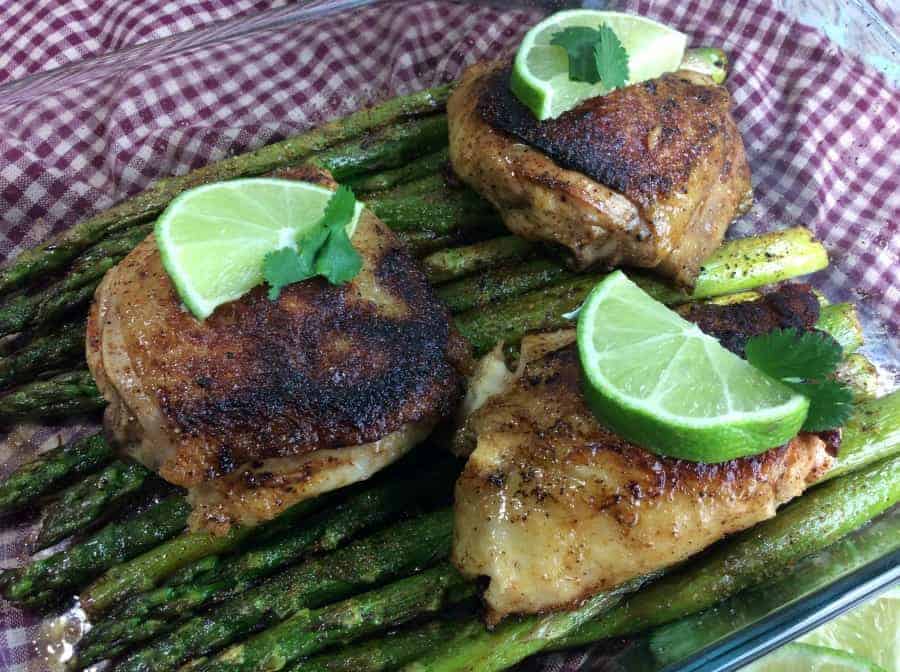 This is such a simple and flavorful meal. I love that it only uses one skillet, so cleanup will be a breeze too!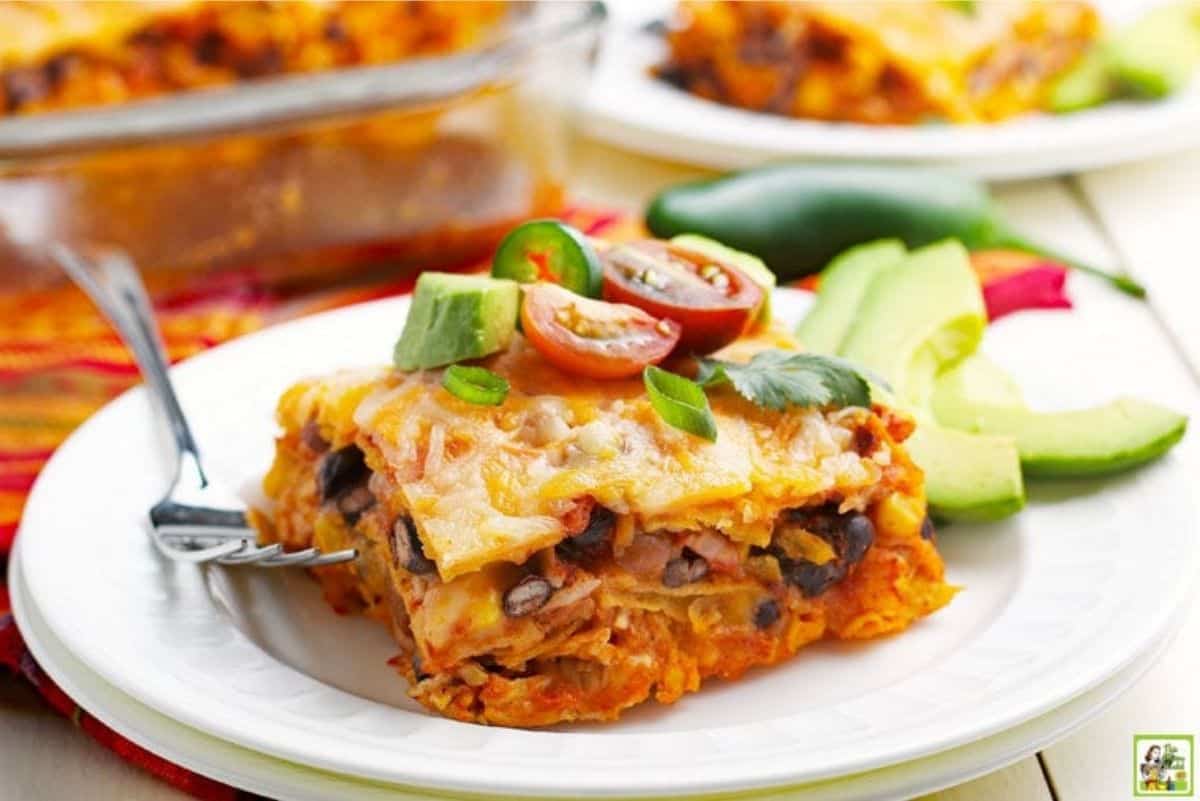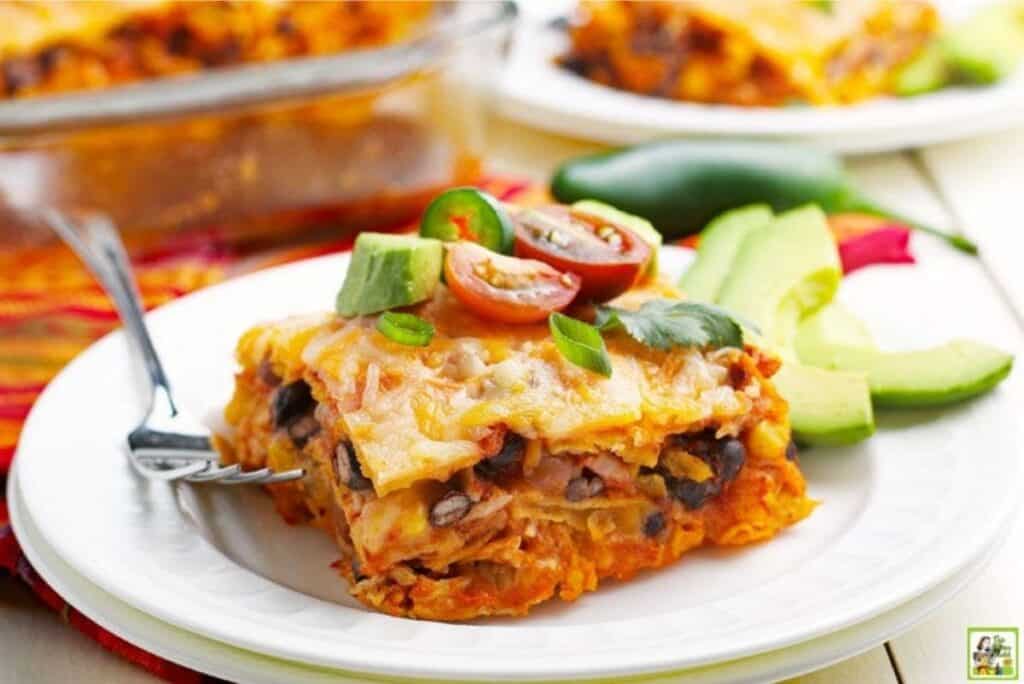 This is a great recipe to use up any leftover chicken you might have from dinner last night.
You could also just grab a routisserie chicken and use that chicken, but I love being able to use up any leftovers by creating a whole new meal like this one today.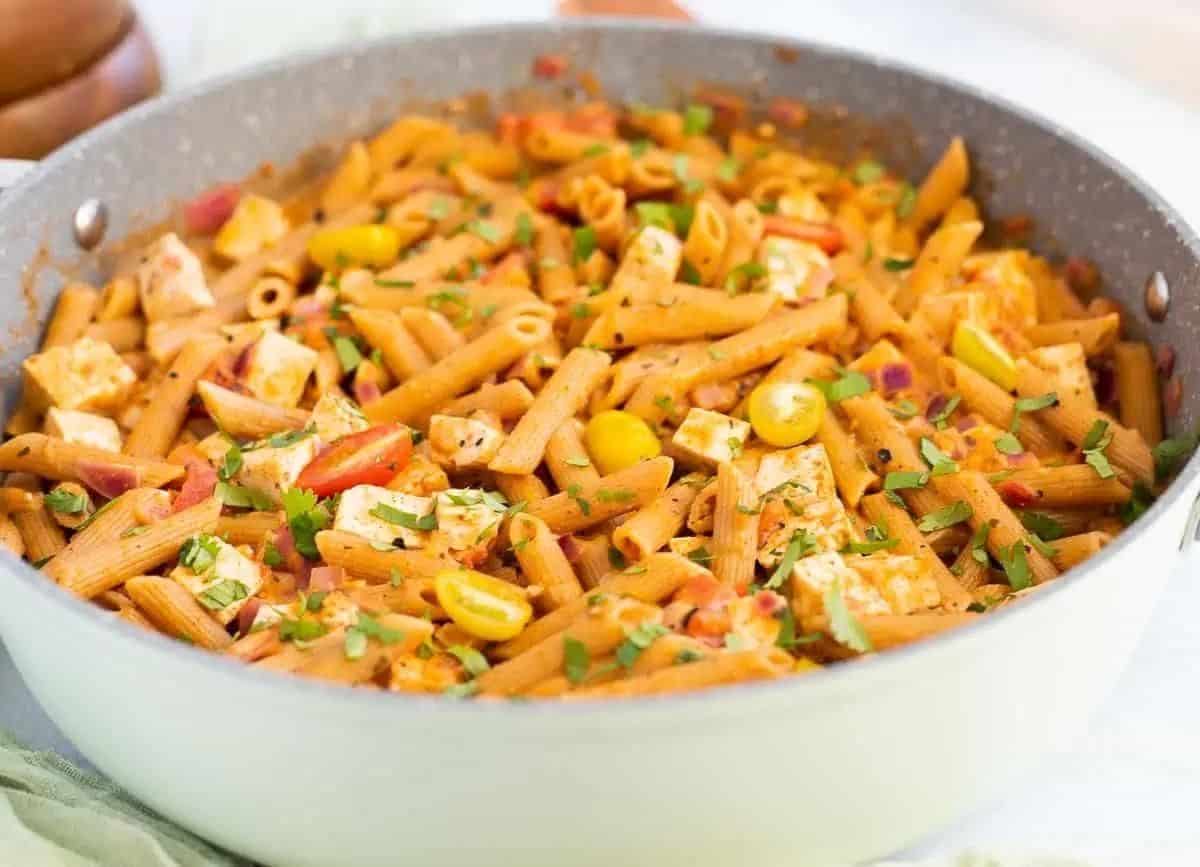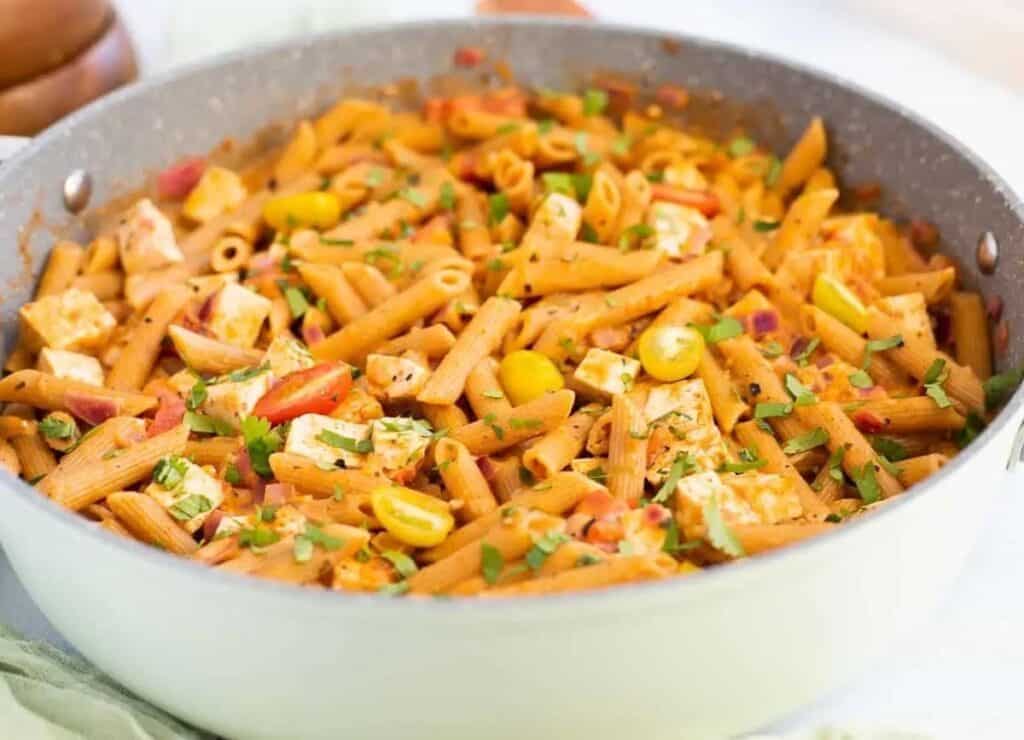 I'm going to start adding one meatless meal each week to the meal plans.
Skipping the meat is a great way to save a little money on your weekly grocery budget.
If you must have some meat, I like this pasta would taste great with some boneless skinless chicken breast.
But this Cajun Pasta dish is so delicious you won't even miss the meat! You can make this dish with or without the added tofu, if you're not a fan of it.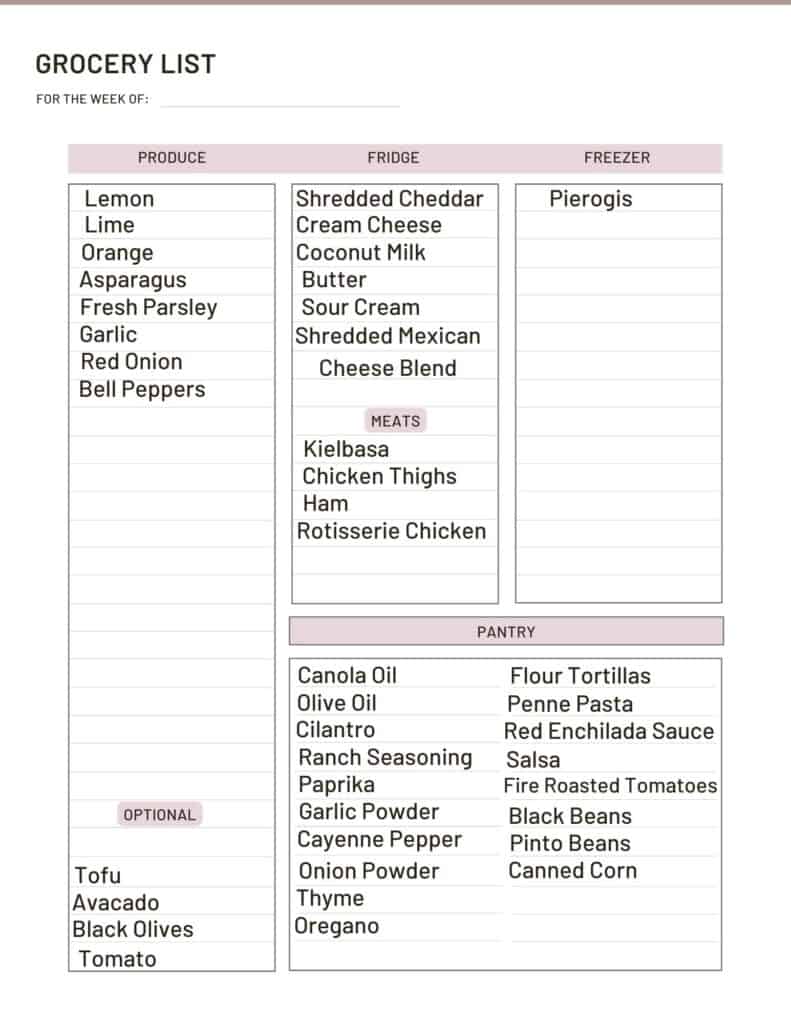 Leave the weekends open so that you're free to pivot. We like to splurge and eat out on the weekends so I don't typically make a plan for Saturday or Sunday.
Bonus Day?
A bonus day is an "extra" day of yummy fun. Let the kids take turns picking out what they want to do for a bonus meal – and then gobble up every bite!
Or you can use this night to try any of the recipes from our Recipe Index that you want.


If you make any of these recipes, I would love to hear how you liked them.
Feel free to join us in the private Cooking Club FB Group here and share a photo of any of your meals with everyone else. This is a great place to get or give encouragement to others on the same mission to Saving Dinner!