You'll find some of the very best stocking stuffer ideas for kids right here.
One group of ideas is under $10 and another group of gifts is priced under $20!
As we get closer to the big day, I am sure most of us are getting to the point of what to fill our kids' stockings with this year.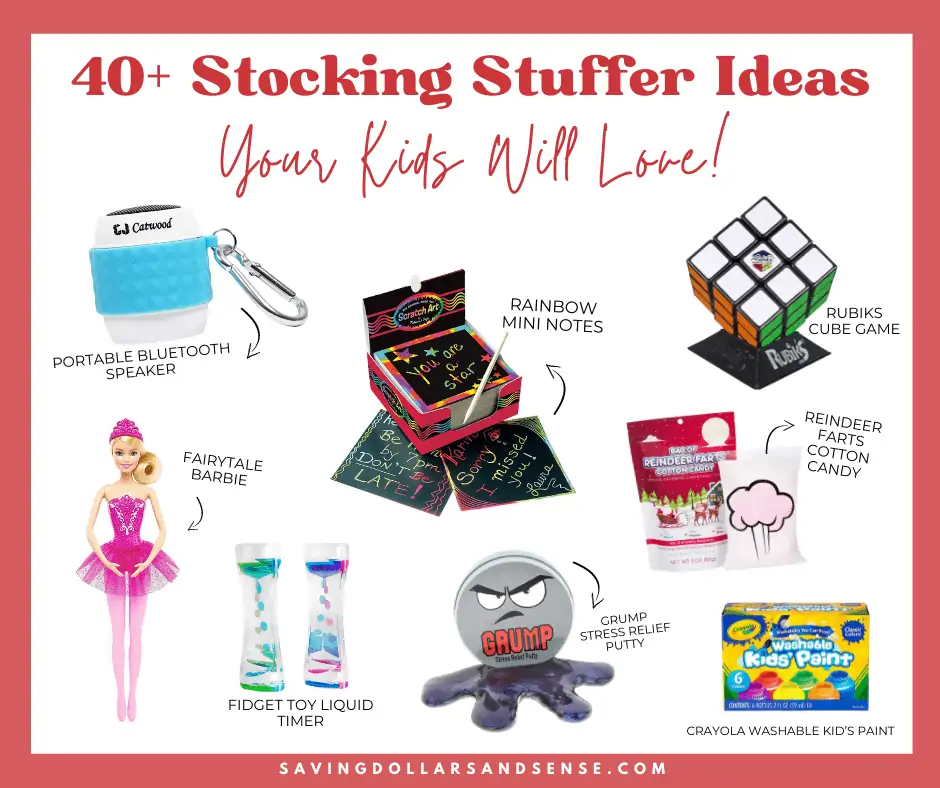 I know when my kids were little I always left this part to the end.
Mostly this was because I wanted to see how much money I had left in the budget to use on stocking stuffers after all of the big gifts were bought.
If I had a little more money in the Christmas Budget, I would grab a couple more expensive gifts for their stocking.
I usually wait until the very end to figure out what kinds of things I will get to put into the stockings.
I've tried to make things a little easier for you by rounding up some of the best stocking stuffers for kids under $20.
But I was always looking for a few great stocking stuffers that were just a couple dollars and that is why I love this list I am sharing with you today!
This is the perfect gag gift. Stick a pencil up this 2-1/2″ (6.4 cm) long, plastic nose then give it a twist and it will come out clean and sharp.
Take the 3X3 challenge! The Rubik's 3X3 Cube has many combinations, but only one solution. Challenge your mind with this brain game. Scramble the colored squares on this addictive and multi-dimensional cube. Then twist, turn, and rotate to match up the colors again on all sides!
PlayTape is the original road tape. Unlike imitation products, PlayTape is 100% made in the USA, non-toxic, and third-party tested to meet all U.S. and international child safety standards. It's safe for your floors and walls too! Our 4" roads and curves are perfectly sized for a young child to handle with ease. Get the original road tape – PlayTape!
Barbie loves ballet. Whether leaping through the air or twirling with amazing speed, ballerinas are beautiful to watch. Barbie ballerina doll is dressed in a ballet outfit perfect for the stories you choreograph!
Bicycle accessory for kids that adds realistic motorcycle exhaust sound. Snap Spokester on for more NOISE than you know what to do with! Spokester is easy to install. Just snap it on by hand and you're ready to ride! No tools are required!
This durable plastic lasts for hundreds of miles. Don't waste your time replacing playing cards and clothespins, or jamming empty plastic bottles in your spokes and damaging your bike.
A lifelong mustache connoisseur, Mr. Moustachio sets a high standard for face furniture. Choose any of the following styles: old western Wild Bill, preppy and pointy Crumb Catcher, the wise old Fu-Man-Chu, the old standby Handle Bars, the opulent Rich Uncle Nicklebags, the pencil-thin Dali, the nefarious Con Artist, the groovy Disco Dave, the waxed classic Rollin' Rollie, and you can't forget Stache O' Mania, brother!
Find the sticker, peel the sticker, place the sticker. And sticker by sticker, a koala appears! Or an elephant, frog, red panda, puffin, peacock, snake, giraffe, tiger, or gorilla. (And no mess to clean up!)
Designed for children ages 5 and up, Paint by Sticker Kids: Zoo Animals uses low-poly art—a computer style that renders 3-D images out of polygon shapes—and removable color stickers so that kids can create 10 vibrant works of art.
Get ready for a fun and exciting twist on the classic card games Slap Jack and War. Smack it! card game for kids is fast-paced, rowdy fun! Players quickly flip their cards into a central pile and battle for the pile during challenge rounds.
But stay sharp, you never know when a Smack it! card will appear sending players scrambling for a win. Smack it! is EASY to learn, FUN to play, and sure to be a hit with the whole family.
The Melissa & Doug Scratch Art Box of Rainbow Mini Notes includes 125 easy to use rainbow mini notes which kids can use to jot down notes, etch doodles, and create cool illustrations and designs. These Scratch Art notes feature bright colors that hide beneath the matte coating. Kids simply use the included wooden stylus to reveal them with a simple scratch.
This emoji poop fidget spinner is perfect for your active kids who love a good laugh!
Crayola Washable Kids Paint is perfect for introducing young children to paint. Learning to paint can help children improve fine motor skills, and blendable colors help young children learn colors and mix secondary colors.
Washable Kids' Paint in six different colors: blue, violet, green, red, yellow, orange. Crayola Washable Kids' Paint does not drip readily from brushes & does not separate, making it freeze-thaw stable & assuring consistent performance.
Now you can explore the world of Minecraft like never before! Enclosed inside each blind pack is 1 Minecraft Mini-Figure. Figures feature the game's signature appearance. Includes 1 miniature figure; colors and decorations may vary. Collect your favorites and build out your Minecraft world!
Get behind the wheel of this fast sports car, featuring an adjustable rear spoiler, rear-engine, round headlights and a red, white and black color scheme. This 3-in-1 LEGO Creator set features a three-part modular design that enables quick model reconfiguration and can be combined with the 31054 and 31060 LEGO Creator mini modular vehicle sets to create new vehicles for extended play. Rebuild the Red Racer to create a Tow Truck or a Race Car.
ALEX Spa Hair Chalk Pens let your little diva transform her hair from plain to punk in minutes with vibrant chalk pens! Simply apply to dry hair of any color. When you're ready for another change, simply wash out with shampoo. The set includes Hair chalk pens in pink, orange, green, blue and purple, a comb and easy instructions. Recommended for children 8 years of age and older.
Kids can't get enough of laughter–so they can't get enough of Rob Elliot's hilarious joke books! Knock-Knock Jokes for Kids is an all-new collection of knock-knock jokes that will have kids and kids-at-heart rolling in the aisles.
Recreate a lunar landing in your kitchen with the 4M Zero Gravity Fridge Rover. The gravity-defying Fridge Rover will move over any magnetic surface with amazing ease. All you have to do is wind it up and watch it go. Great as a stocking stuffer or party favor, the Fridge Rover is a great gift for young and old minds alike. Give the gift of science with toys that foster curiosity and encourage learning.
This cool set of almost 1,000 emoji stickers will last a long time. Includes best-selling faces, icons. Heart eyes, Kiss, Sunglasses, Monkey, 100 Percent, Poo, Tears and more. This jumbo pack is the largest sticker pack to date! It's packed it with 20 sheets of stickers. 3 of the sheets are duplicates so you can share em', swap em' and stick em' anywhere! These stickers are water-resistant, removable, and long-lasting!
ALEX Toys POPS Craft Little Launcher Straw Rockets contains everything your little one needs to create and play with their own toy. POPS Craft kits are compact sized (7.25in. x 6in.) complete craft kits. Kids can make things to wear, display or play with. Great to give out as prizes and thank you gifts, they're also ideal for gift baskets and stocking stuffers. Includes 4 plastic bendy straws, 4 paper punch outs, 152 stickers, and easy instructions. Recommended for children 5 years of age and older.
Bouncy Ball Craft Kit
This science project will put a bounce in your step. The process involves putting together a ball mold, adding powdered rubber, and submerging the mold in water. In just four minutes, you're ready to detach the mold and Voila! You've made your own hi-bounce rubber ball. Each kit makes two balls. 8 kits per order.
When your friends and family are rage-filled monsters, toss them a tin of Grump Stress Relief Putty. The tin is filled with premium, chameleon, purple therapy putty that will put a smile on even the meanest sourpuss. Stress happens to everyone, and you can choose to either let it rule you or rule it.
Who likes a Grump? No one. The only thing Grumps get are side glances and the occasional bird…and we're not talking about the flying kind. Stop being a grump – squeeze and squish some Grump Stress Relief Putty until tension, stress, and crankiness go away.
The liquid motion sensory toy will keep everyone busy for a long time. People love watching the liquid drops drip down and slide down to the bottom. They love watching the drops make the circle designs spin around. Size : 5.75″ inches tall x 3.5″ inches wide.
Celebrate Christmas with one of the sweetest treats of all, Reindeer Farts Peppermint Cotton Candy! Just grab one or two or even handfuls and savor the best part of an epic stocking stuffer.
Fingernail friends are tiny colorful characters to decorate children's nails. Easy to apply and remove, simply stick an animal to each nail for the coolest hands in the classroom. 25 assorted size nail-stickers in each pack.
Light up your wheels with these premium LED Bicycle Lights! Activ Lites are loved by boys and girls, men and women of all ages! Not only do they provide for greater safety in low light conditions, but they show off your own unique style and fun! Choose from six popular color options—blue, green, pink, red, white and rainbow and the American favorite, red, white and blue.
3W mini portable Bluetooth speaker enough to play music/podcast in your room. Featherweight 50g/47mm (1.7oz / 1.8 in) and the built-in hook to hang it to your handbag or clothes when going outdoor, gardening, biking, hiking, skiing, poolside, spa, jacuzzi, beach, gym.
Compatible with all phones and tablets, such as iPhones, iPad, Samsung, LG, Sony, Motorola, HTC, other Android devices. Low power consumption, playtime up to 3-4 hours after fully charged.
Tell all kinds of fantastic tales with this magical mermaid doll! The Barbie Rainbow Lights Mermaid doll has a tail that reveals a surprise when activated by water — a sparkling rainbow lights show!
Make snowballs in seconds with the Snowball Maker, made in the U.S.A. This winter toy molds perfect spheres for maximum snowball fun. This toy's snowball-forming cup stays open and packs tight snowballs.
Keep building the fun with an assortment of large-scale Minecraft figures based on characters from the video game. Your favorite Minecraft characters come with exciting game-authentic features and accessories unique to each one.
Each figure is articulated and on a 5-inch scale. Relive all your favorite moments from the world of Minecraft! Collect them all! Each sold separately, subject to availability. Colors and decorations may vary.
Kids who love dinosaurs will love this great 3-in-1 LEGO Creator Mighty Dinosaurs set! And gift-givers who love affordable toys that will keep little ones busy for hours will love it too!
The T-Rex set features a dark-green and beige color scheme, razor-sharp teeth, huge claws, and a moving head and tail! Kids can also rebuild the set into a powerful Triceratops or a terrifying Pterodactyl!
Teach children about the invisible power of magnetism with the 4M Magnet Science Kit. The Magnet Science Kit teaches young scientists about the effects of magnetism through a combination of fun science experiments and games.
The kit contains materials to make interactive magnetic objects like the Super Power Horseshoe Magnet and the Magnet Wand. Construct Super Magnet Racer, a Yacht Compass, or a Mysterious Dangler. Activities like the Fishing Game provide hours of fun and provide hands-on learning about the effects of magnetism.
Kids are fascinated by pretty much anything that lights up. They took every day great kid's items and brought them to life with bright fun colored LED lights.
They hope their products will inspire kids to use their imaginations to make their own fun. Their gloves fit a variety of ages from smaller children up to teens and young adults. Made of a blend of cotton polyester that stretches to fit a variety of hand sizes.
The imagination of a child can turn a simple dot into a masterpiece. Purple skies, blue trees, and multi-colored cats are easy to create with Dauber Dawgs dot markers! Promote early childhood development by encouraging hand-eye coordination, color recognition, and creativity. Each package comes with 8 highly pigmented colors.
Celebrating the 35th Anniversary of Pac-Man. Bandai's Pac-Man Connect and Play brings back your favorite classic video games right to your television! The battery-operated old school joystick connects right to your TV.
Featuring 12 Classic games like Pac-Man, Pac-Man Plus, Bosconian, Galaxian, Mappy, Super Pac-Man, Galaga, Dig Dug, New Rally X, Pac & Pal, and Xevious. Not to mention, Pac-Man 256, which offers fans the chance to play the coveted level once made unavailable due to a bug in the program of the supposedly never-ending game.
The 256 Challenge lets you begin where the original game left off. The unique Pac-Man shaped controller is designed to reflect the nostalgia of 80's arcade-style gaming. The Store and Play feature allows real Pac-Man fanatics to store the cord in the controller for the best display of Pac-Man.
This Pac-Man Connect and Play are improved with great functionality with the joystick controller!
Check out all of our Saving Dollars and Sense Gift Ideas below: