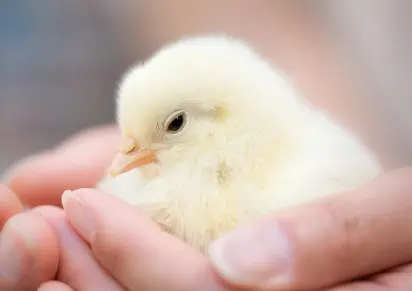 I announced last week that we were adding some chicks to our family!
Today is the day we are scheduled to pick them up, and I am both very excited and a little nervous at the same time. We have been told that they are easy to raise IF you can keep them alive. That's the part that has me a bit worried, to be honest.
This morning I remembered why…
When I was young I used to have this repetitive dream pretty regularly. In the dream, I could see myself picking up a baby chick and then throwing it up in the air to see if it would fly. In my childish mind, I saw a bird and figured all birds should be able to fly.
Unfortunately, the next scene in the dream is the baby chick laying on the ground lifeless.
After several years of having the same dream, I finally decided to share it with my mom. She then informed me that she had gotten my a baby chick for one of my first Easters and my dream was actually a memory.
I am nervous that these baby chicks will die on my watch as well, but they will not die by my hands this time!
In fact, since remembering this memory this morning, I can't help but smile a little. You see I know that the Lord is in the business of redeeming, and I can't help but think this might be his way of healing a little girl's broken heart.
It's strange how a moment in time can hurt us in ways we may not even be aware of. I was a very young girl, probably no more than 2 years old when this happened.
You grow up and soon that memory doesn't even seem to exist, however, there are still fingerprints left behind.
As I was sharing the memory with my husband he pointed a few things out that did touch a nerve. One, in particular, was the fact that I was left alone with this baby chick at such a young age?
I've shared some of my stories here before, you can find those posts in My Story of Grace.
But the gist is this, I was a child born to parents who neglected me in many ways for various reasons. While I have been healed emotionally and spiritually in many areas, there are always those dark corners that the Lord will kindly point out when he knows you are ready.
This memory of the chick was significant because it touched on that unhealed portion of my heart that God desires to make whole.
While my earthly parents might not have done a stellar job being parents, I have come to know that they were not raising me alone. God has shown me over and over that he was there in the lonely, quiet darkness with me and he has never left me alone.
The message at church this past Sunday was about Hosea and Gomer. And Guilt and Shame, and how guilt becomes a prison, and shame becomes the lock that keeps us inside.
I've shared about my experiences with Shame many times and found healing when I wrote this post
Guilt says – You killed a baby chick.
Shame says – you are a murderer and everything you touch dies.
Guilt says – You did a bad thing.
Shame says – You are bad and unlovable.
Me and Shame are well acquainted.
You see this single childish act of wanting to see the baby birds fly unleashed a trap I wasn't even aware of.
All these years, over 30 to be exact I have allowed shame to keep me trapped by the lie that I am unlovable and everything I touch will die. When the truth is that I am a child of God who was left unattended and did what any child would do.
You are whole and made clean
1 Peter 5:10
New International Version (NIV)
10 And the God of all grace, who called you to his eternal glory in Christ, after you have suffered a little while, will himself restore you and make you strong, firm and steadfast.
You are loved because he chose you!
Ephesians 1:4
New International Version (NIV)
4 For he chose us in him before the creation of the world to be holy and blameless in his sight.
You are NOT forgotten!
Philippians 1:6
Amplified Bible (AMP)
6And I am convinced and sure of this very thing, that He Who began a good work in you will continue until the day of Jesus Christ [right up to the time of His return], developing [that good work] and perfecting and bringing it to full completion in you.
I am so excited to pick up our baby chicks today, and you can be sure I will share LOTS of photos as we all begin this new journey.