It's pretty amazing to see all of the frugal Bisquick recipes that you can make using a box of Bisquick baking mix.
In fact, I bet you will find several of your favorite recipes can be made using the iconic yellow box baking mix, that was made popular by Better Crocker.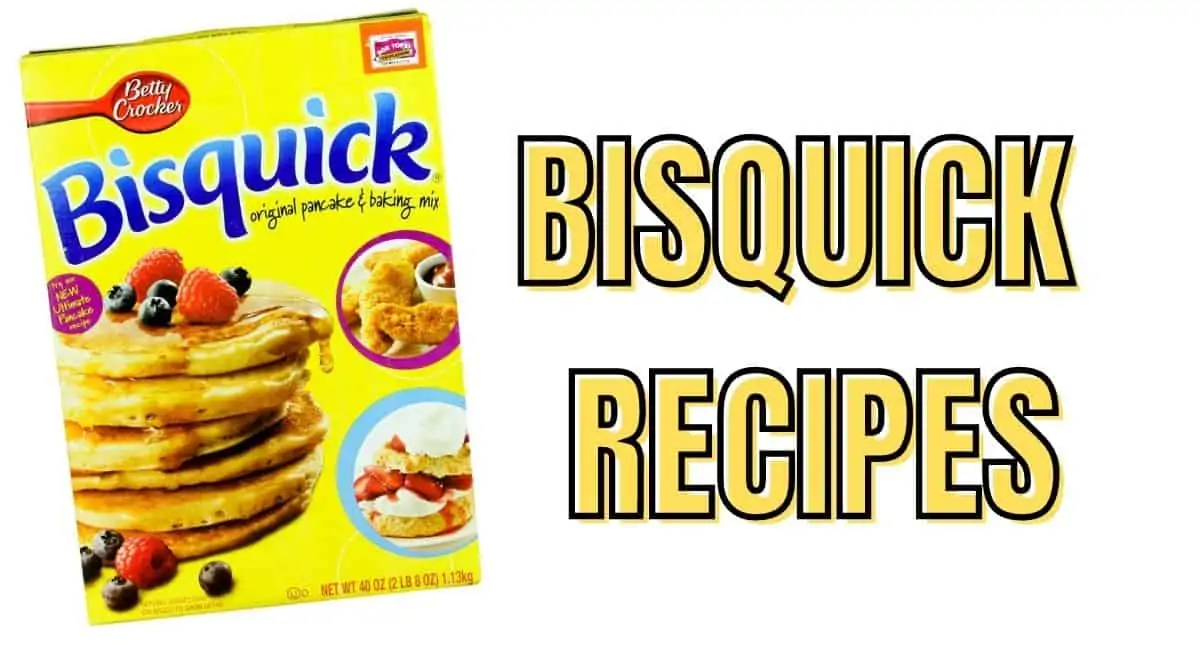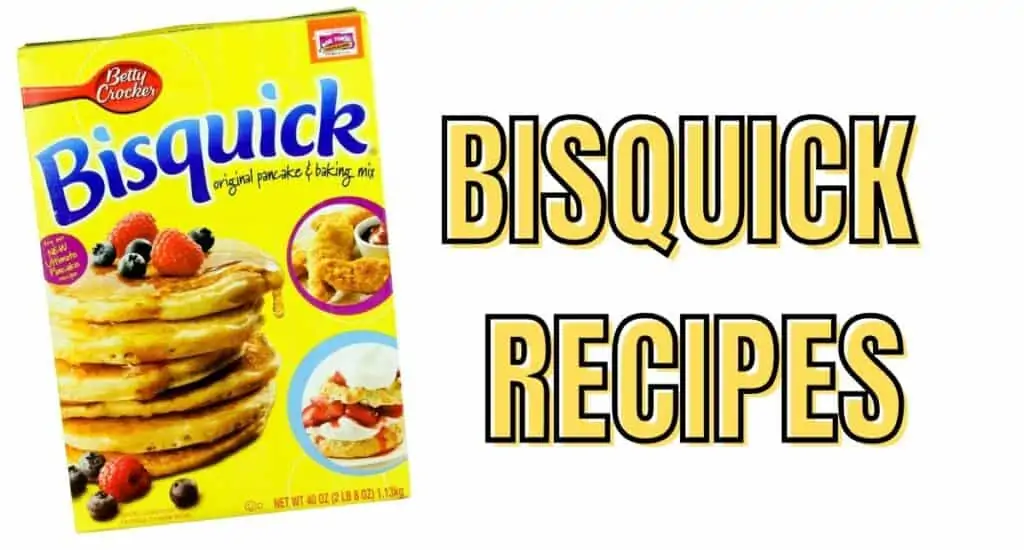 You'll find several easy homemade recipes that home cooks love to make using Bisquick baking mix below.
If you cannot make it out to the grocery store and do not have any store bought Bisquick in your pantry, you can very easily make your own homemade Bisquick mix.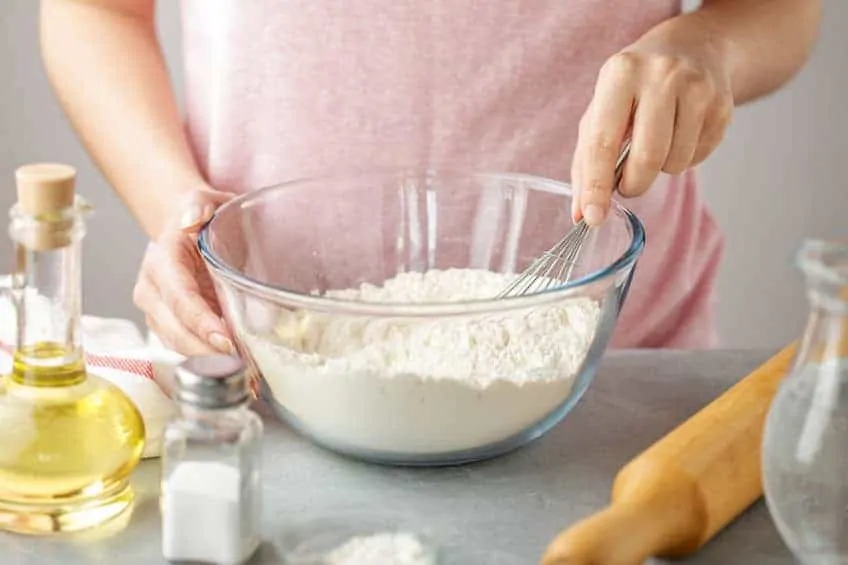 It's super easy to make your homemade baking mix using my tried and true recipe and some basic ingredients! Just make sure to store any leftover mix in an airtight container.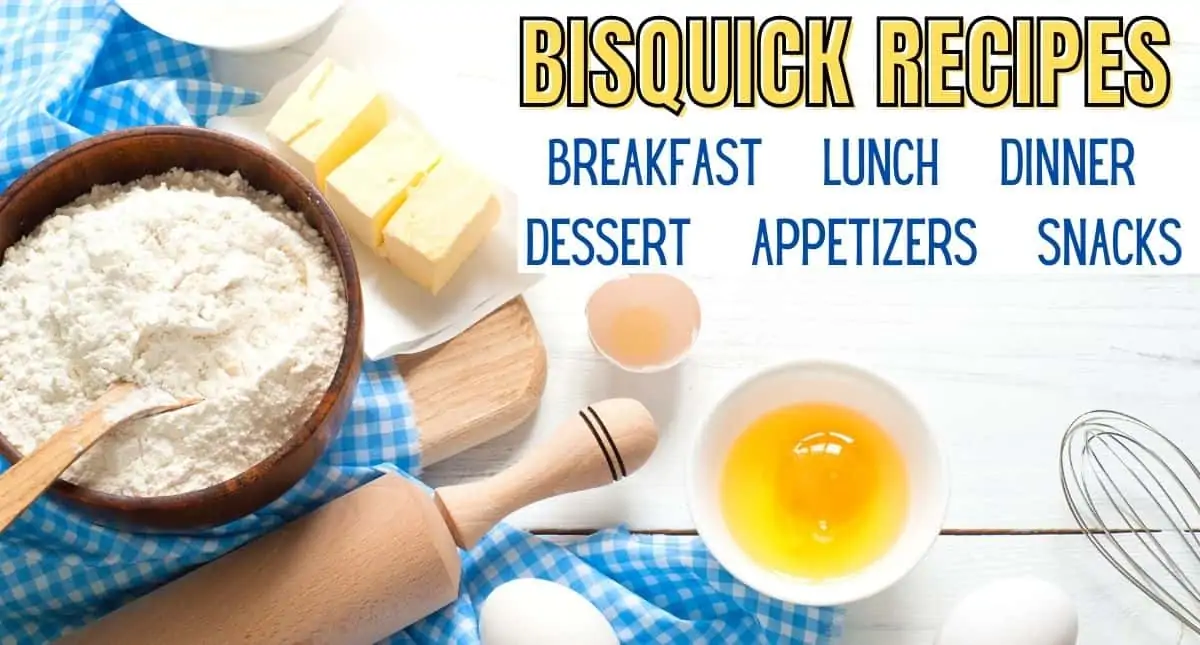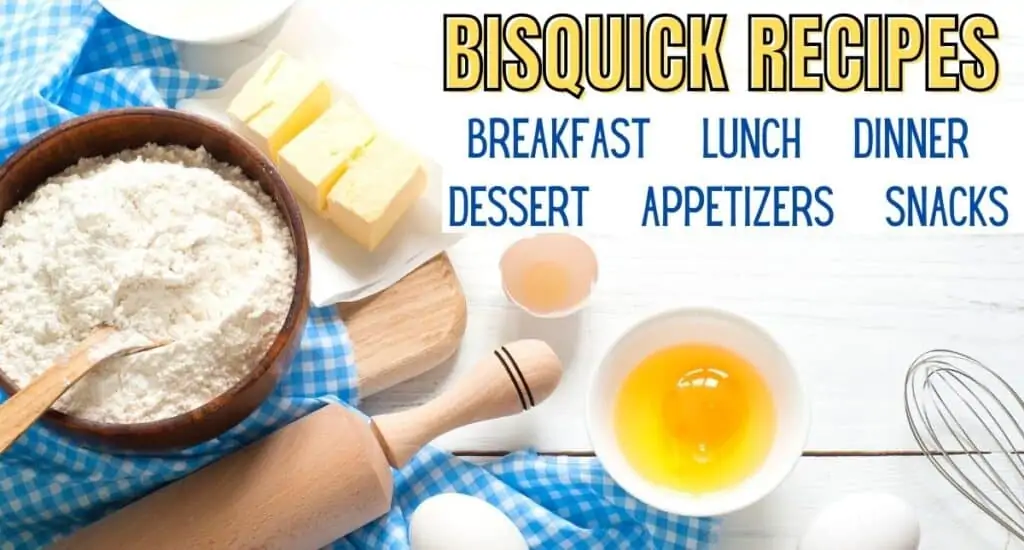 Now allow me to introduce you to some of the very best Bisquick recipes.
Bisquick Breakfast Recipes
Choose one the the easy recipes below the next time you want to try a new breakfast recipe.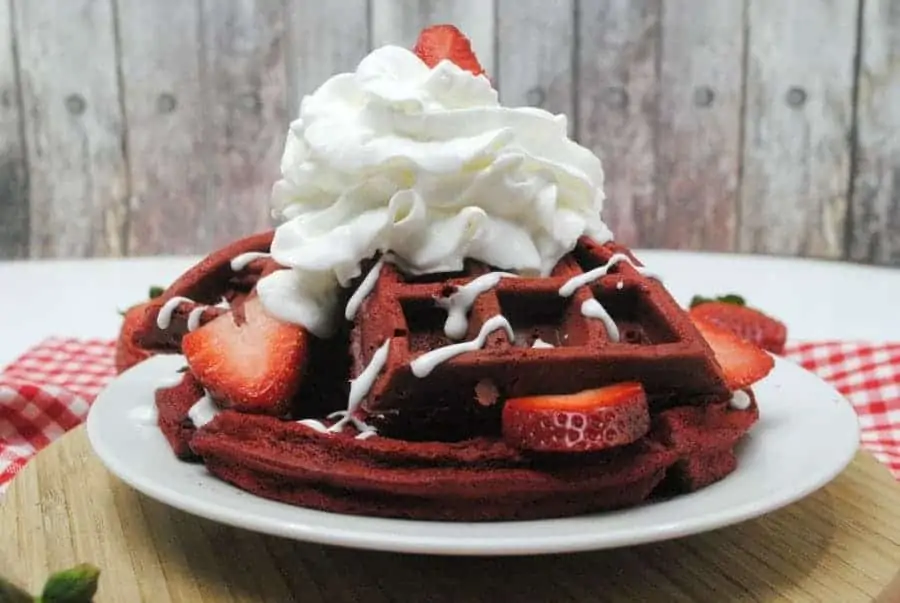 This Red Velvet Waffle Recipe that used Bisquick will leave you wondering if you have just eaten breakfast or dessert.
This easy Bisquick quiche recipe will surprise you with no crust to start! You throw everything in one bowl and mix it together then pour it in a pie plate and cook. About an hour later, you're eating something warm and healthy and homemade.
Doughnuts are a favorite for breakfast here and we have figured out how to make our own homemade recipe for a variety of doughnuts.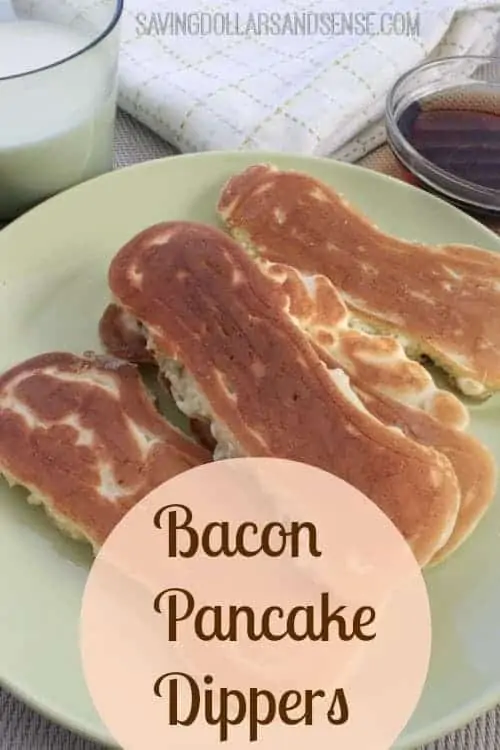 These Bacon Pancake Dippers are SO much fun and really quite easy to make with your Bisquick baking mix!
Bisquick Appetizer & Snack Recipes
You can use the baking mix to make all kind of treats and comfort foods too!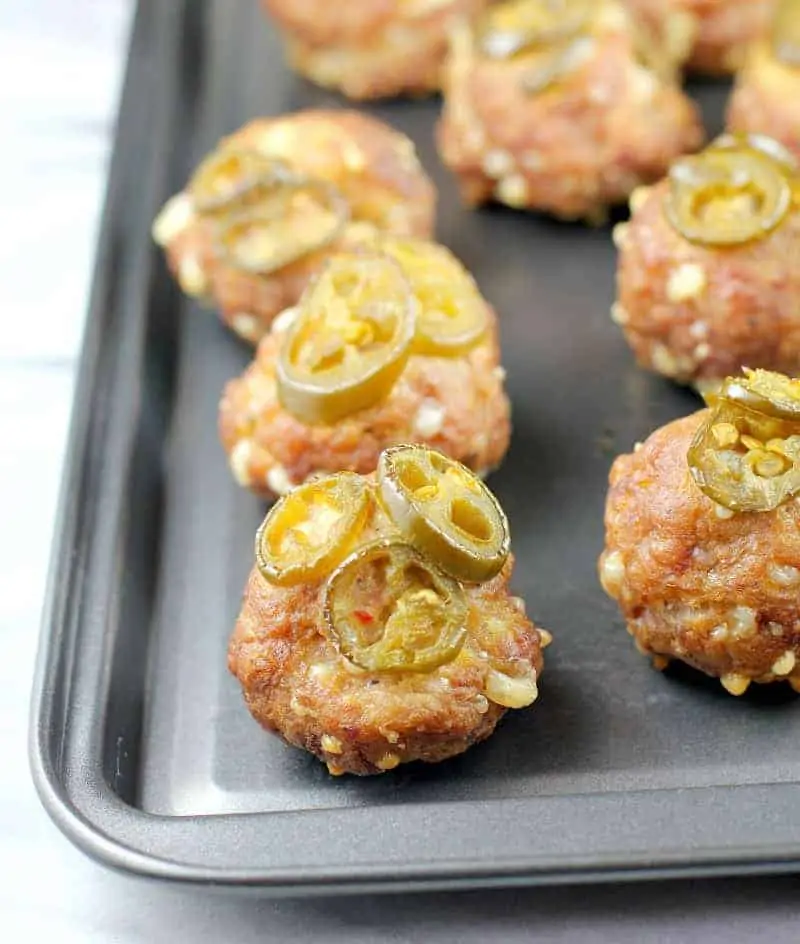 They may not be pretty or fancy, but these classic, cheesy Bisquick Sausage Balls are always a hit at parties and get the job done when it comes to satisfying hungry guests!
Smoked Sausage Balls are tender, cheesy meatballs with sausage, jalapeños, and pepperjack cheese cooked in the Big Green Egg kamado cooker, grill, or electric smoker to smoky perfection. Served with honey mustard for dipping, these smoked meatballs are busting with flavor.
Bisquick Dessert Recipes
These delicious recipes and sweet treats are sure to become some of your favorite desserts! Find a new delicious dessert to make today!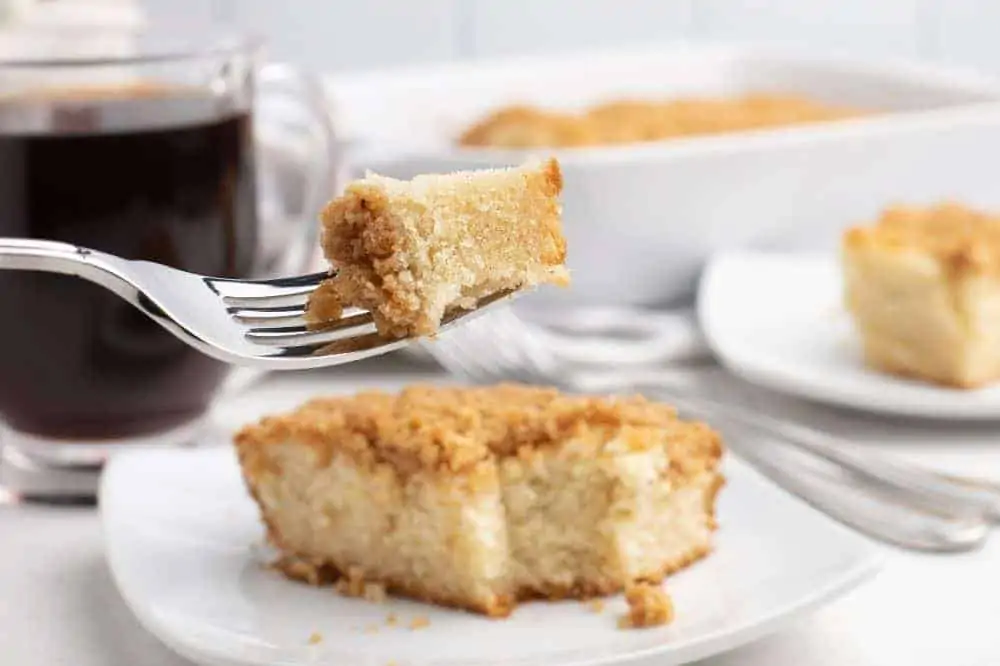 This Bisquick Coffee Cake recipe is super moist and full of cinnamon sugar flavor! Make it in a 9×13 pan!
Bisquick Dinner Recipes
If you are looking for a simple recipe to make for dinner, I have rounded up several great ones for you to try! Bring a new dish to your dinner table tonight.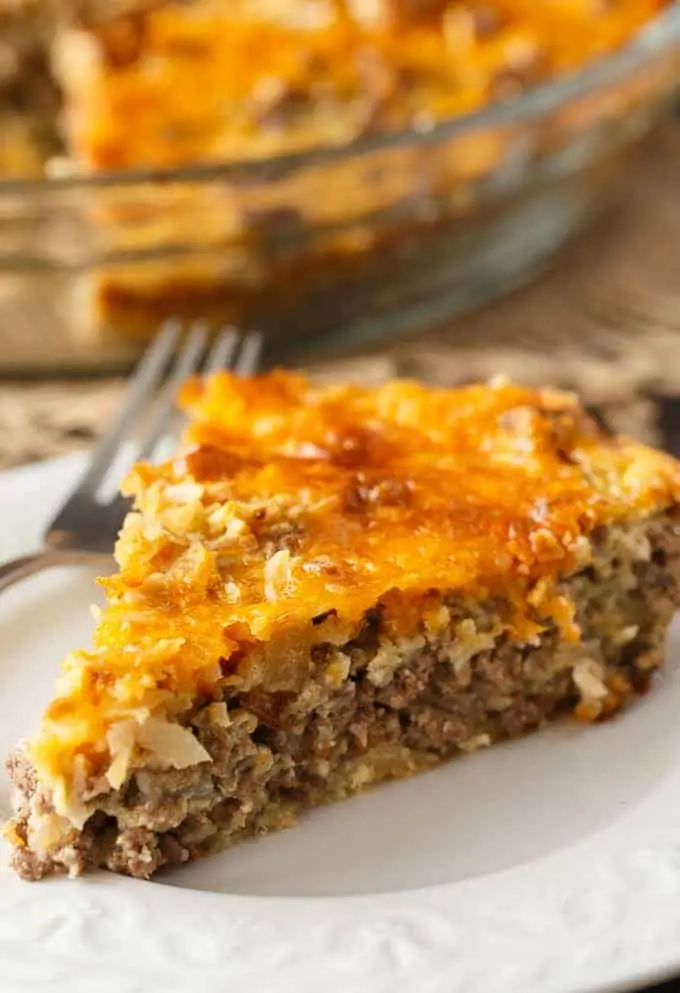 Impossible Cheeseburger Pie is super easy and delicious! This yummy recipe is full of cheesy beefy flavor that everyone loves.
Take some of your family's favorite flavors and put them into this Sloppy Joe Casserole dish!
This Bisquick Chicken Alfredo Casserole with tomatoes and spinach is the perfect weeknight dinner! It's made with simple ingredients and is ready in under one hour. A favorite easy, family-friendly recipe!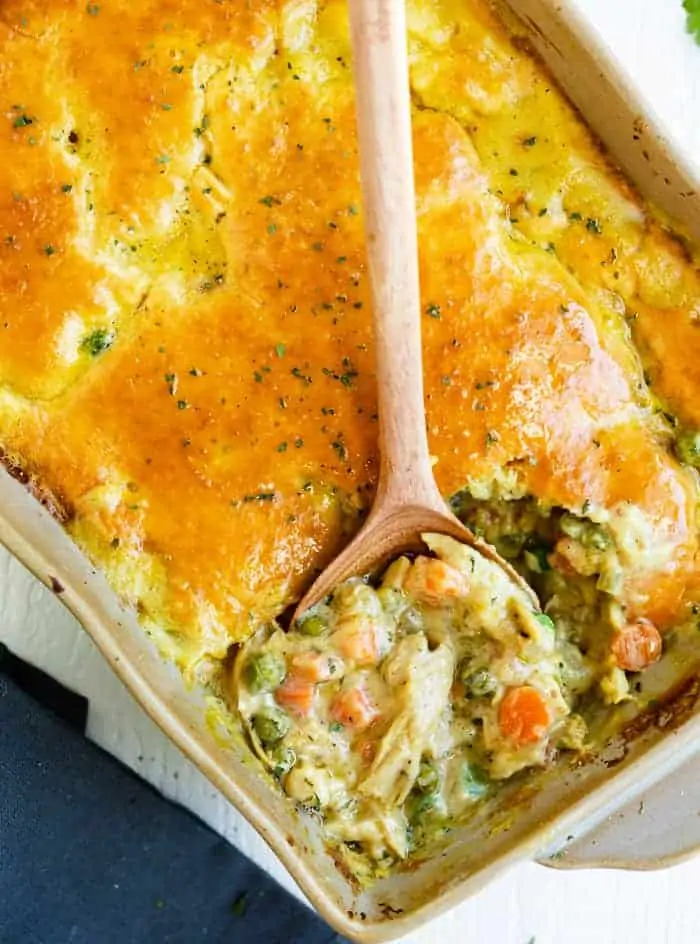 This Bisquick Chicken Pot Pie has an easy homemade filling and buttery golden crust. This recipe is Crock Pot and Instant Pot friendly and can be made 2-days ahead of time!
This easy recipe combines layers of sour cream, cheese, tomatoes and ground beef on top of a tasty Bisquick crust for a delicious, quick weeknight dinner!
Bisquick Bread Recipes
Go beyond the ordinary Bisquick biscuits with one of these biscuit or bread recipes! There is nothing like homemade fresh biscuits to compliment dinner, breakfast or to eat all by itself.
They really are the perfect way to stretch a meal.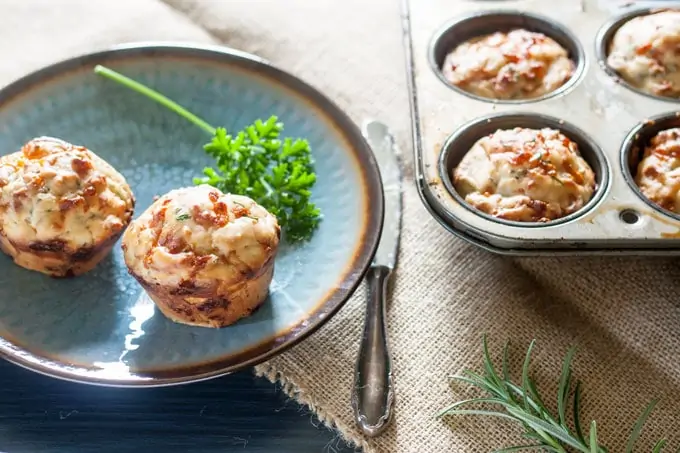 These Cheesy Herbed Bacon Muffins are literally done in 40 minutes with help from a couple pieces of bacon and some cheese!
This homemade copycat Red Lobster Cheddar Bay Biscuit and Buttermilk Biscuit recipe are packed with cheddar cheese and are bound to become a new family favorite (especially if it keeps a few extra dollars in your pocket)!
These 4 ingredient Bisquick sausage muffins are a must make. Fuel your morning with protein and some carbs to get you started for the day.
There are so many favorite Bisquick recipes! I hope you found a couple news ones to add to your favorites!
Check out the recipe library below for even more great homemade recipes.