This Crockpot Fall Simmer Pot recipe is just the thing you need to bring the aroma of fall into your home today.
It only takes about 5 minutes to put together your own homemade potpourri, that is the perfect combination of sweet and spicy too.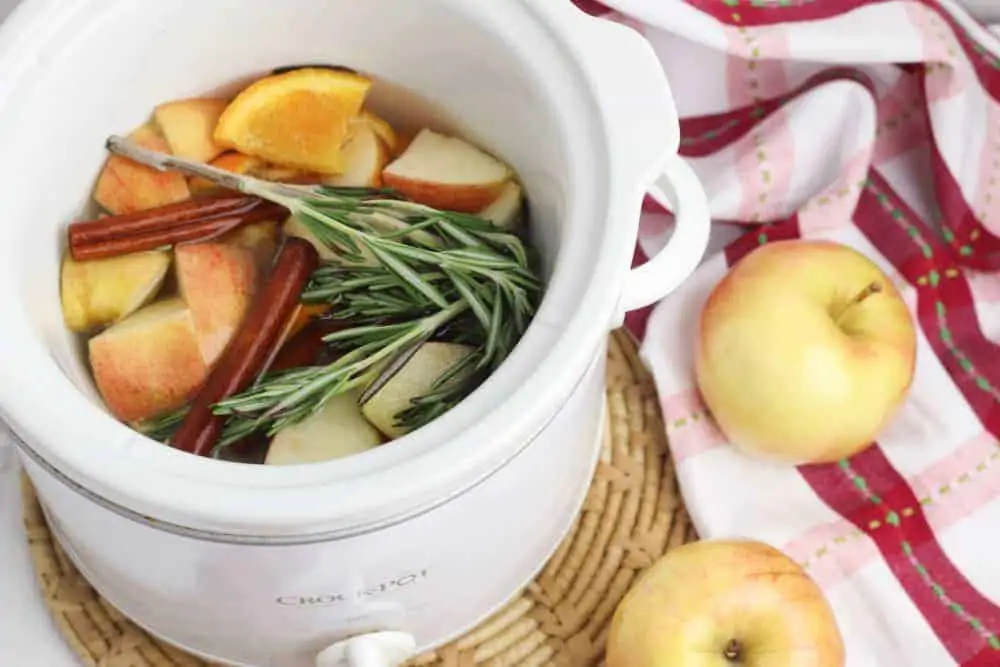 I used to love to make my own stovetop potpourri when my kids were young.
They say that scent is closely related to memory. I hope that when my kids smell anything that resembles this homemade simmer pot recipe, it will bring up nothing but warm memories of home.
I would put everything into a pot with some water, and just keep the fall simmer pot going all day long.
It is a great replacement for scented candles for a couple reasons. First it is a very frugal way to bring the scent of the autumn season indoors. And those candles are known to contain a lot of toxic chemical ingredients that cause all kinds of health issues when they are inhaled.

What Do You Need to Make Your Own Potpourri
1 orange, cut into chunks
1 apple, cut into chunks
Water
What else can I add to my fall simmer pot?
Some other things that you might want to consider trying in your fall simmer pot include:
Vanilla (extract or beans)
Nutmeg
Cloves
Cranberries
You can totally get creative with this and try a different concoction every single time.

How to Make Stovetop Potpourri
Place all ingredients in a saucepan and fill with water to cover the ingredients.
Place the pan on the stovetop and cook over low heat, allowing the water to simmer.
Add more water to the pan as needed.
Discard ingredients after use.

Crock Pot Potpourri Instructions:
Place all ingredients in the bowl of the slow cooker and fill with water to cover the ingredients.
Turn the slow cooker on high and allow to cook with the lid off.
Add more water to the slow cooker as needed.
Discard ingredients after use.
This is a super easy way to make your home smell amazing, give it a try today!
If you like this fall DIY, you are going to love these: