I am sharing everything your need to know to learn How to Grow Tomatoes successfully.
Learn how to grow MORE tomatoes in your garden than ever before following these easy tips.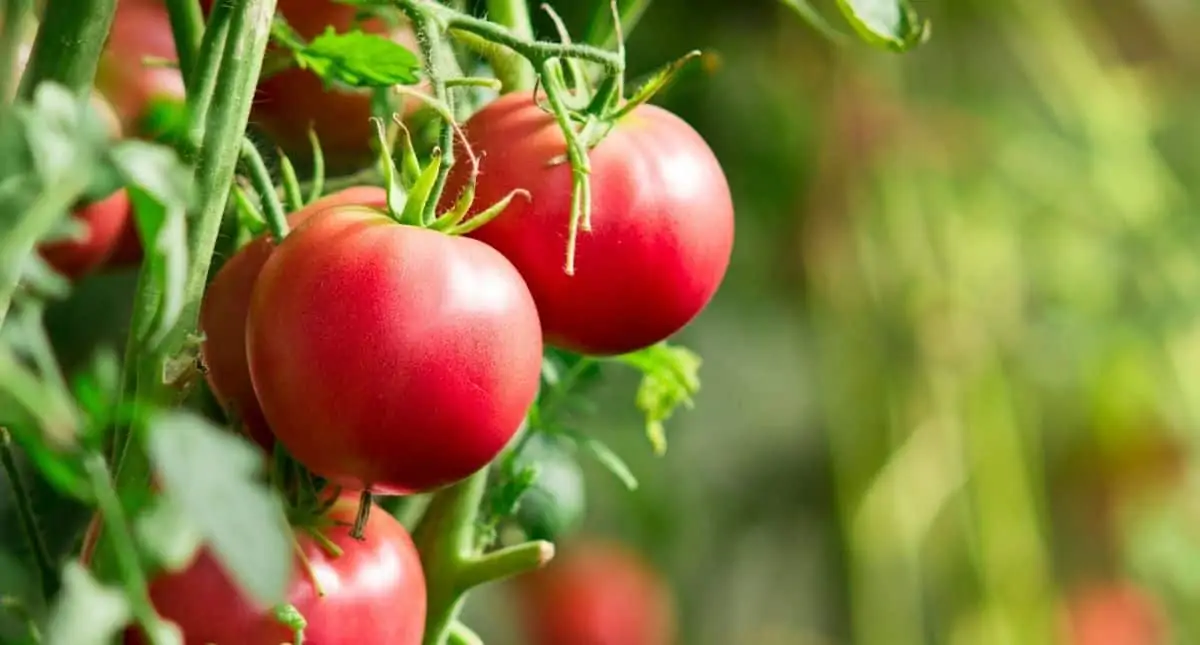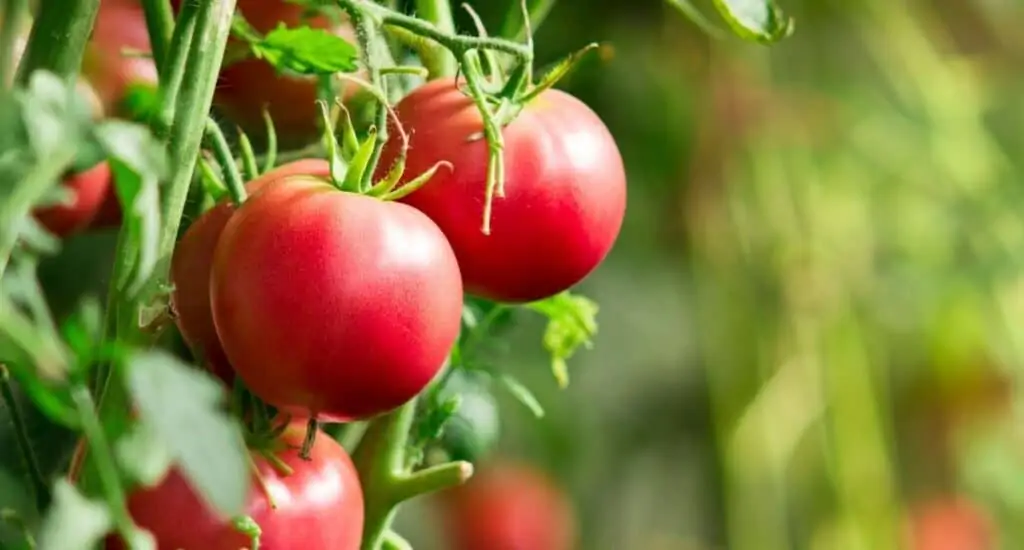 Tomatoes are one of the most popular garden plants.
This is because there are lots of different varieties to grow, like my favorite cherry tomatoes. Heirloom tomatoes have so many great uses in the kitchen and tend to produce enough to be rewarding.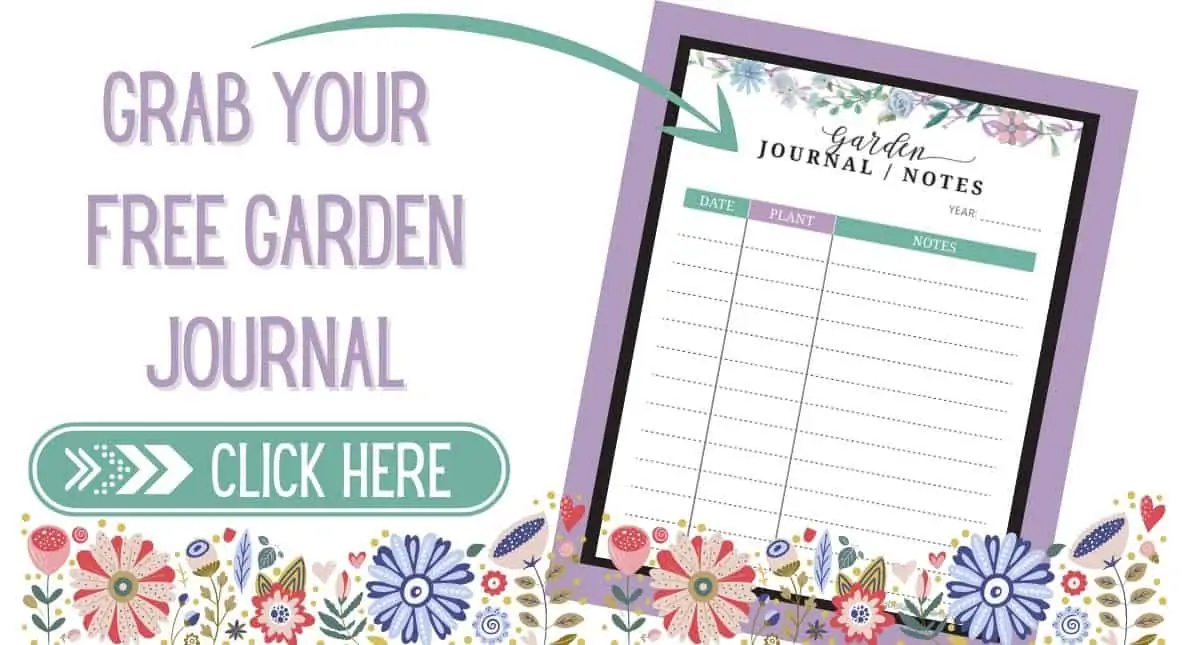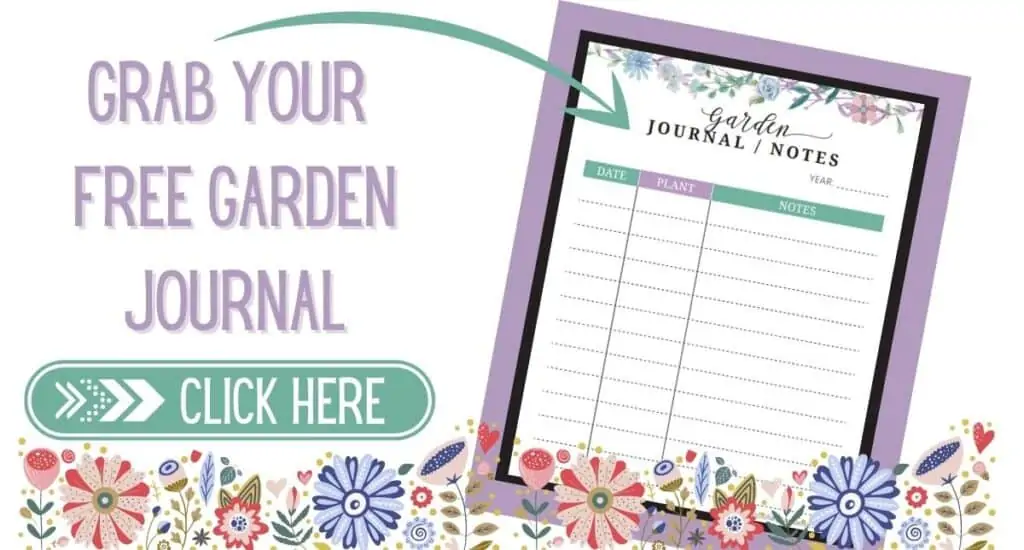 For families that are looking to preserve tomatoes, a larger harvest means more food all year round.
These tips will help you get more tomatoes from your garden than ever before.
Should you plant tomatoes from seed or seedling
Tomatoes take a long time to grow and should always be started indoors. Sow seeds 6 to 8 weeks before the last danger of frost is expected.
This is because tomatoes take so long to get up to full size and begin producing.
If you do not have time to start your tomato seeds so far ahead you could buy plants that are already well established from a local garden center or nursery.
Avoid putting your tomato plants into the ground until at least two weeks after the last expected frost.
Before planting your tomatoes you want your nighttime temperatures to constantly be between 60 and 70 degrees fahrenheit.
Preparing to plant your tomato garden.
When choosing where to plant your tomatoes look for the hottest part of your garden.
Tomatoes need a lot of full sun and heat to thrive.
In fact, until it is time for the ripening process you want your tomatoes to have as much heat in the summer as they can get.
Planning so that there is something to reflect the light back at your tomato plants from the north side, is a great way to get them more heat in the early summer.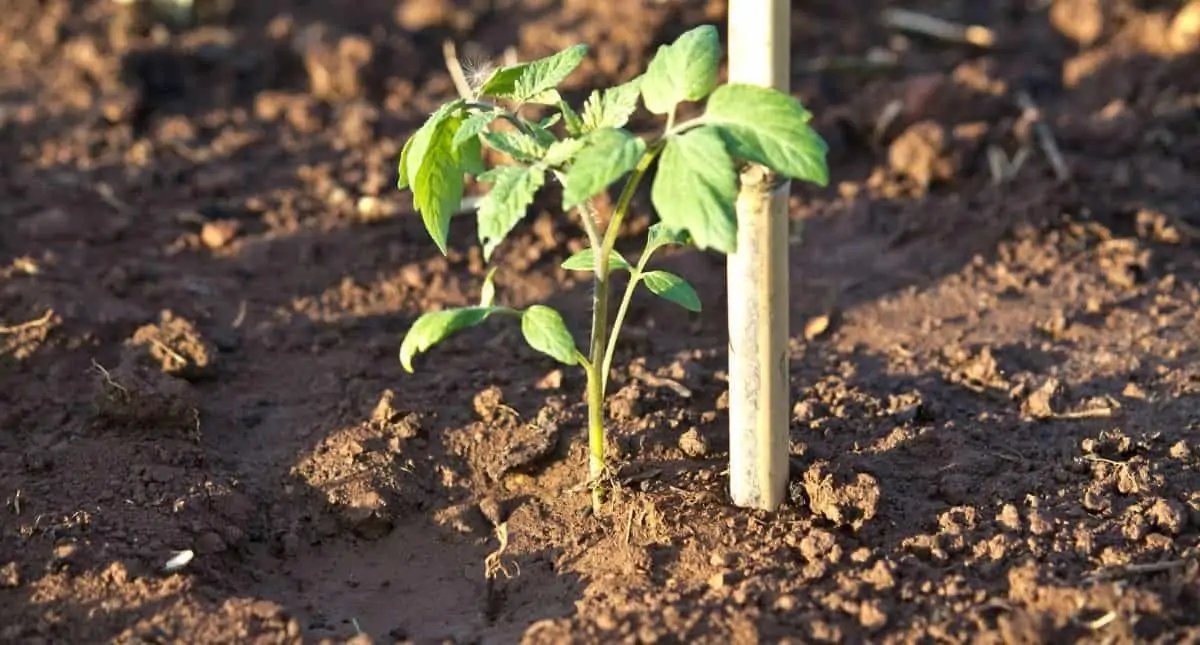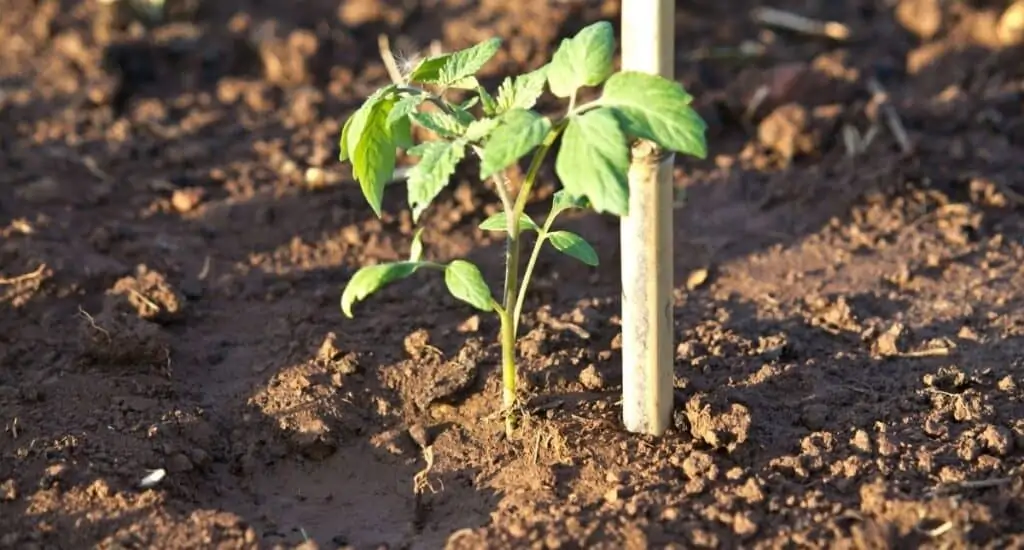 Before planting your tomatoes you want to give them the best start possible.
Best Soil for Tomatoes
This includes testing the acidity of your soil.
Tomatoes need to be planted in fertile soil that is between 6 and 6.8, to get the most benefit from the nutrition in your soil.
This can be accomplished by adding fresh nitrogen-rich compost to your soil and tilling it in at least 12 inches deep.
This organic matter will allow the roots of your tomato plants to pick up the most nutrition possible. You will be able to grow more fresh fruits for each plant this way.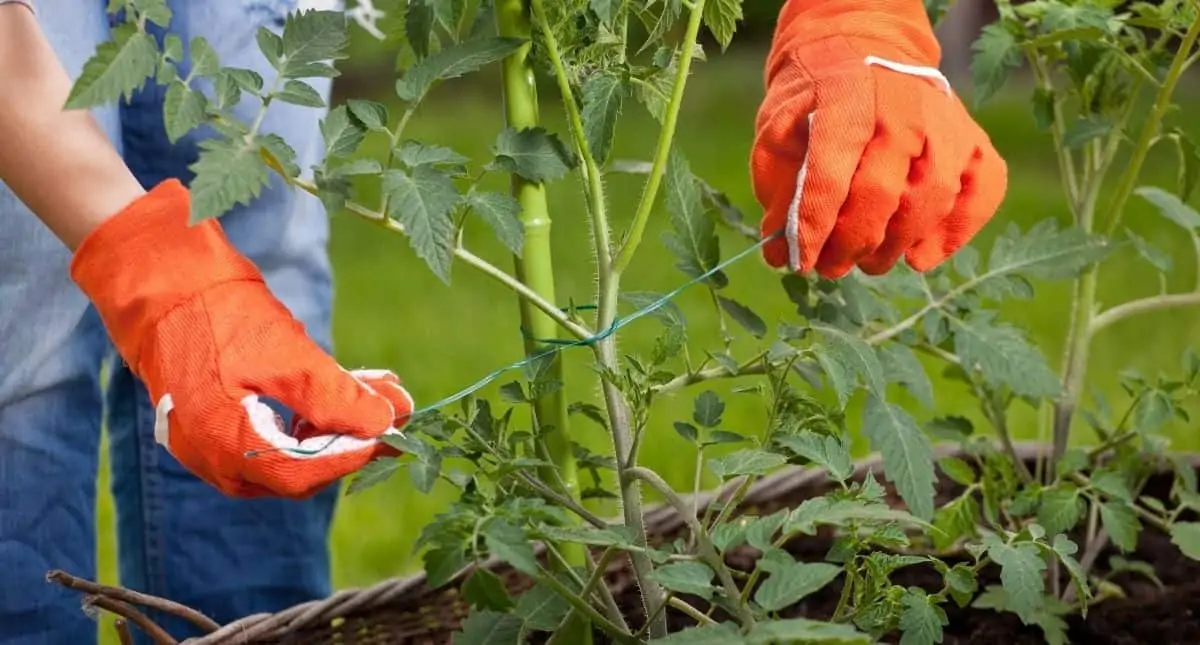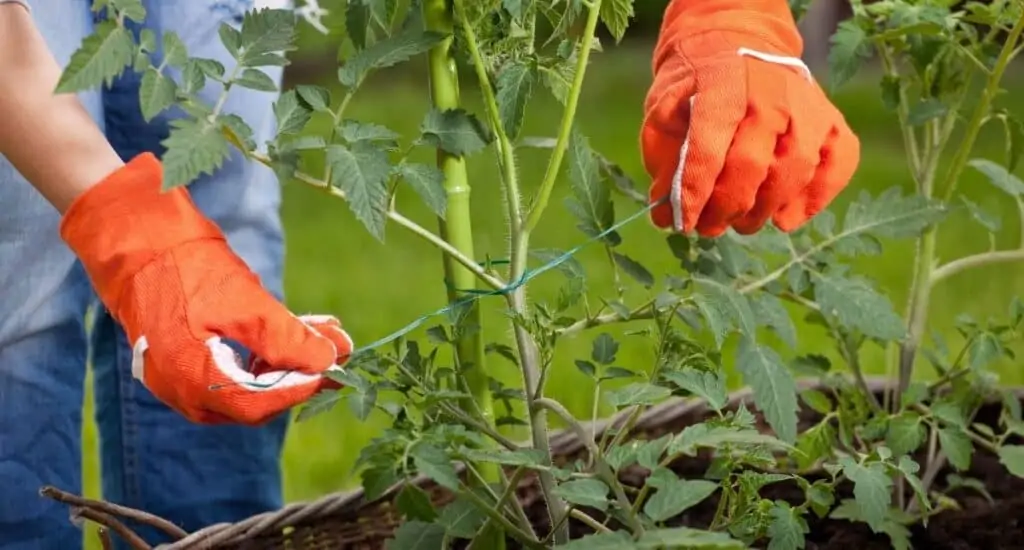 Before you plant your tomatoes in late spring you will want to be prepared with quality support.
Best Tomato Plant Supports
While inexpensive tomato cages are easy to come by they aren't the best choice.
For those looking to get a larger yield from their plants, larger tomato support should be considered.
You can build great tomato supports from thick wooden dowels or poles. Add some chicken wire that you can staple or tie to the wood.
This will allow your plants to grow more without damaging the main stems. The more they grow, the more they can produce a higher yield per plant.
This method is also great for protecting your young tomatoes from wild animals that may come by for a snack.
After your soil is prepped for your tomatoes layout landscape fabric and cardboard over your garden bed. This is a good idea to prevent weeds and help warm the soil.
To speed up the warming of the soil you can add a layer of plastic drop cloth over top to help trap more heat from the sun.
How to get more tomatoes from your garden
When it comes to getting more tomatoes from your plants this year there are several things you can do to help your young plants thrive and produce more.
The more you do for your tomato garden the more it will reward you.
Companion planting
Plan your vegetable garden so that you have green beans trellised up the north side of your tomato garden bed.
Green beans will help trap and reflect heat back at your heat-loving tomatoes while helping naturally add nitrogen to the soil all season long.
Plant your tomato seedlings and your green bean seeds at the same time for the best results.
Plant flowers like marigolds near your tomatoes along the outer edge of your tomato garden bed. This will help protect your tomatoes from pests and attract pollinators at the same time.
The more bees and butterflies you attract to your garden the more pollination that will happen. This will give you larger yields from your tomato plants.
Water
Perhaps the most important thing you can do to increase your tomato yield is to ensure they get more than enough water in the planting area.
They need lots of water and soil moisture to grow large ripe tomatoes.
One popular way to get more water to your tomatoes is using a 5-gallon bucket with holes drilled in the sides and placed in the center of several tomato plants. This will provide a nice frugal drip irrigation system.
Then to water your tomatoes you simply need to fill the bucket and you can feel confident they will have plenty of water.
Soaker hoses are another great option for watering your garden.
Coffee grounds
Used coffee grounds are a popular way to quickly and easily feed your tomatoes more nitrogen in the middle of the growing season.
They can be spread at the base of your plants or mixed into your tomato's water.
If you are not a coffee drinker many coffee shops will happily share their used coffee grounds with home gardeners.
Epsom salts
This trick of placing Epsom salt in your garden with your tomatoes is a great way to fight blossom-end rot and encourage your tomatoes to produce more fruits.
Choose unscented Epsom salt from the bath and body aisle for a quick and easy garden additive.
Eggshell powder
Don't toss those eggshells.
Instead, wash, dry, and put them in the blender to make them into an eggshell powder.
This eggshell powder is packed with nutrients that can be used in your garden including a large dose of calcium.
For gardens with pest problems like slugs and snails, you can leave this powder thicker by simply crushing instead of grinding.
This will help to get rid of your pest problem, while helping add more calcium to your garden soil. This will help fight blossom end rot and other fungal diseases.
Use mulch to your advantage
While tomatoes usually do not have issues with weeds due to their lower leaves shading out smaller plants they can still benefit from a layer of mulch.
Mulch is a great way to protect your tomatoes from pests at the ground level and to help trap water in the soil during hot summer days so your tomatoes can stay hydrated and continue to thrive.
Now that you know how to grow your own tomatoes, you are ready to get growing.
Choose from your favorite varieties of tomatoes to grow like Roma tomatoes and get started today!