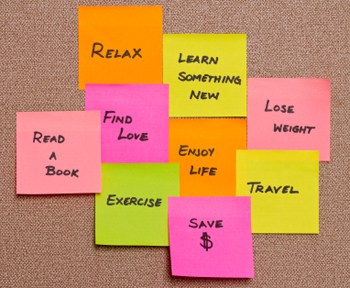 If you're among the millions who rang in the New Year with the promise to spend less and save more money, you've taken the first important measure toward achieving that goal. Creating a new habit starts with admitting a certain behavior is a problem and choosing to change it.
If you want to know How to Save Money, read more below.
Though you've taken the first critical step, learning how to ride it out for the long haul is the biggest battle. Typically, only 8 percent of resolution-makers actually achieve their goal. You can avoid the fate of the majority of New Year's resolution-makers by following these seven savvy tips for sticking to your savings goal.
Define the resolution.
"Spend less and save more" is among the most popular resolutions. However, this goal is vague and undefined and will leave you with little direction. Get on the right track by determining what it means for you to spend less by analyzing your spending over the last several months.
Where can you cut back? What purchases or buying habits are you willing to give up? Identifying a list of actionable items and writing down the concrete steps you need to follow to reach your ultimate goal will help you succeed.
Be reasonable.
The key to effective goal-setting is being realistic about what you can accomplish. This will help you stay motivated and keep frustration at bay. For example, if you want to pay down your student loan debt by $5,000 this year, determine how much you need to save each month and ensure it's reasonable.
You'll quickly find out if squirreling away over $400 a month is realistic for you. If it's not, determine a more practical goal including the amount of money you can comfortably set aside.
Start small.
In your eagerness to reach your savings goal, you might start cutting every discretionary expense you can find. You'll quickly find this level of austerity is not sustainable. It's a lot easier to commit to a small-level change than a complete life overhaul.
Start small and avoid failure by finding one or two easy behaviors to change until it becomes a new habit and move on from there. For example, if you typically dine out four times a week, try cutting it back to twice per week and put the amount you save towards your goal.
Over time, your habits might make eliminating weekly takeout a much more manageable task which will avoid you from burning out and giving up.
Track progress.
An immeasurable goal won't allow you to track your degree of success and visualizing your progress is essential for staying motivated. Use specific dates and numbers (like debt reduction and savings figures) to identify milestones you want to reach throughout the year. By reviewing your progress and realizing your success, you will feel inspired to continue working hard.
Get online help.
Mint.com helps you set up and track your savings goal, all while tracking your spending. SmartyPig.com also helps you track your savings goal by offering online accounts categorized specifically for your goal, whether it's a vacation or a child's college fund. ReadyForZero helps you manage debt all in one place and creates customized plans that show you the fastest way to get out of debt while minimizing interest fees.
Do the same thing every day.
Making a singular savings goal is great, but creating a lifelong habit should be your ultimate goal. One way to make your money-saving routine a habit is through repetition.
Whether that means making your next day's lunch as soon as you get home from work (to save on dining out) or checking for coupons before making a purchase online using sites like CouponSherpa.com, these things should be completed every day around the same time so they become part of your regular routine.
Get a savings buddy.
One of the best ways to hold yourself accountable is to get a savings buddy. Share your financial goals with a trusted friend or family member and ask them to help keep you on track throughout your journey, and confidently put you in your place if you start to stray.
Ideally, this person is working toward the same or similar goal. If you can't find a savings buddy, use an app like Beeminder which will keep you accountable by taking your money if you don't keep up with your goal! HabitForge is another app that provides daily check-ins and progress reports, and a community to encourage you.
Reward yourself.
Aggressive savings plans typically include an element of austerity, and this level of commitment is tough to stick to overtime without a rewards system. If part of your savings goal includes giving up something you love — morning lattes, happy hour with friends, or catching the latest flick — incorporate these back into your spending plan in the form of rewards.
When you successfully reach your three-month savings goal, for example, treat yourself to Starbucks or get together with friends to celebrate. You'll have to find room in your budget to accommodate this expense, but doing so will make your overall goal easier to achieve.
Guest post by Andrea Woroch, a nationally-recognized shopping expert for Kinoli Inc., who helps consumers live on less without radically changing their lifestyles. From smart spending tips to personal finance advice, Andrea transforms everyday consumers into savvy shoppers. She has been featured among top news outlets such as Good Morning America, NBC's Today, MSNBC, New York Times, Kiplinger Personal Finance, CNNMoney and many more. For more information, visit AndreaWoroch.com or follow her on Twitter for daily savings advice and tips.