Let me tell you, I was the "Best Mom EVERRRRR!" the day I packed this Ninja Turtles Themed lunch for my son- that's a direct quote by the way.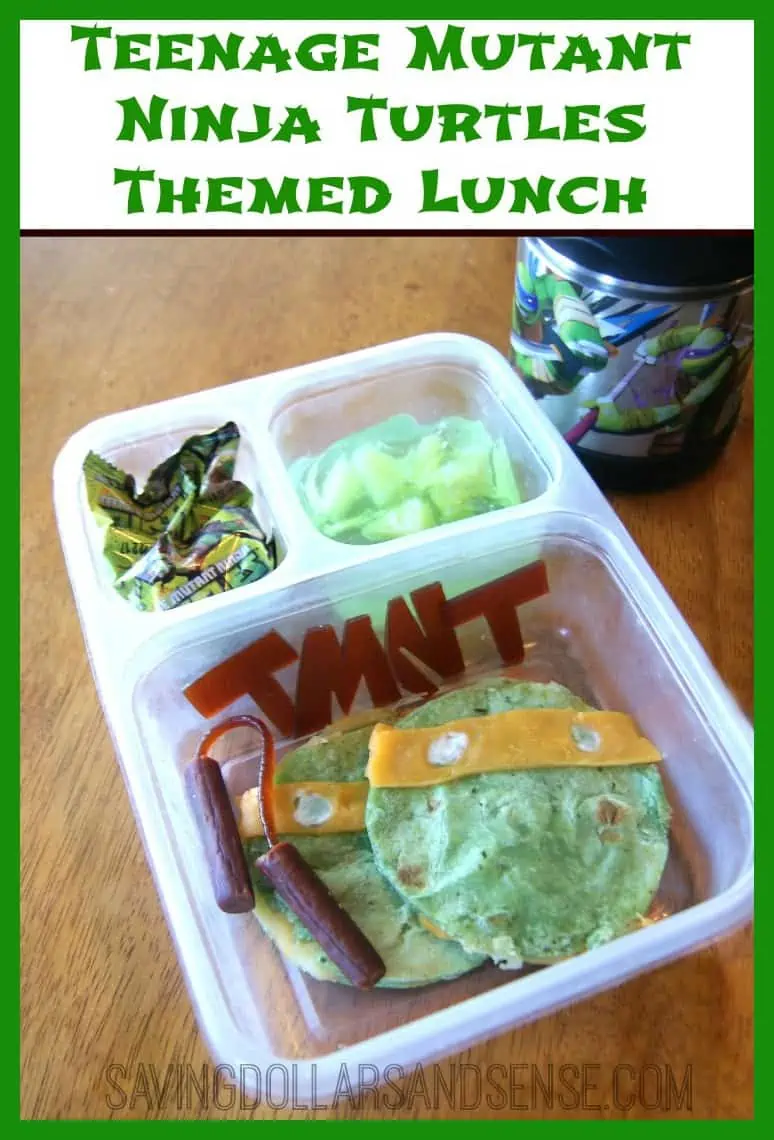 Ninja Turtles are his favorite thing. I even managed to sneak in some healthy.
The turtles themselves were made by cutting Spinach and Herb tortillas into circles, filling with shredded cheese and tossing into the toaster oven, you could also pop a big batch on a cookie sheet and put it in your oven under broil for just a minute or two.
I made the mask by cutting strips out of sliced cheese, and cut out eye holes with a pen cap, hey you have to be open to all kinds of tools for creative lunches.
The nunchucks are a Slim Jim cut in half, and a very thin slice of fruit roll up to use for the "chain", I stuck a skewer in each piece of jerky about halfway and slid the fruit roll up inside.
I thought a little baggie of Tostitos scoops looked like turtle shells.
Ninja turtle Fruit Snacks, and Green jello with pineapple (I thought it resembled the turtle shell) finished off lunch with a sweet kick.
If you have a little turtle lover at home too check out this cool TMNT lunch gear:
Amazon has a bunch of TMNT lunch gear for sale here.
Check out these other Back to School Lunch Ideas!
Back to School Themed Lunch
The Kissing Hand Themed Lunch