Read all about how Camping Trips Can Make Fun Frugal Summer Vacations that your family will remember for years.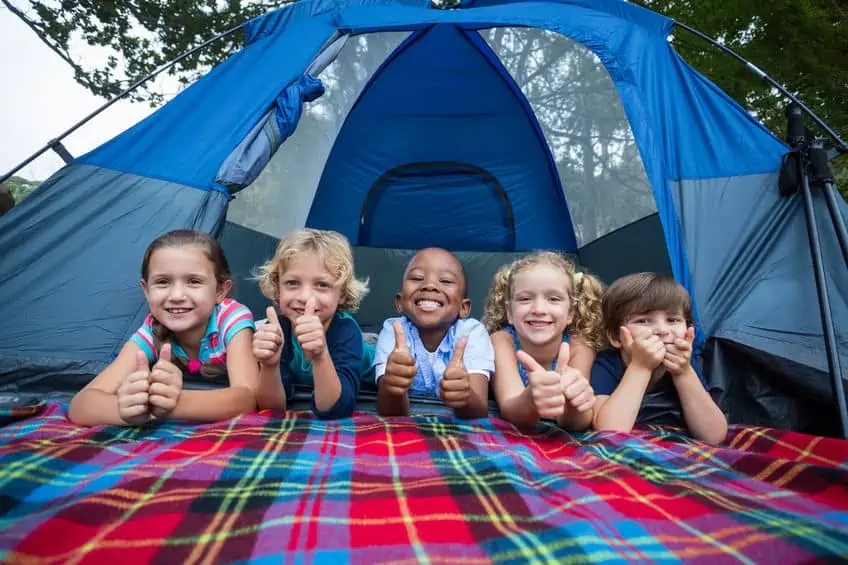 Taking a vacation can be a costly proposition.
Between airfare, hotel rooms, and the endless dollars spent eating at restaurants, even a short family vacation can quickly end up costing well over $1,000.
If that's not in your budget this year, consider going camping instead. It can be a great way to spend a frugal summer vacation, particularly if you already have the equipment you need.

Read: How to Plan the Perfect Camping Trip
It's not too hard to plan a successful and super fun camping trip when you follow these simple tips!
Best Camping Equipment
If you're a seasoned camper, this will be no problem.
You check your gear, make sure nothing has gotten damaged since the last camping trip and you're good to go.
If you're new to camping, you have some decisions to make. Do you want to camp in a tent, in a camper, or do you want to rent a cabin at a campsite?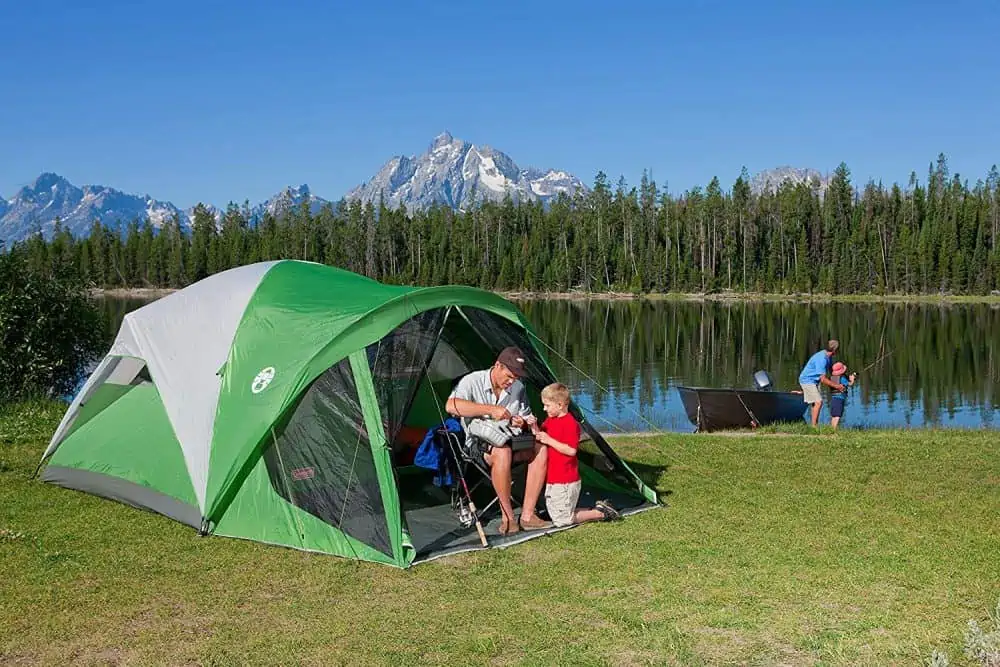 This Coleman Tent is on sale right now and can sleep six, with a screen room attached!
If you don't have any gear, asking around about a tent you can borrow from family or friends is a good inexpensive way to get started.
Put it up in the backyard at least once before you head out to make sure you're familiar with the setup and that everything is in good working order.
Sleeping mats are a good idea to make sure you're comfortable. Depending on the climate, you can take some old blankets and comforters to snuggle up under instead of investing in sleeping bags.
Head to your local superstore and pick up a gas stove and a few essentials like a pot and pan.
Dig through your cabinet for paper plates and bowls, or stick to disposables for this first trip.
Keep it simple and inexpensive until you know you'll enjoy camping.
You'll find lots of great ideas for camping equipment here ==> Gift Guide for Campers, Hikers and Outdoor Lovers

Find the Perfect Campsites
There are plenty of inexpensive campsites all across the country.
Ask around, check with your local camping friends, or stick with one of the bigger campgrounds.
State and National parks are also great sources for camping.
Reserve your spot ahead of time if possible. Many campsites fill up very quickly in the busy summer months.
Do your research and find a site you'll be happy with. Head out and take a look ahead of booking if you can.
No matter where you camp, it will be a lot less expensive than staying at a hotel.

Camp Menu & Recipes
This is where you can save a bundle on your camping vacation.
Bring what you can from home, shopping at your favorite frugal stores. Dry goods are easy to store in the car, and you can always pack a cooler for everything else.
Keep it simple.
Soup and sandwiches are always a big hit, as is roasting hot dogs over a campfire.
Pack a bunch of hot dogs and a big bag of marshmallows and much of your evening entertainment is taken care of.
Sitting around the fire, roasting marshmallows and telling ghost stories is always a big hit.
Read: 20 Really Good Camping Food Recipes
Camping Games
It helps to have a few fun games on hand for any down times or rain days.
Bring your favorite board games and a deck of cards. Or grab the FREE Camping Charades game below!!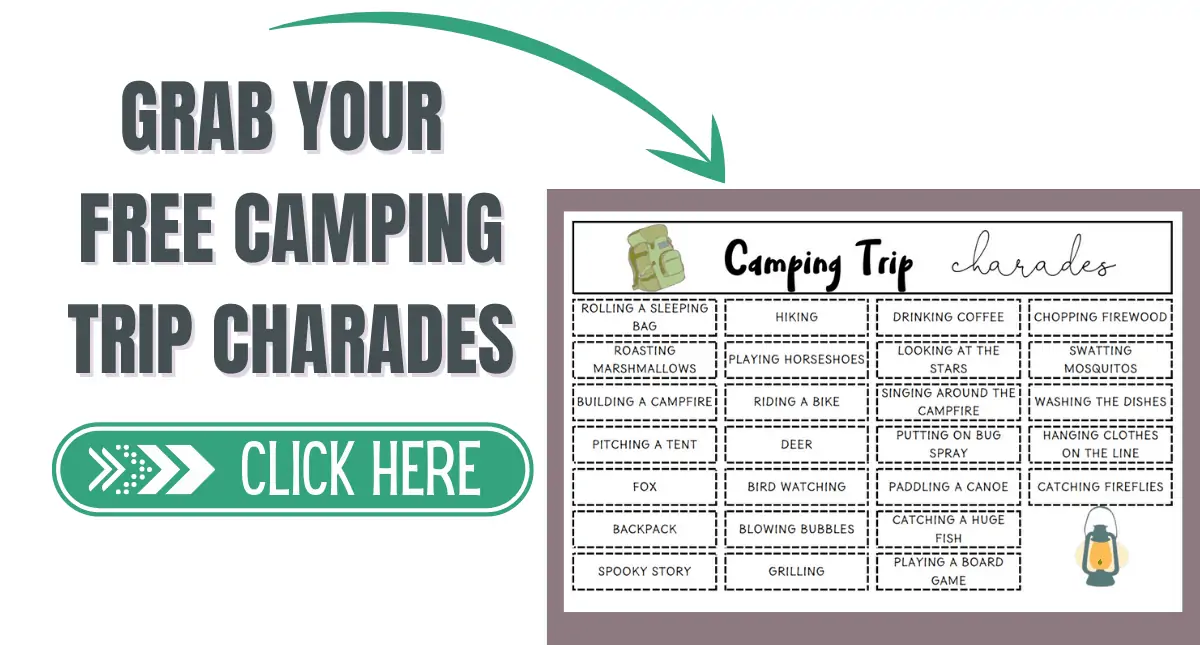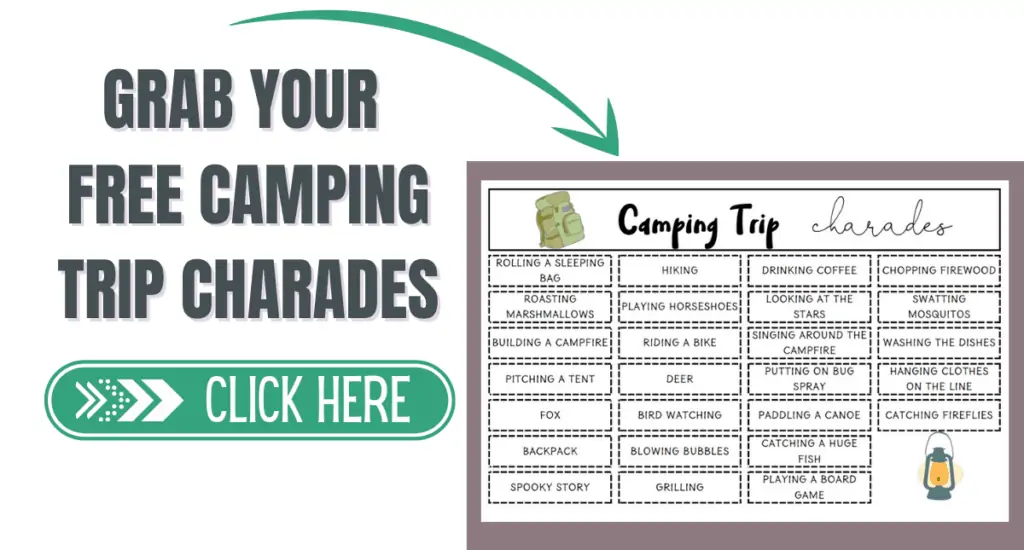 Give camping a try.
It may just become your favorite new way to spend a family vacation and create new memories.
More Frugal Summer Fun Ideas