Our latest gift guide for outdoorsman is full of the best gift ideas for hikers, campers and outdoor lovers of all kinds!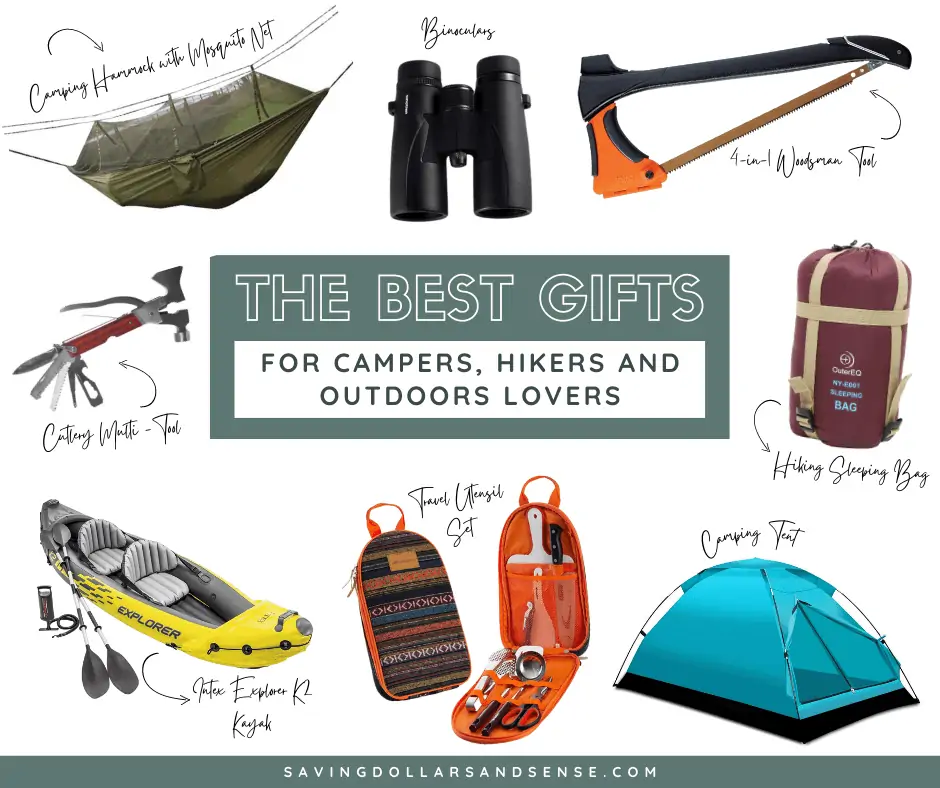 You're sure to find a great gift idea below!
The Intex Explorer K2 Kayak is sporty and fun with a streamlined design for easy paddling. The bright yellow color and sporty graphics make the kayak highly visible in the water. Great for experiencing lakes and mild rivers with a friend, this Sports Series kayak is perfect for two adults. Lightweight and compact, this kayak is a snap to assemble and allows you to take the fun of kayaking wherever you go.
Made of water-resistant rip-stop polyester, durable and wear-resisting, perfect for outdoor activities. There are 1 hip-belt pocket, 1 bladder sleeve(not included Bladder), 1 front pocket, 1 rain cover (included) compartment, and two mesh bottle pouches. Designed with different size pouches to fit your water bottle and other equipment.
THE PERFECT TRAVEL UTENSIL KIT FOR ALL OUTDOOR OCCASSIONS! This cutlery holder set is the best roadside companion for traveling, no matter the occasion. Super lightweight and travel-friendly. It securely holds and protects your essential cooking utensils on the go.
The kit opens up and closes securely with zippers that seal your utensils into the tough woven cotton travel case. Manufactured in 4 bright trendy colors, it adds a vibrant splash to your BBQ or birthday parties table spread.
The 5th edition (published 2013) of the 16-inch diameter plastic Guide to the Stars chart is an instrument to help you identify the constellations. You simply dial in your observing time and date to find the set of constellations visible in your sky (this is accomplished by turning the clear top piece). Although this chart is designed for beginners, seasoned amateur astronomers will find it useful, too.
This handy gizmo takes all the necessities of camping and rolls them into one space-saving tool. It has a hammer for the stakes, pliers to take them out, Philips and flat head screwdriver, serrated and flat blade, and a bottle opener.
It even comes in a convenient carrying case with a belt loop so you don't lose it.
This is a true must-have for any camper or hiker. Features Include: Axe Hammer Pliers Philips Screw Driver Flat Head Screw Driver Bottle Opener 2 Inch Serrated Blade 2. 5 Inch Fish Scaler 2. 5 Inch Flat Blade Nail File Carrying Case With Belt Loop Compact Size – 5. 25 X 2. 75 X. 75 Inches
The hammock is compact and easy to use. You can use it in dozens of different environments, with or without the mosquito net. The hammock is robust, strong, and durable. You'll never need to worry about safety using it.
The pocket fisherman folds in half to fit into your pocket or store in your glove compartment. Don't want to carry around a tackle box? No problem! There is a mini tackle box hidden in the handle. Includes hook, swivel, weight, bobber, practice casting plug and 2 bonus lures.
The backpacking sleeping bag is very compact and easy to put back in the bag. you can throw it in your duffle when traveling. The hiking sleeping bag is lightweight and great for summer, spring and fall weather. The backpack sleeping bag is durably constructed of a polyester cover with soft cotton liner, stuffed with cotton insulation to keep you comfortable to 9~15 Degrees Celsius.
The Wingspan Optics SkyViews are specially designed with the bird watcher in mind. With Extra Wide Field of View, Close Focus, Phase Correction Coated Prism, and ED Glass to Take Your Bird Watching Experience to a New Level of Clarity and Brightness.
Watch Colors pop as Mother Nature designed them. Phase-correction coated high index prism creates sharp, clear, HD images while the 42mm fully multi-coated lenses deliver the brightness and color fidelity you need. It also has 8X magnification, the ideal magnification to capture the clearest, bright and steady bird watching images.
The patent-pending Treo camp chair delivers big chair comfort in an exceptionally small package. It's built with realistic seat height and width that doesn't require a technical plan of descent just to get into. And though it delivers the comfort and ease of use of a big chair, it packs entirely into its own tripod base, making the Treo Chair as easy to bring along, as it is to relax in.
This travel-lite tent would be great for airflow, allowing you to stay cool and keep the insects out. The windows can also be covered with the rain-fly just in case of light showers. Length- 6ft 6in /79", Width- 4ft /48", Height- 3ft 3in /40". DIMENSIONS ROLLED UP: 5″x 6.5″x 24″, Weight-2.6 lbs.
Includes 3 convenient travel towel sizes- An extra Large bath size towel perfect for the beach or lake, a large size that is lightweight and makes for a great trekking or camping towel and a small size that you can throw in your gym, golf or day pack – their compact and lightweight microfiber towel bundle is the best value on the market.
Designed for multiple uses during the day. The quick-dry towel is made of 100% microfiber material and dries 10x faster than cotton or terry cloth.
The shower bag is designed for people who love outdoor activities. If you're hiking, camping or climbing and out of reach of running water, you'll want to pack one of these. It holds 5 gallons of water. The shower action is powered by good old gravity: Simply hang it on a tree branch, and the weight of the water results in a steady, gentle stream.
This premium shower bag has a clear back feature to allow sunlight to penetrate the bag so the water warms up when you hang in the sun for about 3 hours. A temperature gauge is also integrated into the back of the bag.
Turn fire into electricity! CampStove 2 generates 3 watts of usable electricity and stores it in its internal power bank for USB charging of LED lights, mobile phones, and other devices. The internal, rechargeable 2600 mAh battery stores excess power to charge devices, even without a live fire.
Expower Bluetooth Wireless Drop-proof and Splash-Proof Speaker with 7000mAh Charger for Camping and Hiking.
Fire building made easy, the pure and natural way. Don't build your fire with noxious fumes or harmful chemicals. Use the time-honored, organic method that resembles the centuries-old art of the native fire-builder.
TinderSticks are made from Pino de Ocote, a fatwood pine cultivated from the heart of the ancient Mayan Empire in the highlands of Guatemala and Mexico. With an 80% resin content, TinderStick shavings are easy to light even when wet, and produce an extremely hot flame. Works great for campfires, barbeques or emergencies.
The LifeStraw Personal Water Filter will transform 4,000 Liters (1,000 Gallons) of contaminated water into clean and safe drinking water. That is more water than the average person drinks in a year! The hollow fiber membrane technology inside of the LifeStraw keeps you safe during outdoor adventures. All of these filters are rigorously tested.

We have lots more Gift Ideas for you too!
Check out the list of the best gift ideas for everyone else on your list too! You could find the perfect gift for everyone and have all of your holiday gift shopping done today.
Check out all of our Saving Dollars and Sense Gift Ideas below:
We also have a fun list of the best Homemade Food Gift Ideas if you'd rather make your own gifts this year.