Below you will find all of the Best Gift Ideas for Grandparents.
Here are some of the very best gifts for grandparents this year. I know there are several things on this list that my husband and I would love to receive.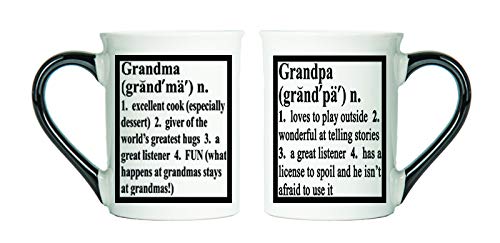 Grandma and Grandpa Mug Set – Grandma And Grandpa – Two Large 18 Ounce White Ceramic Coffee Mugs With Black Handles.
Alex and Ani Grandmother Bracelet – Bangle bracelet featuring molded bouquet charm with Grandmother text and three mini engraved charms. Expandable wire bracelet. Made in the USA.
Family Tree Memory Locket – Locket diameter: 30mm, Inside diameter: 23mm, Chain: 22″ + 2″ extra bead chain. The family tree of life birthstone design….relates to eternal life and symbolizes the cycle of life, which represents the love and connection between our families and ourselves.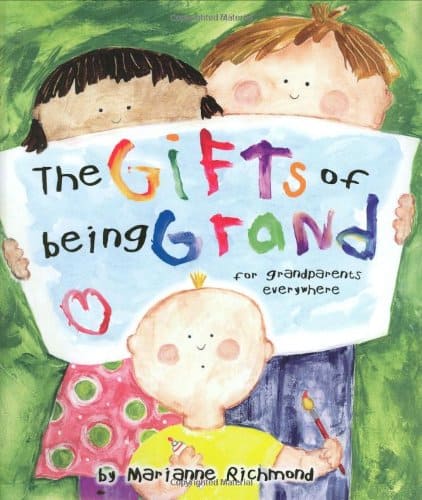 The Gifts of Being Grand Book – The Gifts of Being Grand pays tribute to the special joys and rewards of grandparenthood.
Filled with wit and warmth, the book's lyrical poetry and vibrant illustrations let "grown-up" moms and dads recall their parenting past, celebrate their own kids, and delight in the newfound gifts of grandparenthood.
Senior Moments Board Game – You're never too young to have a senior moment or to play Senior Moments, a memory game for anyone who might need the practice. The game includes hundreds of zany memory lists, 46 Senior Moment cards, eight Lost Key cards, two game booklets, a game board, colored markers, and a die. For 2 to 8 players.
Love You Grandpa Fishing Hook – This is a great gift for the fisherman in your life (a great grandpa gift). Hand stamped fishing lure reads LOVE YOU, GRANDPA.
Kodak Pixpro Astro Zoom Digital Camera – Powerful 16. 1-Megapixel CCD sensor gives you room to enlarge, zoom and crop to your heart's content without losing out on life-like clarity or quality. Face/cat/dog detection detects facial features and enhances it for true subject highlighting, even your four-legged cat and dog friends. Blink/smile detection helps you to capture the perfect moment.
Nix Advance Digital Photo Frame – Enjoy all your favorite memories on the NIX Advance Digital Photo Frame; Choose from different slideshow transitions: Play them according to their date or their file name, or shuffle them. Just insert a USB stick or a memory card (SD/SDHC) to instantly display your favorite photos and videos on the NIX Advance Digital Picture Frame; it does not connect to WiFi.
Willow Tree Grandmother – A gift to celebrate new beginnings, new babies, new families and the loving relationships that develop between grandparent and child. 5″h hand-painted resin figure. Gold chain accent. Ready to display on a shelf, table or mantel. To clean, dust with soft brush or cloth.
Grandpa's Ice Cream Plow Spoon – This High-quality stainless steel spoon engraved as ' Grandpa's ice cream plow " using industrial standard engraving machine, so the impression will remain forever. Spoon size: 7 inches – teaspoon size. This highly durable, trendy silverware spoon is ideal for day to day use, as spoons for coffee or tea, ice cream, serving soup, teaspoon, tablespoon and for cereal, dining or snack.
I Love You, Grandpa Book – Little Bear is getting older, and that means he is ready for new adventures. It's not easy to try new things – but Grandpa Bear is there to help. This heartwarming picture book will help show little ones that it's okay to be afraid – and that sometimes, love is all you need to be brave.
Grandmas Never Run Out of Kisses Towel – Primitives by Kathy LOL Made You Smile Dish Towel, 28″ Square. A black and white cotton dish towel lending a "Grandmas Never Run Out Of Kisses Or Cookies" sentiment with red heart and cookie designs. Machine-washable.
Happiness Is Being a Grandma Tee – Whether you're cute and adorable or sarcastic and nerdy, get ready to have fun with this graphic tee. Machine washable (wash/iron inside out in cold water/low heat, hang dry,). Larger sizes are available – 3XL 4XL and 5XL – for most novelty designs.
Grandparents House Rules Plaque – Grandparents House Rules sign welcomes grandkids to always have fun and share family traditions when they are at grandma and grandpa's house. Measures approximately 12 tall x 6 wide x .5 deep inches; Display on a tabletop, shelf, mantel or hang on the wall. Sign made of MDF (medium-density fiberboard) wood with printed overlay art.
Grandma Life Story Frame – A Grandmother's Life Story Frame makes a beautiful family keepsake that will be cherished throughout generations. The frame is a classic black 8×12 wall or table frame and features 3 spaces for photos, each with lovely captions telling a wonderful life story about the most important family milestones during a grandmother's life.
Generations Necklace – The infinite bond between grandmother, mother, daughter, and granddaughter with these three circles. Let her know you are connected just like these interlocking circles. She'll have a reminder of her strength, you are always there for her.
Willow Tree Grandfather Figure – A gift to celebrate new beginnings, new babies, new families and the loving relationships that develop between a grandparent and child. This piece works well with other figures to create a Family Grouping. Packaged in fitted box ready for gift-giving.
Best Papa Ever Pocket Knife – A handsome laser engraved wood handle and durable stainless steel blade and tools create a lasting design perfect for everyday use. Because every piece of wood is unique, the final engraved product may be slightly lighter or darker than pictured. This folding multitool knife includes 6 tools: A strong 2″ stainless steel blade, a Phillips and flathead screwdriver, a bottle and can opener, and a corkscrew. The slip joint allows for easy opening and folding of blade and tools. Engraving color may vary slightly, as each piece of wood is unique.
Ancestry DNA Test Kit – Discover your DNA story with our easy-to-use kit. Simply send in your saliva sample to our lab in the prepaid package, and your report will be ready in around 6-8 weeks. Detailed instructions are included.
Grandpa: Man, Myth Legend Tee – Have you ever noticed that, to the grandkids, Grandpa is a wise superhero who can seemingly do no wrong? Well, this cool t-shirt has been specifically designed for these inspiring granddads! This black graphic tee for grandfathers features an awesome quote that reads "Grandpa, The Man. The Myth. The Legend."
We have lots more Gift Ideas for you too!
Check out the list of the best gift ideas for everyone else on your list too! You could find the perfect gift for everyone and have all of your holiday gift shopping done today.
Check out all of our Saving Dollars and Sense Gift Ideas below:
We also have a fun list of the best Homemade Food Gift Ideas if you'd rather make your own gifts this year.