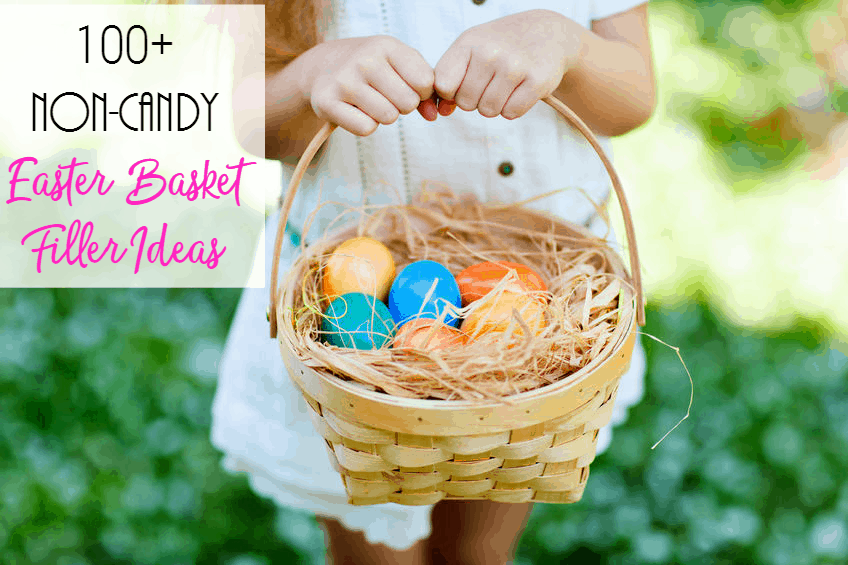 Easter is just around the corner and I know many of us are beginning to think about Easter Basket Stuffer Ideas.
I always like to include small gifts in my kids Easter Baskets. This way they are getting things that are useful and not just a bunch of candy, although I do include some candy too 😉
I've gathered a list of 100 Easter Basket Stuffer Ideas that do not include candy.
Gazillion Bubble Machine
Moana
Crayola Sidewalk Chalk
Sand Baking Set
LEGO Minecraft The Cave
Spalding Basketball
Jumbo Coloring Pad
Ultimate Crayon Collection
Crayola Washable Markers
States and Capitals
Knitting/Crochet stuff
Batteries
Jump Rope
Giant Art Jar
Crochet Craft Kit
Macaroon Earbuds
Soccer Ball
Trading Cards
Books
Makeup
Video Games
Bathing Suits
Socks
Stuffed Animals
Flip Flops
Nail Polish
Sunglasses
Glow Sticks
Personal Hygiene Products
Bubble Bath
Popcorn
Comic Books
Money
Lotions
Jewelry
Hats
Silly Straws
Movie Theater Tickets
Silly String
Sunblock
Fun Toothbrush
Jerky
Silly Putty
Sippy Cups
Pretzels
Watering Can
Binoculars
Beach Ball
Character Band Aids
Action Figures
Blocks
Trail Mix
Pajamas